'Call of Duty: Black Ops Cold War' Season 1 Leaks Reveal Warzone, Maps and Guns
Call of Duty: Black Ops Cold War Season 1 has officially leaked ahead of its official reveal, and that means we know all there is to know about the Specialists, weapons, maps and Warzone component of the Battle Pass set to release December 10. While we can't host images of the leaks ourselves, we'll offer the best possible description of the new features fans can expect with help from the officially released roadmap.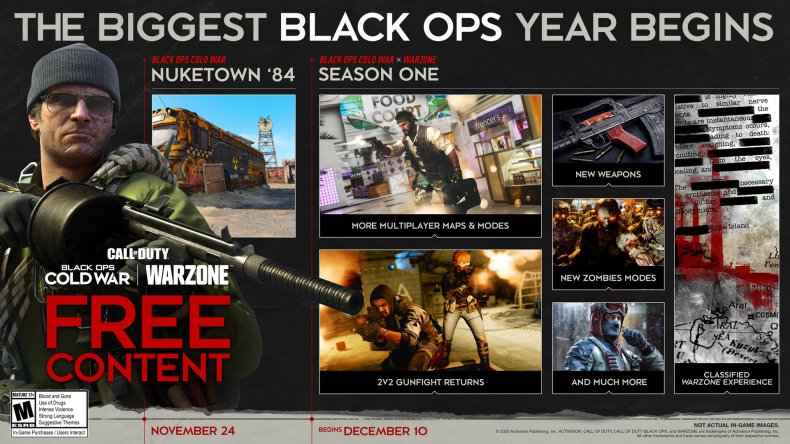 Most of these details have spread across various internet avenues by now, but the central source arrives courtesy of a thread by _ItsEnder on the Black Ops Cold War subreddit.
Specialists: The Battle Pass includes a Specialist called Stitch, which some have said bears a resemblance to Bane from the Dark Knight trilogy. In bundles, players can purchase a female French soldier character named Zeyna.
Weapons: Season 1's weapons include the MAC11. The gun has been classified as both an SMG and handgun in past Call of Duty entries. There's also the Groza assault rifle and Striker shotgun. The Striker is the gun Adler is holding in the roadmap image, while the Groza is shown above the "new weapons" header.
Multiplayer Maps: While names haven't been revealed, the leaks suggest Black Ops Cold War Season 1 features a remake of the Raid map from Black Ops 2, a new map set in the interior and exterior of a mall and a night wintry version of Nuketown.
Gunfight Maps: Alongside the return of the Gunfight mode, it appears the first maps will be themed around a retro game show, a subway, a missile launch siteand the KGB interior from the campaign.
Battle Pass: Expect something similar to what you saw in Modern Warfare. There are new skins for Sims and Stitch, tracers, watches, XP boosts, CoD Points and other goodies.
Store: Some anime and holiday-themed bundles are on the way too.
Warzone: The main story about Warzone is that it appears there will be some sort of nuke launch event in the near future that hasn't been formally announced. When the dust settles, players will be able to enjoy a rebranded Alcatraz-like map called Rebirth Island. The smaller area is set at dusk and it's full of Soviet propaganda. Based on the prevailing theory that Rebirth Island will be more compact than Verdansk, it's imagined this will be an all-new map that's available in addition to the larger one fans already adore.
That's all we know about Call of Duty: Black Ops Cold War Season 1 for now, but we'll likely learn more about it on official basis as its December 10 release date draws near.
Call of Duty: Black Ops Cold War is available now on PS5, PS4, Xbox Series X|S, Xbox One and PC.
What do you hope to see from Call of Duty: Black Ops Cold War Season 1? Do these new maps and guns sound fun to you? Tell us in the comments section!