'Call of Duty: Black Ops Cold War' Season 1 Roadmap Updated With Express and More
Call of Duty: Black Ops Cold War got its big midseason update Thursday afternoon, but the game's developers at Treyarch aren't resting on their laurels. Shortly after the patch went live, it was revealed that Season 1 will carry on with new Operators, maps and more. Express makes its triumphant return, and Zombies fanatics will soon have a new Easter egg to solve. The details were explained in a recent Activision blog post.
While the post itself is lengthy, we'll break everything down into a digestible list, so you know exactly what's headed to Black Ops Cold War in the coming weeks.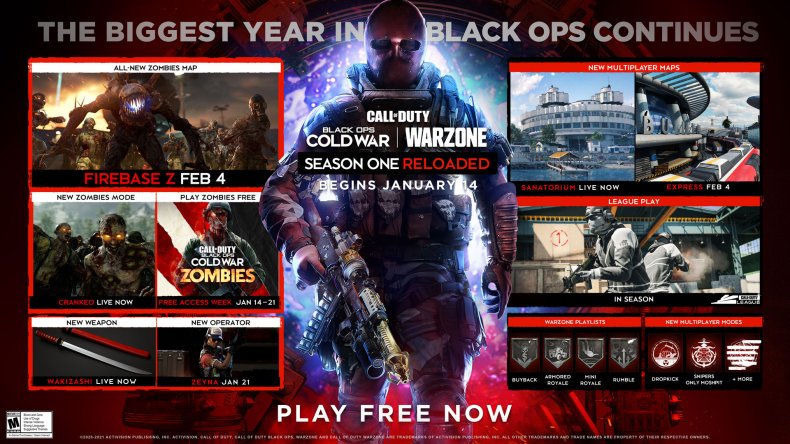 January 21 - Zeyna Operator: She'll be sold as a Store Buncle on the listed day, which means you can't get her just for owning the Season 1 Battle Pass.
February 4 - Express 6v6 map: Express originally appeared in Call of Duty: Black Ops II, but the popular arena is back for another round. It's got the same U-shaped design that encourages close-quarters combat. Those with a more sniper-heavy approach can peer across the tracks instead.
February 4 - Zombies Onslaught maps: If you're playing on PlayStation, you'll be able to get some duo-based Zombies thrills on Raid and Express very soon. What better way to repurpose these beloved spaces than to fill them with hordes of undead enemies?
February 4 - Firebase Z Zombies map: The Zombies faithful have been waiting patiently for a new map, and it's coming early next month with Firebase Z. It's not quite clear what the hook to this map is, but it's worth noting it will be free to everyone who owns the game with or without a Season Pass.
In Season - Snipers Only Moshpit: Two teams of six play through TDM and Domination with just snipers. Other weapons and Scorestreaks will be mostly restricted.
In Season - Endurance Mode: 10 squads of four drop into Alpine, Ruka, and Sanatorium to collect uranium and arm bombs. When a bomb explodes, a new one replaces it. The Fireteam score limit will also be doubled to 1,000 points.
This expanded roadmap for Call of Duty: Black Ops Cold War Season 1 arrives hours after the deployment of a brand-new update that unlocks Sanatorium for Fireteam, the 6v6 Dropkick mode for multiplayer and the Wakizashi melee weapon. The content is available now, and it doesn't require a client-side download to play. Simply boot up the game, and you'll be able to enjoy everything the midseason refresh has to offer within a matter of minutes. For those fans who were expecting a more substantial update with weapon balance changes and other gameplay adjustments, this new roadmap suggests we could see something akin to that closer to February 4.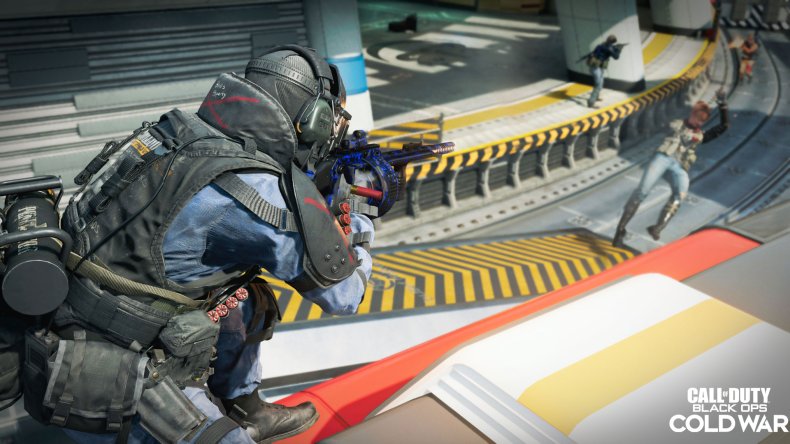 Perhaps the biggest mystery on this updated schedule relates to the Firebase Z map. Following the recent trickle of social media teasers over the past few days, Zombies fans should keep their eyes peeled for more substantial news on Friday. In honor of the yearly 115 Day community holiday that takes place January 15, Treyarch has announced that its developers have exciting news to share. If you want to know what this new map is all about, we expect that information will arrive sometime around 1 p.m. EST. For now, however, this updated roadmap suggests Season 1 of Black Ops Cold War still has plenty of gas left in the tank.
Call of Duty: Black Ops Cold War is available now on PS5, PS4, Xbox Series X/S, Xbox One and PC.
What do you think of this new Black Ops Cold War roadmap? Are you excited to come back to Express? Tell us in the comments section!