'Call of Duty: Black Ops Cold War' Zombies Firebase Z Trailer Shows New Gameplay
Call of Duty: Black Ops Cold War is expected to get a big update around February 4, and its main feature is the Firebase Z map. For the first time in Call of Duty Zombies history, the DLC map will be free to all players and is not tied to any Battle Pass. As a result, fans of the game's beloved co-op offering are excited for what's in store.
One week ahead of the map's release, Treyarch has revealed a new trailer for Firebase Z that shows off the first glimpse of gameplay and new features. Players get an initial look at the map's Vietnam setting, the return of the Tombstone Soda Perk and a brief tease of the upcoming Wonder Weapon and how might contribute to puzzle-solving.
The clip opens with Samantha working her way through Firebase Z as an announcer welcomes the quartet of players to Vietnam. Based on the very quick cuts we see, it appears as though the map is split into two distinct areas: an outdoor city locale and a Dark Aether-shrouded version of the Vietnam jungles covered in a purple haze.
While traversing the map, players will seemingly contend with several new and returning zombie bosses, the first of which is the monstrous type that shoots a laser beam from its mouth. The Russian Mangler from Black Ops III is also there, as is the giant zombie boss from Die Maschine. This time, however, it looks like squads may be able to fight it directly. Thankfully, you'll have the reworked Tombstone Soda perk and napalm Scorestreaks at your disposal to cause maximum carnage.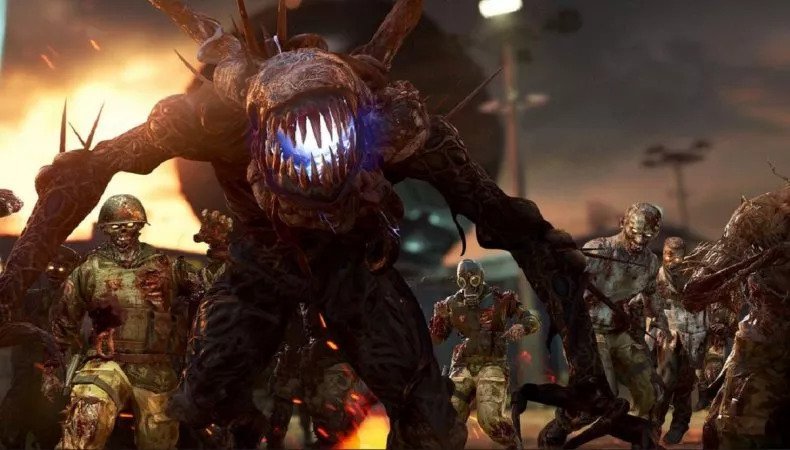 Speaking to the Wonder Weapon, the gun looks to be modeled after an AK-47 but has a few unique tricks up its sleeve. Chief among these is special grenade ammo that, when shot, explodes into a massive AoE bubble.
This new trailer arrives a few weeks after Treyarch's 115 Day blog post. In the post, developers revealed the basic plot threads behind Firebase Z. Since the events of Die Maschine wrapped up in November, the evil Omega Group has taken a sizable lead in finding ways to harness the power of Dark Aether for their own bidding. They take the captured Agent Maxis to a new location called Outpost 25, a spot where Omega is conducting experiments that allow them to harvest Dark Aether directly from the source. In your group of players, it's Weaver's job to infiltrate the facility to get Maxis back into allied hands. As one might expect, however, that task appears to be more difficult than originally assumed. On February 4, Zombies fans will be able to uncover all the secrets that linger below the surface.
Call of Duty: Black Ops Cold War is available now on PS5, PS4, Xbox Series X|S, Xbox One and PC.
What are your thoughts on Firebase Z after watching this new gameplay trailer? Will you be playing the map as soon as it releases on February 4? Tell us in the comments section!