'Call of Duty' 2020 Gameplay Reportedly Leaks, but Is It 'Black Ops Cold War?'
Call of Duty 2020 gameplay has allegedly leaked ahead of the game's highly anticipated reveal. While much of the footage was scrubbed from the internet relatively quickly, fans can currently watch a 77-second clip from TMTJulian on Twitter.
As for how the footage was discovered, it was first mentioned by Call of Duty esports player Christopher "Oog" Garcia, formerly of the Sixth Gear. In a now-deleted message, Garcia said: "Just watched 45 minutes of the new Call of Duty releasing this year and wow, I am amazed. Don't ask how I got the gameplay. Just know we're in for a wild ride boys and girls."
The 45-minute version has yet to be seen, but this abbreviated clip was only posted for a few minutes before being removed. Shortly thereafter, Garcia completely deactivated his Twitter account.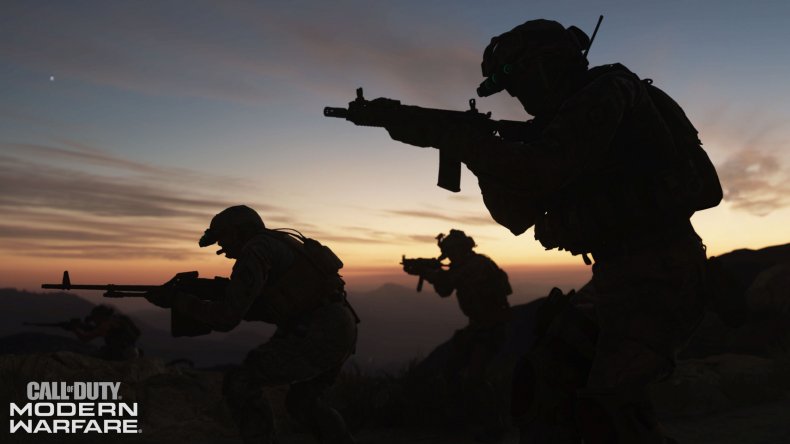 In terms of dissecting exactly what the alleged leaked footage contains, we see some clearly unfinished assets that Garcia claimed were from a map called "Tanks." The player appears to be carrying an MP5, and it has the classic red dot sight popularly used in the Black Ops games. Mechanically, it looks like much of the movement tech from 2019's Modern Warfare remains, like vaulting. If the gameplay is indeed real, it's clear its developers are using the new Call of Duty graphics engine that made its debut last year.
It's worth reiterating that this footage is not proven to be genuine at the time of publish. However, Activision has been quick to scrub all evidence of it from the internet in a wave of copyright strikes. According to Call of Duty news site Charlie INTEL, these claims are being handed out on the basis that the videos show gameplay of "COD 2020." Given this listing and Garcia's swift exit from Twitter, the evidence of a true leak is more than a little compelling.
The footage is also buttressed by the fact that Call of Duty's publishers at Activision have an established history of showing unfinished games to those in the esports community. In a 2018 interview with Newsweek, Austin "SlasheR" Liddicoat of OpTic Gaming said: "I have had the opportunity a few times to go out to Sledgehammer or Treyarch and try the game for a little bit early on to give feedback. That's still really early access alphas or pre-alphas, so you're not getting hands on with much. You can play a couple maps, and they may not even be finished graphics-wise."
Despite the old quote, what's being shown here sounds a lot like what Liddicoat describes. And, in the COVID-19 era where travel is restricted, it's possible Activision would offer these private sessions by video instead. Of course that detail is pure speculation on our part, but the scenario sounds plausible nonetheless.
Beyond this small clip of alleged gameplay, Activision has been extremely tight-lipped about Call of Duty 2020. Leaks sourced by Twitter user Okami and sites like Eurogamer suggest the title is called Call of Duty: Black Ops Cold War and may have ties to Vietnam-era action. As far back as May of last year, Bloomberg's Jason Schreier reported that Call of Duty 2020 was intended to be developed by Raven and Sledgehammer, but the project was not coming together. As a result, Treyarch was asked to take over and repurpose the existing assets for a Call of Duty: Black Ops 5. Speculation abound, the game's publisher remains silent.
What do you think of this Call of Duty 2020 gameplay? Are you excited for Black Ops Cold War? Tell us in the comments section!