'Call of Duty' 2020 Red Door Alpha Listed on Microsoft Store—Reveal Coming Soon?
Call of Duty 2020 still hasn't been revealed by the game's publishers at Activision, but evidence is mounting for the title's ongoing development and imminent announcement. Following the discovery of PlayStation 4 alpha patches in June, the elusive Red Door demo has finally made its way to Microsoft's console. The evidence can be found on this Microsoft Store page. The listing reads as follows:
"There is more than one truth. If you go looking for answers, be ready to question everything and accept that nothing will ever be the same. The Red Door awaits, do you dare step through it?"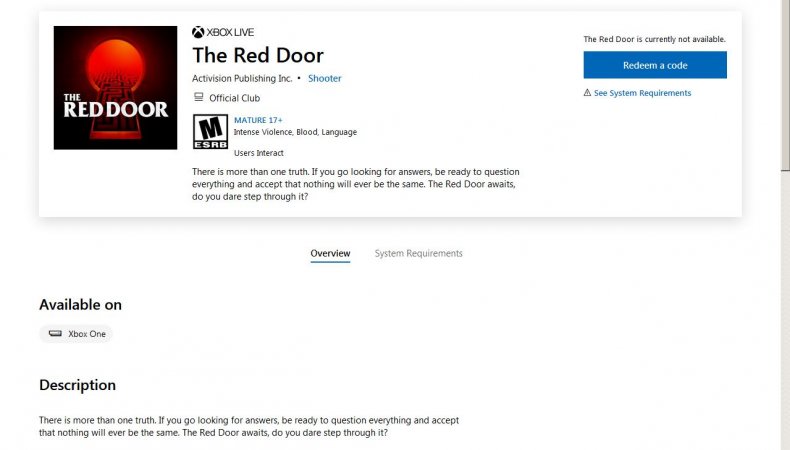 While at first the Red Door's connection to Call of Duty 2020 may seem tenuous at best, the name's relation to the upcoming shooter can be confirmed by multiple factors. For one, the content is published by Activision with an M rating for violence, blood and language. But, if that's not enough for you, data strings from the now-removed PS4 download list the Red Door as "COD2020INTALPHA1." With all that in mind, it seems safe to guess that the Red Door has ties to this year's Call of Duty.

That coding language also essentially explains why these Red Door demos exist. As the game's announcement and release date draw near, testers around the world are working hard to ensure the game performs well when it's in public hands. Amid the ongoing coronavirus pandemic, however, game publishers are forced to resort to more front-facing avenues to polish unfinished products. Processes like these would generally be conducted inside studios on development units, but, with employees working from home and access to devkits strictly limited, other measures must be taken.
Even outside these unique circumstances, though, it's worth nothing that Activision is no stranger to using public storefronts for testing. Prior to the release of Call of Duty: Black Ops III, a dubiously named Northwoods demo was authored for testing purposes as well.
What's particularly interesting with regard to the recently discovered Xbox demo when compared to its PS4 counterpart is that this appears to be a full game, as opposed to a series of patches. The download has a file size of 81.65 GB, which may give fans a basic indication of how large Call of Duty 2020 might be on current-gen hardware.
The Red Door namesake could be totally meaningless, but it's hard to ignore the title's possible significance, given what trusted sources have said about the upcoming game. If it's to be believed that the Treyarch-developed title is indeed called Call of Duty: Black Ops Cold War, a Red Door may have some link to Soviet or Russian imagery.
Despite the chronic wait for the reveal of Call of Duty 2020, there have been plenty of leaks to keep fans at bay. Gameplay footage has been discovered alongside alleged descriptions of modes and the new Warzone alternative. This latest discovery just makes the compounding mystery that much more interesting.
What do you think the Red Door means? Are all the leaks about Call of Duty 2020 correct? Tell us in the comments section!