'Call of Duty' 2021 Leak Suggests New Game May Be Another WWII Title
Call of Duty 2021 rumors have finally begun, kicking off what's mostly a yearly tradition for fans of the series. While the next installment of Activision's popular shooter franchise typically isn't officially revealed until late spring or early fall, discussions about the upcoming game often start at the dawn of the new year. Today, the potential leak arrives courtesy of trusted games industry insider Victor_Z on Twitter. Reading between the lines of Victor's recent tweets, it's suggested that Call of Duty 2021 might be connected to the World War II era.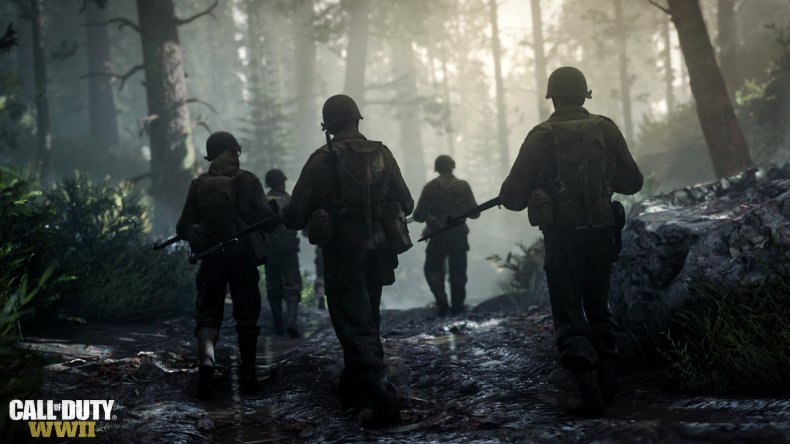 Speculation began swirling late Tuesday evening, when Victor suspiciously tweeted a hammer emoji and attached artwork for 2017's Call of Duty: WWII. While the message may have made a lot more sense a few years ago, Victor's history with leaks led many to suggest the source might be implying that WWII's developers at Sledgehammer Games could be working on something new with ties to their previous title. When asked by another user if the game might be a World War 3 simulation instead, Victor simply replied "WW2."
To date Activision has officially confirmed that a new Call of Duty title is expected to release in 2021, but the publisher has not yet disclosed which of its in-house teams has been assigned to the project. Conventional wisdom suggests Sledgehammer is most likely to be in charge of the task given that Sledgehammer has gone the longest of all Call of Duty studios without a major release, but those details have yet to be officially confirmed. Given that the original Call of Duty: WWII rejuvenated the franchise for many gamers who were put off by some of the future-focused Call of Duty games that came before, it makes sense for Activision to dig back into that tried-and-true well for a potential sequel.
After all, considering the previous WWII game focused entirely on the conflict's European theater, there's still plenty of ideas left to be mined from the annals of history. More specifically, we have our eyes trained toward a possible World War II game set in the Pacific. In 2018, a Kotaku report suggested that Raven Software and Sledgehammer Games had originally collaborated on a Cold War game likely focused on Vietnam that was initially planned to ship in 2020. Following alleged internal upheaval, the project was taken over by Treyarch and would eventually become Call of Duty: Black Ops Cold War.
While some of Sledgehammer's Vietnam efforts seem to have worked their way into select missions of the Black Ops Cold War campaign, many of those environmental assets would fit perfectly in a game set in the Pacific as well. Especially if the game is to be turned around somewhat quickly, it'd be wise to put as much of that prior work to use as possible. These are just assumptions on our behalf, of course, but these new leaks certainly lend credence to the theory. Regardless of where it's set, these tweets suggest a Call of Duty: WWII sequel might be imminent.
Call of Duty 2021 is expected to release in fall of this year.
Do you think Call of Duty 2021 will be a World War II game? Would you play a Call of Duty title set in the Pacific? Tell us in the comments section!