'Call of Duty: Black Ops 4' Blackout Test Map Was 144 Square Miles
Call of Duty fans are a dedicated lot, perennially making Activision's FPS release among a bestseller. This year, Treyarch Studios is tasked with delivering the latest franchise entry — Call of Duty: Black Ops 4 . The long and storied history of the Black Ops series will be celebrated as part of a new battle royale mode (shocker) titled Blackout. But Game Director Dan Bunting wants fans and skeptics to know this isn't just another Fortnite or PUBG clone.
"You're playing a Call of Duty game, which is inherently going to be different. The gunplay, the way the weapons feel and movement feels is one of the best in the industry for the first-person shooter experience. It's gonna feel like Call of Duty, which is good," he told Newsweek . "We've always said there's sort of a secret sauce for how our gameplay feels in multiplayer - the movement, the gunplay, all that stuff - we didn't want to sacrifice any of that."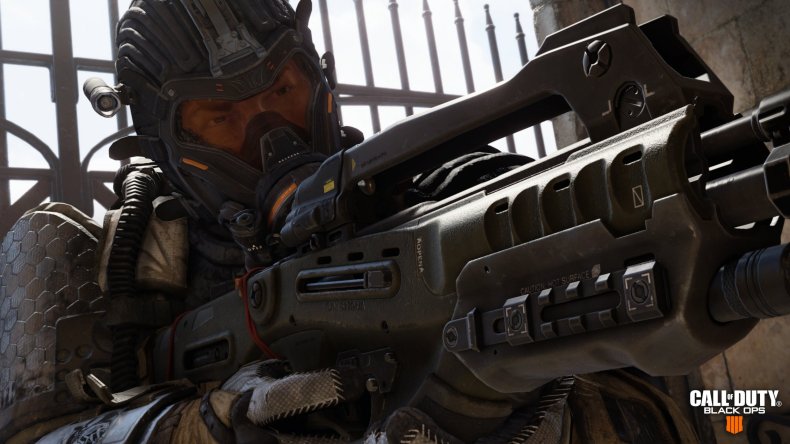 The mode will feature characters, vehicles and weapons from across all the Black Ops games, so diehard fans can get pumped for familiar faces while casual players get a crash course in who's who. Treyarch hasn't confirmed a player count yet, but is testing out some truly mammoth maps to push their dev tools to the absolute limit.
"We have invested a huge amount of our development energy into those tools. They can basically paint terrain down in massive, massive spaces. We had a test map of 12 miles by 12 miles as the biggest space we were able to build and run," Bunting said.
Don't expect the in-game version to give you 144 square miles ( Fortnite is about one square mile, according to some calculations ), especially with Treyarch's commitment to maintaining a respectable frame rate. Bunting explained that development on Blackout included beefing up some backend tech, too.
"We are always committed to 60 FPS for multiplayer experiences," he said. "On top of that, when you have large spaces, you also have to have better streaming technology. So we also invested in our streaming technology to make sure that experience runs at 60 FPS."
At its core, Blackout mode is just one of several multiplayer experiences in Black Ops 4 (alongside traditional multiplayer and a Zombies mode) meant to emphasize what Bunting sees as a dominant trend in gaming that favors multiplayer experiences over single-player ones. And multiplayer experiences require ongoing support. Treyarch continued work on Black Ops 3 for years after development, but didn't do much to call attention to the regular updates born from constantly monitoring player behavior and data analysis. But the way fans engaged with BO3 over several years informed how BO4 was designed.
"We have always been a studio that has paid attention to the community and updated our game a on a regular basis, more so than the standard in the industry, I'm sure. A lot of that we didn't really advertise," he said. " Black Ops 3 wasn't built from the beginning to be that game, that's just how we evolved it over time. With this game we are building it that way from the beginning."
Ultimately, Treyarch hopes to give fans a reason to squad up and play over and over again. The team has designed Black Ops 4 to be a title that sees frequent updates and a steady injection of new content. Bunting understands it needs to be open-ended in order to stay fresh and exciting.
"An experience like this has to be sandboxy and has to allow lots of room for those impromptu, ad hoc moments you can never get again. Each game is a different story," he said. "We wanted to make a game that is going to deliver on that promise of letting players play with their friends in more ways than ever before."