'Call of Duty: Black Ops 4' Devs Talk Blackout's Origins & Tease Future Updates
Call of Duty: Black Ops 4 is a few days away from release, and with that launch Activision will shoulder some of the biggest risks the franchise has seen in its 15-year history. Treyarch Co-Studio Head Dan Bunting told Newsweek that the company's slant toward evolution paved the way for a revolutionary change known as Blackout battle royale.
The story of Black Ops 4 began in mid-April, when rumors claimed the 2018 title would be the first in the series to not feature a linear single-player campaign. While the reports met with a mixed reception from fans and the press, Treyarch had planned to make the game an exclusively multiplayer experience from the start of development.
"We were never going to make a traditional campaign," Bunting said, "but that doesn't mean we didn't try different ideas…The pitch from the very, very beginning was that we wanted to make a game that was all online and built around social experiences. At Treyarch, we've always been big fans of multiplayer, so we spend a lot of our development effort not only on the social gameplay experience but also the social systems around the game."
Single-player narrative and cinematic experiences didn't make sense for the team that pioneered multiplayer self-expression in the Paint Shop or co-op madness in Zombies. Following 2017's nostalgia-fueled Call of Duty: WWII, the goal with Black Ops 4 was to create a product rooted in more current ideas.
Chief among those ideas is the popularity of streaming. Streamers like Shroud, PewDiePie and Summit1g broadcast gaming to millions of viewers, and Bunting said one of Treyarch's goals was "to make a game that was as fun to watch as it is to play." That demanded a "shift in mindset," putting live player action first. Instead of emphasizing the scripted set pieces of a campaign, Black Ops 4's best moments had to be created by gamers themselves. A helicopter could still explode, for example, but only if another player piloted the craft into a tree first.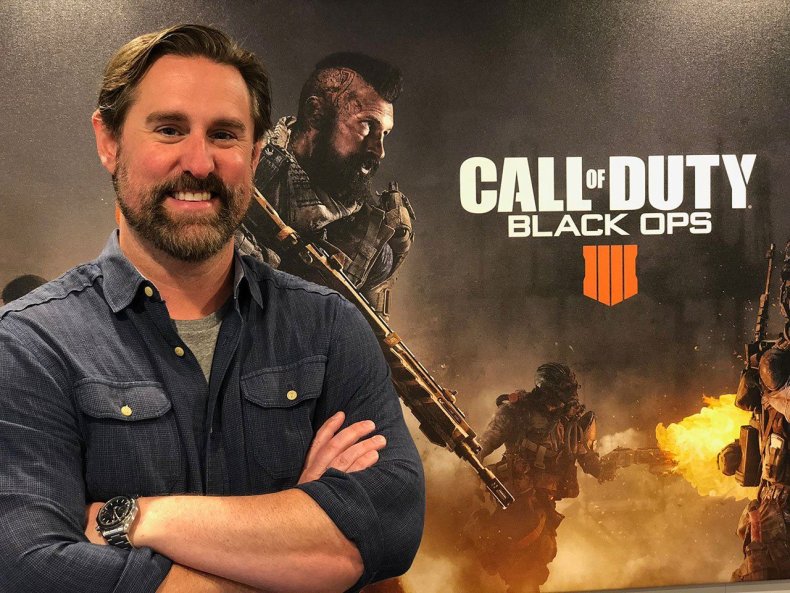 To Bunting and his team, the resurgent popularity of battle royale games like PlayerUnknown's Battlegrounds also merited further investigation. "Last February we were highlighting to people that battle royale was a genre and not a game mode or a thing that a single game owned," Bunting said. By the end of 2017, development on what would come to be known as Blackout had begun.
Even though Blackout makes history as the series' first battle royale suite, tradition helps position the mode as something Bunting describes as "uniquely Call of Duty." Leveraging Super Terrain and other tools designed to create the open spaces of Black Ops III, the final Blackout map is more than 1,500 times the size of the iconic Nuketown multiplayer map. In that oversized arena, players encounter a mashup of characters, weapons, maps and campaign moments from eight years of Black Ops lore.
"We built Blackout as a celebration of the series and love letter to our fans, by giving them the best of the series in a whole new way," Bunting explained. "We're taking fan-favorite elements from our past games and putting them together with a completely new twist." Want to head to Nuketown as Soap or relive your Zombies nightmares with Richtofen? In Blackout, all of that's possible. While the inspiration from PUBG and Fortnite is clear, the gunplay, locales and faces you'll see in Blackout are classic Call of Duty.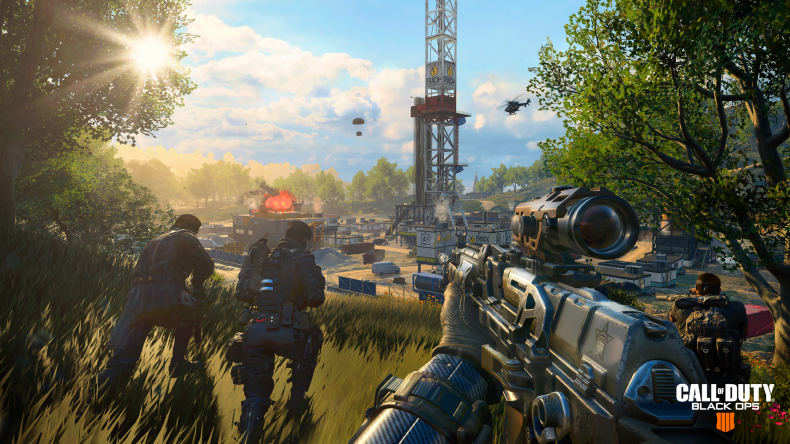 Players had a chance to try Blackout for the first time during a September beta, and the response has been almost unanimously positive. Praise rained down from the influential likes of Fortnite and PUBG streamers Ninja and Dr DisRespect. At the moment, Blackout seems poised to be one of the most talked-about online experiences of the year. "We honestly had no idea it was going to be so tremendously positive," Bunting said of the reception of the beta.
Treyarch's goal for Blackout is a steady evolution via daily and weekly content updates alongside periodic large-scale events. In fact, the Treyarch team has already planned several major content drops through the middle of next year. How those plans materialize will be entirely dictated by the Black Ops 4 community. "We're willing to change anything and everything," Bunting explained.
Blackout doesn't feel like an entirely safe Call of Duty concept, but Treyarch wants the experiment to be "a huge party" where everyone's invited. "If you want to find innovation, you're not going to find innovation by trying things that are safe," he mused.
Call of Duty: Black Ops 4 is available Oct. 12 on PS4, Xbox One and PC.
What's your take on Blackout and Call of Duty: Black Ops 4? Will Treyarch get battle royale right? Tell us in the comments section!