'Call of Duty: Black Ops 4' Twitch Prime Loot - How to Get Free Burple Skin & More
Call of Duty: Black Ops 4 Twitch Prime Loot is officially live, and it features a slick Blackout outfit, Burple multiplayer weapon camo and more. In this guide, we'll tell you how to use your free or paid Amazon Prime benefits to get these sweet goodies.
What Twitch Prime Loot is Available in Call of Duty: Black Ops 4?
The Twitch Prime Loot for Call of Duty: Black Ops 4 includes the following: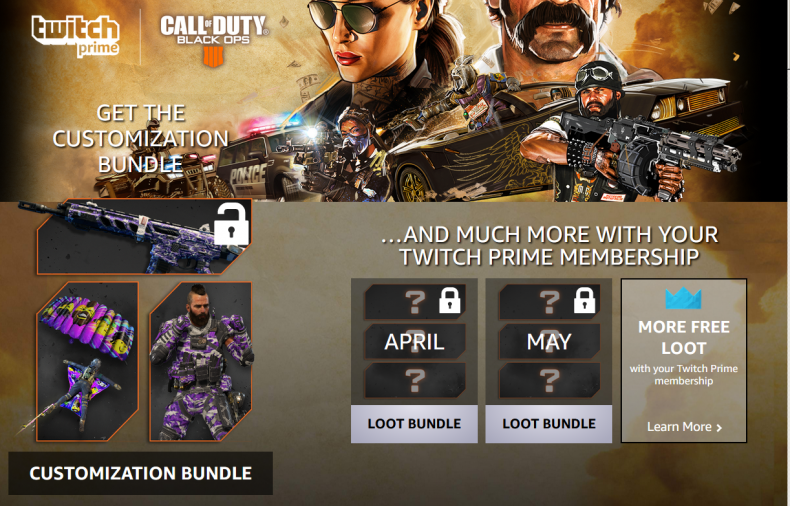 Primo Outfit Set
Party Chat Jump Pack
Burple Weapon Camo
How to get the Twitch Prime Loot with Twitch Prime
If you have Amazon Prime, you're automatically eligible for Twitch Prime benefits. If this is your first time taking advantage of them, you may need to link your Twitch and Amazon accounts. If you've done that already, skip these steps.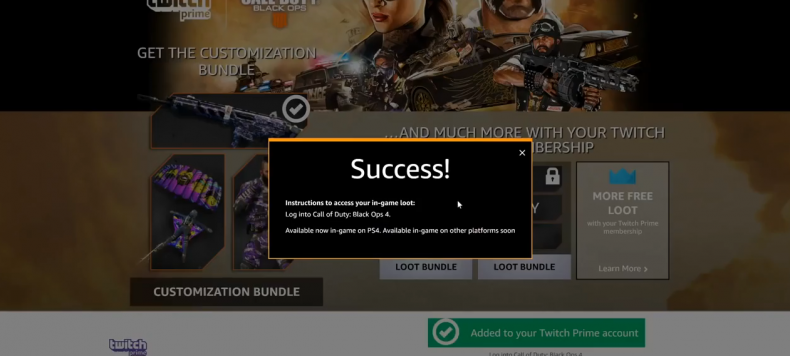 Go to the Amazon website, log in and you'll see a heading for "Prime" next to your Shopping Cart. Click that.
You'll be taken to a page that lists all the various Prime perks. Scroll till you see the banner for Twitch Prime. Click that.
At the top of the page you'll see a button that says "Connect Your Twitch Account."
Input your Amazon credentials and Twitch credentials.
When prompted to Link Twitch account," press the blue button to confirm.
Provided the account you've linked to is an actual Amazon Prime account and not a shared one, you'll see a screen that confirms your membership.
With everything linked, here's how you get the Loot: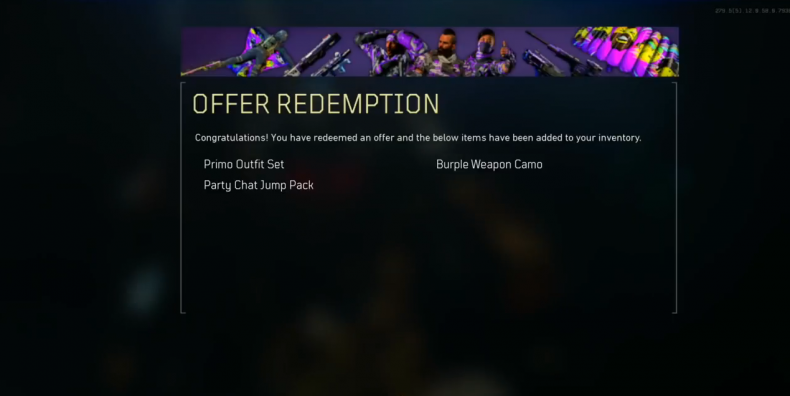 Go to the Black Ops 4 Twitch Prime website, and click the big blue button to "click here to claim your loot on Call of Duty account." You may be prompted to enter your Call of Duty account credentials if you haven't already.
You should get a message that reads "success!" Now all you have to do is log into Black Ops 4 as normal. Once you press the button to connect to servers, you should see an "offer redemption" screen.
This same process should work for subsequent Black Ops 4 Twitch Prime packs releasing in April and May as well.
How to get the Twitch Prime Loot with a Free Trial
If you don't have Twitch Prime, you can still claim this Loot for free using a free trial.
Go to the Twitch Prime website and press the button to "Try Twitch Prime."
Double-click your region and sign in with a valid Amazon account.
When prompted, press the button to link with the account.
Continue through the on-screen steps, till your Twitch Prime access is confirmed, then follow the two steps above. Just remember to cancel your trial within 30 days of activation.
What are your thoughts on the Call of Duty: Black Ops 4 Twitch Prime Loot? Will these cool cosmetics get you back in the game? Tell us in the comments section!