'Call of Duty: Black Ops 4' Yellow Triangle Near Your Name - What It Means
Call of Duty: Black Ops 4 got a significant update on Xbox One and PC Tuesday afternoon, and there's one small part of it that has many players confused. Want to know why there's a yellow triangle next to your name in the lobby screen? We've got you covered.
Call of Duty: Black Ops 4 Yellow Triangle Explained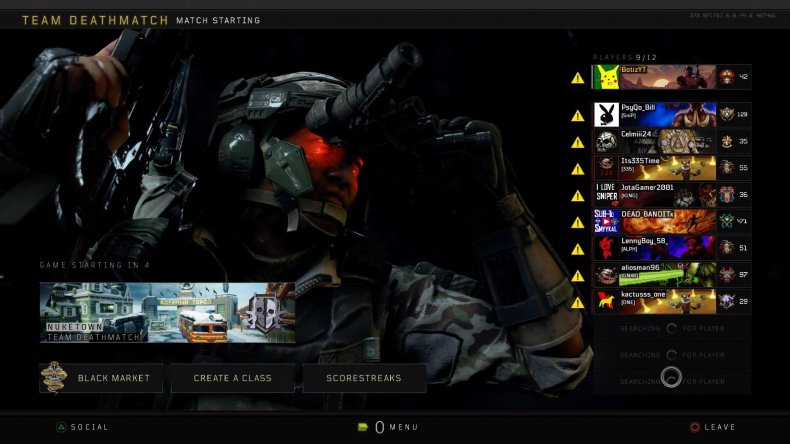 The issue of the yellow triangle first made its presence known with the launch of the 1.11 client update on PS4 last week. Shortly after that patch went live, Treyarch took to the Black Ops 4 subreddit to explain why yellow triangles filled lobby screens. The post reads as follows:
"This was a bug that's being fixed in an upcoming patch, and should no longer show up. These triangles are only meant to display in parties (not public lobbies) next to a party member's name if they don't have all maps installed, to let your party know why some maps aren't appearing in rotation.
"A more subtle indicator will be displayed in parties when the Black Ops Pass maps are back in rotation as intended."
In other words, any instances of this indicator showing up on a widespread basis are the result of a glitch. Seeing it next to your name while partied with friends, however, is meant to indicate which members of your party don't have the Black Ops Pass installed. It's designed to serve as a warning that Black Ops Pass content won't be featured in your party's rotation. Treyarch also likely hopes you'll convince those guilty parties to purchase a Black Ops Pass to make that yellow triangle go away.
In short, this yellow-triangle issue in Black Ops 4 is more or less a temporary problem that Treyarch will solve more accurately in the coming weeks.
Call of Duty: Black Ops 4 is available now on PS4, Xbox One and PC.
What are your thoughts on the yellow triangles appearing in Black Ops 4? Is this tactic a little manipulative? Tell us your thoughts in the comments section!