'Call Of Duty: WWII' DLC 2 Release Time - When Can I Download War Machine?
Call Of Duty: WWII DLC 2 is nearly upon us, and we want you to get your hands on the War Machine content as soon as possible. Based on past Call Of Duty DLC releases, here's all you need to know about release times, downloads and preloads.
WHEN WILL 'CALL OF DUTY WWII'S WAR MACHINE DLC RELEASE?
If past release habits are any indication, you'll be able to play and download all War Machine content at 12 a.m. EDT on April 10. Those on the West Coast can expect War Machine to go live at 9 p.m. PDT on April 9. These times always have the potential to vary slightly due to changes on Sony's behalf, but the window should be fairly accurate.
CAN I PRELOAD 'CALL OF DUTY: WWII' DLC 2?
Preloading just recently went live for those with a season pass or War Machine pre-order.
To check if a preload is available, make sure you have about 6GB of free space on your hard drive and go to Library > Purchases on your PS4. If you have an open pre-order, the War Machine DLC should be listed there with an option to download. Preloads can also be accessed by going to the War Machine DLC's store page on the PlayStation Store.
HOW DO I ACCESS THE DLC 2 CONTENT?
Once the download has unlocked, all War Machine content can be found in its applicable menus. If you want to play the new chapter of Nazi Zombies, for example, select the Nazi Zombies menu and choose the option for "The Shadowed Throne." For multiplayer maps, a War Machine playlist will become available that lets you experience the new additions.
WHAT'S IN 'CALL OF DUTY: WWII' DLC 2?
The War Machine DLC is headlined by three new multiplayer maps: Dunkirk, Egypt and V2. In addition, a new War Mode experience puts players in the cockpit of planes for Operation Husky. Teams retrieve intel, broadcast it and then take to the skies to make their escape. For Nazi Zombies fans, "The Shadowed Throne" takes squads to Berlin as the villainous Doktor Straub fights off allied invaders with his undead weaponry. Claw your way through the streets of Nazi Germany to change the direction of history.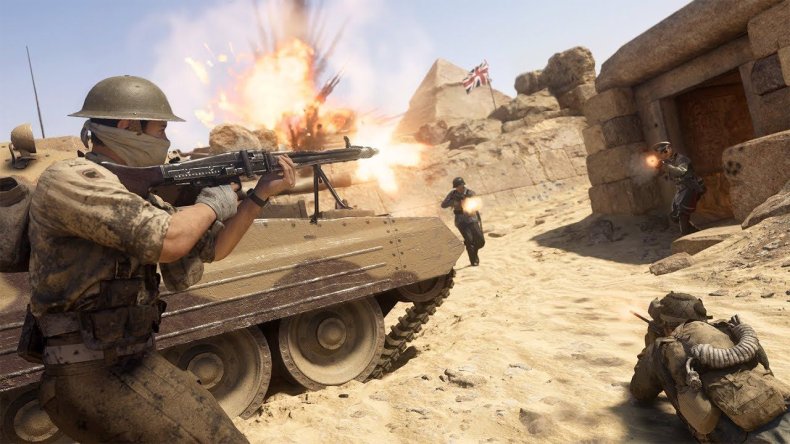 There's also a major content update that completely overhauls Divisions across all platforms. You can read more about those changes at the link.
Call Of Duty: WWII is available now on PS4, Xbox One and PC. The War Machine launches on PS4 April 10, and will arrive on Xbox One and PC next month.
Are you excited for the War Machine DLC for Call Of Duty: WWII ? Do you have a pre-order? Tell us in the comments section!