'Call of Duty' Endowment Fearless Pack Celebrates Military Appreciation Month
Activision has announced that the Endowment Fearless Pack will be sold in Call of Duty in honor of Military Appreciation Month, which takes place throughout the month of May. All of the net proceeds from this pack, as well as a real life t-shirt sold in the store, will go to the Call of Duty Endowment, which helps underemployed and unemployed veterans find new jobs.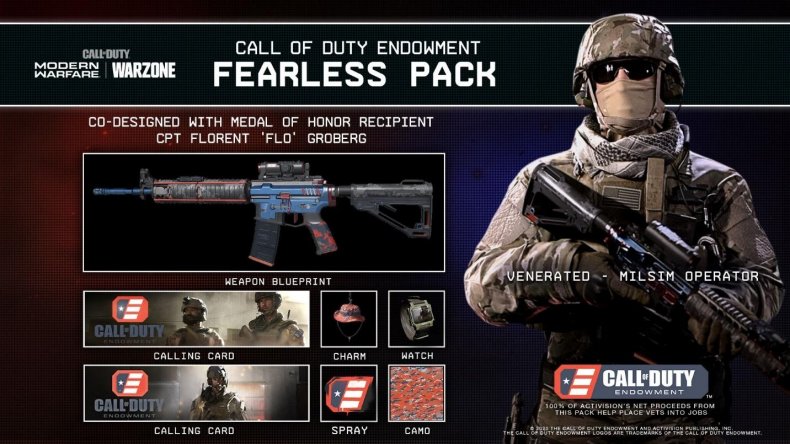 Call of Duty Endowment Fearless Pack
The pack and its contents were designed with help of Medal of Honor service recipient CPT Florent "Flo" Groberg, and is based on his experiences in the field. Here's what the pack comes with:
Venerated Mil-Sim Operator Skin - This will work in Warzone, Special Ops or multiplayer matches.
For the Cause Assault Rifle Blueprint - A loadout for Warzone matches that comes with five attachments: Scout Combat Optic, Corvus Custom Marksman Barrel, FORGE TAC SQS Stock, the Tac laser and the Stippled Grip Tape. The rifle itself is engraved with the date of the event CPT Globerg performed the actions to honor his fallen comrades..
Steadfast Watch - Check the in-game time with a watch that has the Endowment logo on it's strap.
Stand Out Weapon Camo - Orange camo for your gun, what more do you need to know?
Orange Boonie Weapon Charm - Have a small boonie hat dangling from the side of your gun, making it just a bit more stylish (and orange).
Two Calling Cards - Two new ways to show off your military pride.
Two Emblems - Get two exclusive emblem featuring the Endowment logo.
Spray - Be able to spray the Endowment logo in any part of the map.
The Endowment Fearless Pack can be purchased for $9.99 and is currently available in the Modern Warfare or Warzone store.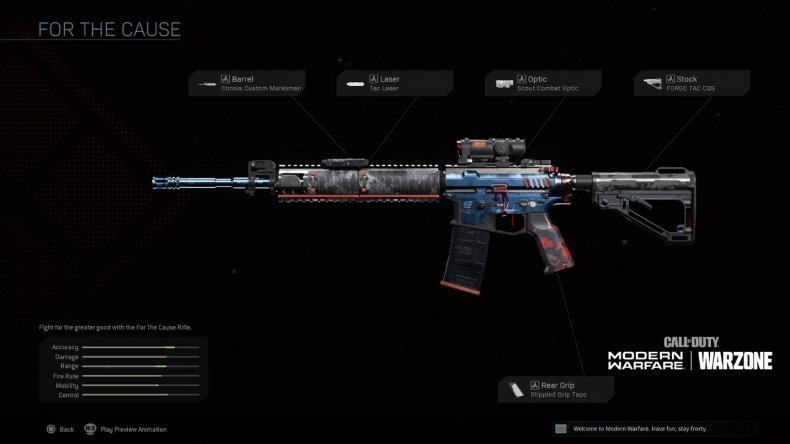 Call of Duty and Activision have been partnering with the United States military on multiple activations over the past few years. The military has also sponsored the Call of Duty League, the game's esports venture, in an attempt to help recruit new gamers. Both mutually benefit from this partnership, with gamers being highly targeted by army recruitment ad campaigns over the past few years.
The pack itself is very nice and might be a worthwhile endeavor for this interested in making their Call of Duty heroes as swagged out as possible. The money from the Endowment will also hopefully go to support veterans who are struggling in this quarantine era.
Will you be purchasing the Endowment Fearless Pack or is this deal just not worth it? Tell us in the comments.