'Call of Duty: Modern Warfare' Beta Crossplay: How to Take On Xbox, PS4 and PC Players
Players testing out Call of Duty: Modern Warfare in this weekend's open beta will be the first to experience crossplay between PlayStation 4, Xbox One and PC in the history of the Call of Duty series.
The second weekend of Activision's Modern Warfare open beta begins on Thursday at 10 a.m. PST for all PS4 players and all Xbox One and PC players with "early access"—granted to those who have already preordered Modern Warfare. All other players on the three platforms will be able to join the open beta beginning 6 p.m. PST on Friday. The open beta ends at 10 a.m. PST on Monday.
Weekend 2 of the Modern Warfare open beta will introduce Ground War multiplayer mode, pitting teams of 32 players against each other on the Karst River Quarry map, which is stocked with vehicles.
How to Crossplay in Call of Duty: Modern Warfare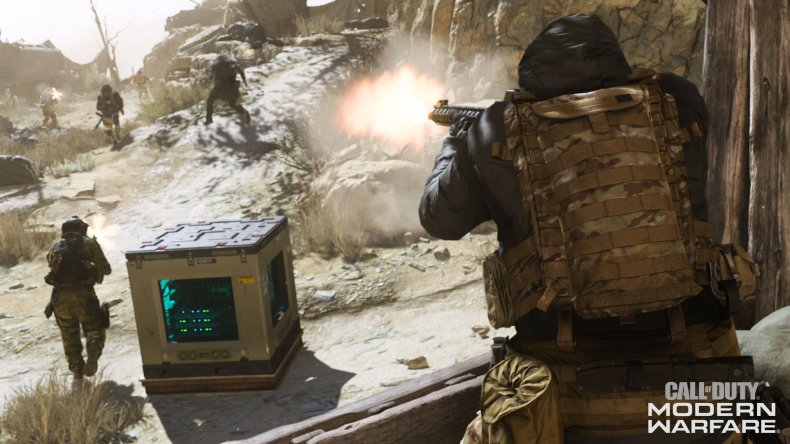 Crossplay in Modern Warfare is optional. Players may opt in or out of multiplayer matches against opponents playing across platforms.
"We've done a lot of user testing. We've built this game from the ground up with crossplay in mind," representatives for Modern Warfare developer Infinity Ward said in a Tuesday live stream. "We shouldn't be restricting people from playing with friends because of platform choices."
Part of the balance between systems in the new crossplay multiplayer mode comes down to controller flexibility. Players will have a wealth of options when it comes to their preferred input device. PlayStation 4 and Xbox One owners will be able to play Modern Warfare with a keyboard and mouse to counteract the precision available to PC players. Or players can choose a match that filters out certain control schemes. Certain Modern Warfare lobbies, for example, will be for matches without control scheme filters, or you can opt for matches with only game controllers or only keyboard and mouse players.
Crossplay options for Modern Warfare will depend on your Call of Duty account, which every player will have because it's a requirement for signing up for the open beta.
Crossplay options will be based on your account display name, with players tailoring their Modern Warfare crossplay capabilities using their Call of Duty account to create cross-platform lists of friends and parties. Players can find other players, across systems, by their Call of Duty display name ID.
While Call of Duty: Modern Warfare will support multi-platform crossplay across all multiplayer modes, crossplay will not be available in ranked play or competitive tournaments. However, Activision says crossplay support will remain robust after release, with new multiplayer maps, missions and gameplay modes coming out simultaneously across PC, PS4 and Xbox One.
For full details on the Call of Duty: Modern Warfare open beta, including crossplay options, check out Activision's official blog.
The full Call of Duty: Modern Warfare game, complete with crossplay capabilities, will be released for PS4, Xbox One and PC on October 25.