'Call of Duty: Warzone' Map Leak Reveals Cold War Verdansk After Nuke Event
Call of Duty: Warzone fans recently got an unexpected glimpse into the future, as a presumed live-action trailer for the popular battle royale's highly anticipated map update unceremoniously made its way to the internet. With some new looks for classic points of interest, there's a sense around the game's community that this updated map will feel far more like the old Verdansk than longtime players may be expecting.
Given that this information wasn't meant to be made available when it first appeared, Warzone's publishers at Activision have issued a seemingly never-ending string of DMCA takedowns to those sharing the footage. At risk of poking that bear, we'll do our best to describe everything that happens in text. Any images used in this article are not featured in the leak. The leak, which occurred Wednesday evening, is believed to have been sourced to an actor involved with the trailer.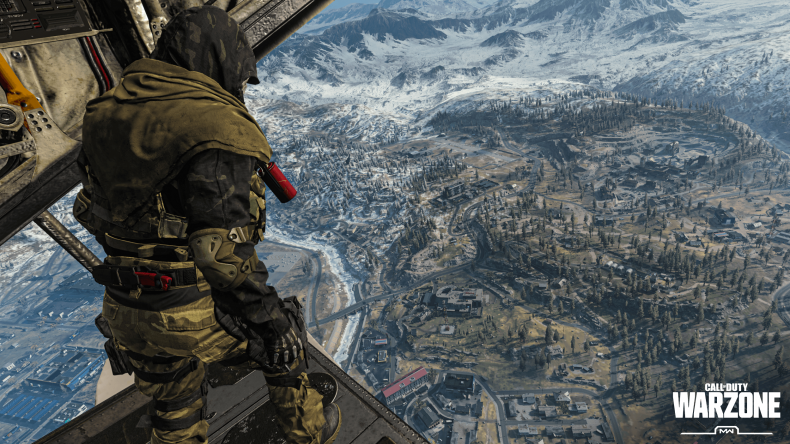 The minute-long clip opens with a sequence of a man bursting through the window of a building with a quad and using the leverage to jump to a helicopter piloted by his ally. After the jumping man pulls up into the vehicle, he starts providing cover fire on the building until his friend taps him on the shoulder to show off a detonator. As the man hits the button, the building erupts into an explosion.
From here, a rewind effect kicks in and we see quick flashes of people sitting on quads. There's also a shot of the current Warzone Stadium PoI. Following a brief glitch effect, we see a version of the Stadium that appears to be older and still under construction. Its floor plan is far more open than the previous one, as the seating area appears to be half finished.
This is followed by a brief shot of a soldier shooting a helicopter from a first-person perspective, and this time the scene transitions to a more built-up version of Military Base with lots of scaffolding in the surrounding area. The following shot shows a still of the current Verdansk Dam, which then glitches to reveal a bridge in its place connecting two large mountains.
Next, the camera pans down into an underground railway for a few seconds. The perspective then pulls out to a shot of a more polished Airport, with an '80s-era plane sitting on the runway. The final frames show someone using an RPG to blow up a vehicle in what looks like a less destroyed version of Downtown.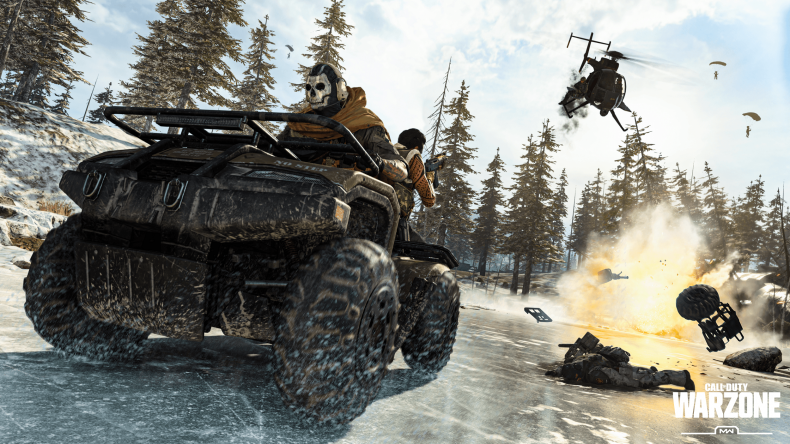 In other words, this leaked Warzone trailer strongly suggests the version of Verdansk players will experience following the highly touted nuke event features at least four reskinned points of interest based on locations we already know. While this doesn't necessarily mean the entirety of the current Verdansk is just getting a reskin, this clip serves as confirmation that players won't be leaving the iconic Verdansk battle arena behind once the nukes do their presumptive damage.
In many ways, the shift seen here appears somewhat analogous to the switch from Fortnite Chapter 1 to Chapter 2. While much of the original island had changed, its basic layout and some key points of interest did survive the transition. We don't see any new locations in this footage, but we'd be surprised if there aren't any unique additions to the larger play area area. The main motif, though, is that Verdansk is going back in time to the Cold War era.
As for when this new Warzone map will finally arrive, that much remains unclear. Given that these new details emerged as the result of an apparent leak, it may be a while before we get any official indication of just how long the ongoing zombie infestation of Verdansk will persist. A report from VGC suggests the nuke event may take place as soon as April 22, but that much hasn't been confirmed. For now, fans may want to temper their expectations for just how "new" this new Warzone map may be.
Call of Duty: Warzone is available now on PS4, Xbox Series X|S, Xbox One and PC.
What are your thoughts on large parts of Verdansk getting reskinned in the new Warzone map? Are you happy with its 1980s aesthetic? Tell us in the comments section!