'Call of Duty: Warzone' Nuke Event Didn't Happen Today, but Teases and Leaks Suggest It May Be Incoming
Call of Duty: Warzone celebrates one year of existence as of March 10, and many of the game's diehard fans were expecting a special celebration in the form of a nuclear event. Even though nothing spectacular has happened yet in-game as of Wednesday afternoon, official teases and unofficial leaks suggest something may be in the works in the near future.
Starting with the official content first, a popular Call of Duty content creator recently shared pictures of a package he allegedly received from Activision. The parcel features a yellow prison-like sweatsuit with the words "captured" written on it. The pants also sport a cool V-shaped emblem, presumably in honor of the iconic Verdansk map. As seen in the pictures above, the clothes arrive alongside a typed note that reads as follows:
"Call of Duty: Warzone - There are no second chances after losing a battle here. The outer prison is a hostile-rich environment. You're safer in the ghoul-ag."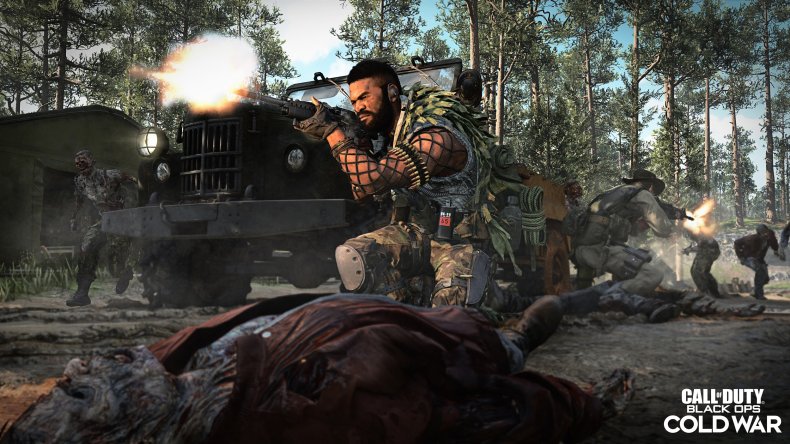 It's that last line that's perhaps most telling, as it implies some type of "ghoul" could be making its way to Verdansk in the coming days. This message and more is buttressed by a short teaser video posted by the Call of Duty Twitter account on March 5, which announces "zombies had been sighted exiting the Warzone Shipwreck." To date players haven't seen any undead action inside the main Verdansk island, but it's clear there's something spooky afoot.
Teases like these set the stage on an official basis, but alleged leaks courtesy of Call of Duty dataminer Zesty potentially paint a more complete picture. After poring through dozens of audio files in a now-removed clip, many fans have reached the conclusion that a lobby called Plague is on the way, and it sounds like it's very much tied to the fabled nuke event. The dialogue lines contain phrases like "this is the end" and "this is our final broadcast" in reference to defending Verdansk from a zombie threat. But, perhaps most critically, the files have voice lines that say "nuke inbound for Verdansk."
Based on the descriptions offered within these lines, the prevailing theory amongst fans is that the so-called nuke event will involve zombies laying siege to Verdansk. Players will be told at the start of the mission that they'll be evacuated once the threat has been dealt with, but failure to do so will result in a nuclear fate. Given that Verdansk seems destined to be destroyed in some capacity to make way for a new Warzone map, failure will likely be the end result. Squads will have lots of fun trying to push back hordes of undead enemies, but those efforts will presumably be in vain.
Nukes had been an integral part of the Warzone storyline in the months leading up to the launch of Call of Duty: Black Ops Cold War this past fall, but the topic had been mostly forgotten until fairly recently. Following the launch of Black Ops Cold War Season 2 in late February, Video Games Chronicle reported that Verdansk would fall to a nuclear weapon to usher in a new map. This led some to assume Warzone's one-year anniversary would be the perfect time to relaunch the popular battle royale, but it appears that reality won't come to pass. Still, there's lots of evidence to suggest there's something in the works to be uncovered very soon.
Call of Duty: Warzone is available now on PS4, Xbox Series X|S, Xbox One and PC.
What do you expect to see during Warzone's nuke event? Will zombies destroy Verdansk? Tell us in the comments section!