'Call of Duty: Warzone' Stim Glitch Fix Coming As Griefers Survive Gas
Update 8:10 p.m. EDT:An in-game fix has been released at 8:05 p.m. according to an Infinity Ward tweet. The original article is below.
---------
Call of Duty: Warzone has a new glitch that's disrupting matches of Activision's popular battle royale experience. The bug, which made the rounds on social media Thursday afternoon, allows players to use limitless Stim shots to essentially have unlimited health regen. The game's developers at Infinity Ward are aware of the problem and have announced a fix is currently being tested.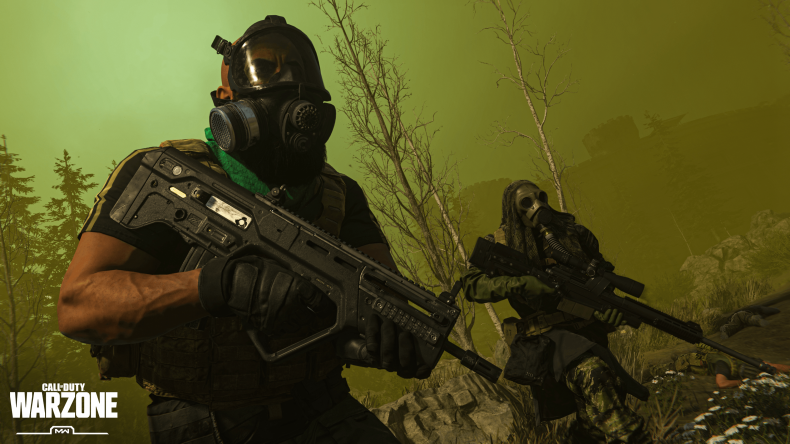 "We're aware of an issue where players are able to use infinite Tactical items in Warzone," IW's official Twitter account announced Thursday evening. "We have a fix that's currently being tested which we'll release as soon as we can. We'll provide another update when we have more information to share." Several hours removed from that post, the patch has yet to be released.
Without getting too deep into the specifics of how the glitch works, players toss a grenade in a certain way, then use a Self-Revive immediately followed by a Stim shot. Once that Stim shot has been applied, griefers have an opportunity to use that Stim over and over again as many times as they wish. This effect even circumvents health drain from Warzone's deadly gas cloud, allowing users to last in the final circle far longer than they otherwise should. In other words, if you now see a bunch of players just sitting in the gas, it's not because they have the Gas Mask item. Instead, they are leveraging an endless supply of Stim to outlast everyone in the lobby.
And matters have worsened as news of the glitch has spread. As referenced in the tweet below, one Twitter user mentioned seeing multiple players exploiting Stim at the end of a match to survive the final circle. Especially for a tactical-leaning battle royale like Warzone, any path towards easy victory is generally not appreciated by its most passionate fans. Still, those who might be stuck on lower levels will take the easy XP while it's available.
Like most live service games, Call of Duty: Warzone has hardly been immune from occasional bugs and glitches in its first year of existence. Infinity Ward recently had to patch out the return of a texture glitch that impacted PC players using certain guns. When plagued by that flaw, the game's weapon textures turned into spiky balls that were impossible for players to see past. The abnormality was quickly patched out, but it took a little time for the issue to be cleaned up for good.
It's unclear how long it will take for Infinity Ward to finish testing its Stim glitch fix, but we imagine frustration could be curbed in the hours and day ahead. For now, however, you'll have to deal with noobs pushing their way through gas at any given moment.
Call of Duty: Warzone is available now on PS4, Xbox One and PC.
Have you seen the Stim glitch in any of your recent Warzone games? Now that it's known, is it OK to use it to stay competitive? Tell us in the comments section.