'Call of Duty: Warzone' Stim Glitch Returns, Giving Cheaters Infinite Health
Call of Duty: Warzone has endured a rough few days when it comes to cheating. The game's skill-based matchmaking system has been completely abused, hackers remain a constant problem on PC and now all players are dealing with the return of a stim glitch that will seemingly never die.
The first reports of this stim glitch emerged Monday afternoon and they've since reached a fever pitch. At the time of this article's publication, developers and publishers at Raven Software, Treyarch and Activision have yet to comment on the controversy.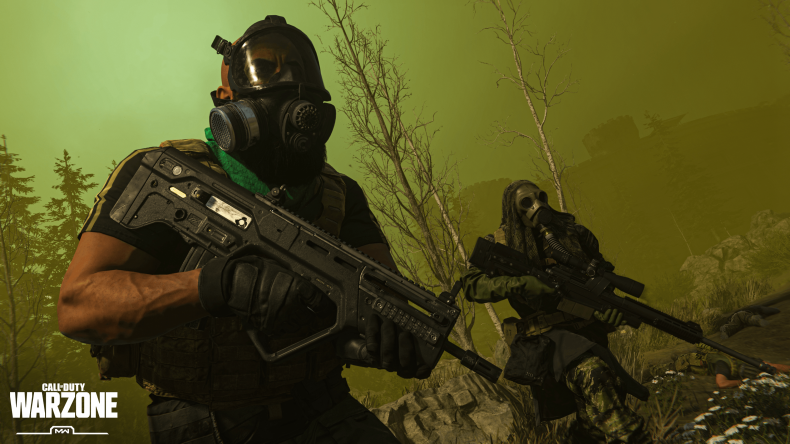 For those who haven't followed the Warzone stim glitch saga, the short version of the story is that nefarious players have found a method that allows them to pop unlimited stim shots, essentially granting them infinite health. In most cases, this glitch manifests in cheaters sitting in the gas cloud and popping stims until the match ends. Once the match is over, the cheater is rewarded with a nice XP boost for their artificial placement or victory.
This iteration marks the third time in recent months that a stim glitch has made its way to Warzone, and the process for triggering it is fairly similar to what's been abused in the past. Without going into full detail, one must throw a grenade in a very specific way to essentially block the game from keeping track of your stim allotment. Once it's been done, the player can continue popping stims to their heart's content.
The glitch has been patched each time it's appeared, but a totally new fix will likely be required to mitigate this slight variation in the process. As of the time of this article's publication, there has been no official indication that a fix is in the works, but, given the intense outcry against this recurring problem over the past few hours, one has to imagine that Raven is hard at work on a resolution. Officially speaking, however, the developer has remained silent.
Even though the Warzone stim glitch has been largely stamped out since October, it's been an interesting week for those looking for an easy advantage in battle royale. The onslaught of cheating issues began with the rise in popularity of a companion app that allowed users to see the average KD ratios of their lobby before the start of a match. That tool has since been patched to provide less of a competitive edge, but it was shortly followed up by the full explanation of a "bot lobby glitch" that allows players to farm easy lobbies full of bots and unskilled players.
The return of the stim glitch is basically the cherry on top of a cheat-filled sundae that continues to cause issues for those hoping to find a fair game. At least for now, the only way to stand a chance against the stim glitch might be to use it yourself. With major updates expected for Black Ops Cold War on January 14, we hope all these problems will be solved soon.
Call of Duty: Warzone is available now on PS4, Xbox One and PC.
What do you think of the new Warzone stim glitch? Have you noticed a decrease in cheaters yet? Tell us in the comments section!