'Call of Duty: Warzone' Stim and Invisibility Glitches Return After 1.34 Update
Update: Raven has acknowledged the invisibility glitch on Warzone's Trello page and has temporarily removed turret helicopters for the time being. The original story is below.
----
Call of Duty: Warzone update 1.34 released early Wednesday morning, and, while the 50GB download didn't offer much beyond a slight AUG nerf and a purchasable Foresight perk, griefers have found multiple ways to abuse flaws found in the latest content. It appears that both the invisibility and Stim glitches have made their way back to the game through slightly more complicated means. The news was reported by several Warzone community members Wednesday afternoon.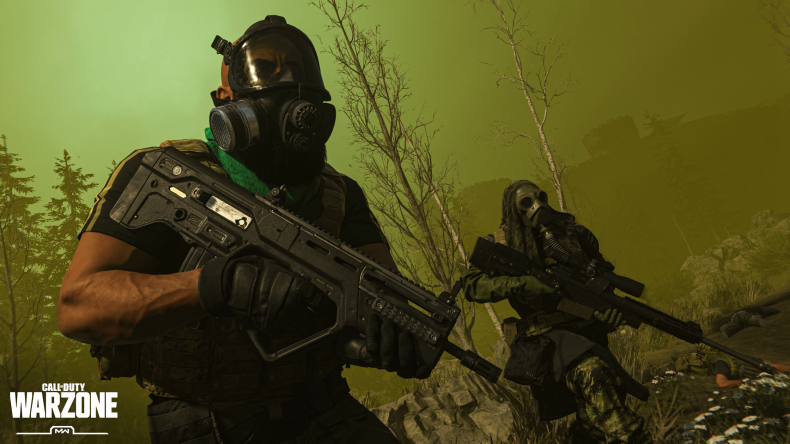 Of the two new glitches introduced in Warzone update 1.34, it's the invisibility glitch that's perhaps the best-known. We won't go into precise detail on how the game-breaking glitch is performed inside of a match, but we will say its methodology is extremely similar to a glitch that Raven had seemingly patched out of the game in mid-December. Just like its previous incarnation, this one takes advantage of helicopters and throwables when used in combination with a Self Revive. Raven also brought gunner helicopters to Resurgence maps in update 1.34. With the emphasis on a bugged vehicle, however, players suggest the helicopter's biggest flaw has been exposed once more.
While the invisibility glitch allows players to avoid getting hit during Warzone matches, the Stim glitch offers an unlimited amount of healing items to survive the game's deadly gas cloud. In this case, the methodology hasn't quite been confirmed by those leveraging its unintended benefits, but the latest rumors suggest the process has something to do with picking up a frag grenade and the Dead Silence perk seconds before a match begins. If accurate, this method sounds fairly different from Stim glitches of the past and may be difficult to pull off—but fans suggest it exists nonetheless.
Despite Warzone's immense popularity as one of the premier free battle royale experiences on the market, it's no secret to those in the game's community that its developers at Raven Software have struggled to keep up with the emergence of new glitches as they're discovered. The Stim glitch in particular has been found and patched nearly a dozen times since the game's release, and still manages to interfere with matches after more than one year of regular content updates. Many fans suggest the Stim should be removed entirely to maintain Warzone's competitive integrity, and this latest development offers yet another example of why that controversial change might be the correct solution.
As Warzone's audience continues to expand, glitches of this nature only further upset that larger player base. And matters only worsen, given that Raven has yet to acknowledge these new flaws on its social media channels or Warzone's public Trello page. The studio may want to remain silent in an effort to curb use of these glitches, but there's no doubt the air of quiet will be of little solace to those who've confronted these issues before. For now, don't expect all of your Warzone matches to end fairly.
Call of Duty: Warzone is available now on PS4, Xbox Series X|S, Xbox One and PC.
What you encountered any Stim or invincibility glitches in Warzone after installing update 1.34? Should Raven remove the Stim for good? Tell us in the comments section!