'Call of Duty: Warzone' Sykov Guide: Best Loadout and How to Unlock With Akimbo
Call of Duty: Warzone and Modern Warfare were updated Thursday afternoon, bringing the fabled Sykov Pistol to the game. After several months of sitting in datamine purgatory, the gun is finally available to unlock, and it's already had a massive impact on the meta. Forget the AUG, FFAR or M16, because there's a new player in town that outmuscles them all.
In this guide, we'll explain how to unlock the Sykov in Modern Warfare and Warzone and, perhaps most importantly, explain the contradiction with the challenge to unlock its amazing Akimbo perk. Whether you want to roll with one or two Sykovs in your holster, this guide outlines the basics of this truly devastating handgun.
How to unlock the Skykov and Akimbo in Modern Warfare and Warzone
Like almost every new gun making its debut in Modern Warfare or Warzone, there's an accompanying challenge for this latest addition to the roster. To unlock the single Sykov, all you have to do is get at least four kills using pistols in five different matches. This task will be a little tricky in Warzone specifically, but it should be a lot more doable in the congested multiplayer modes of Modern Warfare. If you still have the 2019 game at your disposal, now would be a good time to take advantage of it.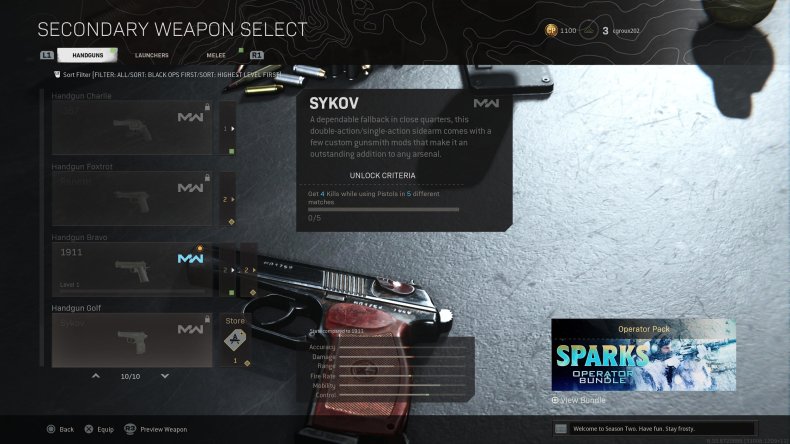 If you can use it, the best way to get those kills is to leverage the all-powerful Renetti, unlocked at tier 15 of the Modern Warfare Season 3 Battle Pass. It's irrefutably one of the best pistols in Warzone or Modern Warfare alike. The Diamatti, M19 or Magnum are solid alternatives in the event the Renetti isn't accessible.
When it comes to getting the Akimbo perk, which allows you to dual-wield the Sykov, there seems to be a bit of confusion. Despite the in-game challenge suggesting Sykov owners must get three kills in five different matches using the Mo' Money perk with the Renetti, players must actually get three kills in five different matches using the Mo' Money perk with the Sykov. This wording may be fixed by the time you see the challenge, but we've kept the error here in case Raven is slow in making the correction. Once again, this task will be a bit easier in Modern Warfare multiplayer, but it's not impossible in Warzone, either.
What is the best Sykov loadout with and without Akimbo?
Once you've unlocked the Sykov and its Akimbo perk, you're probably wondering what the best loadout for this powerful pistol might be. In this case, experts almost universally agree which attachments provide the most impactful results. Setups similar to what we're about to describe are shredding the meta right now, so you might as well take advantage while everybody else is.
Barrel - Sorokin 140mm Auto: This makes your pistols fully auto and thus increases their fire rate. It's a huge part of what makes the Sykov so insanely powerful.
Muzzle - Monolithic Suppressor: You don't need a trigger attachment if your gun is auto, so use this part to add a silencer and increase your damage range.
Laser - 5 mW Laser: Tightens up the Sykov's spread and increases the sprint-to-fire speed.
Ammunition - 80-Round Drum: The large magazine also makes these pistols extremely effective, so make use of it.
If you're using the single Sykov without Akimbo, these attachments may help in addition to what's listed above.
Stock - PP-Karabin: This cuts down on your recoil substantially, which will be extra important if you're only using one pistol.
Rear Grip - VLK Prizrak: This increases your ADS speed and sprint-to-fire speed, which is hardly ever a bad thing.
Fully Loaded: Especially if you're opting for 80 rounds, starting with a fully loaded magazine can be a really nice perk.
With any of the above loadouts, the Sykov has prompted a crazy shift in the Warzone meta fairly quickly. After all, the gun has half the time-to-kill of the FFAR and takes down opponents in about nine shots. We highly suspect the Sykov will be nerfed in the coming weeks, but, given the presumed nuke event and Season 3 update waiting in the wings, players will likely have several days of insanity before its stats are toned down in a substantial way.
Call of Duty: Warzone is available now on PS4, Xbox Series X|S, Xbox One and PC.
What are your thoughts on the Sykov so far? Is there a better loadout the community has missed? Tell us in the comments section!