'Call of Duty: WWII' DLC 3 Release Time - When Can I Download United Front?
Call of Duty: WWII DLC 3 is nearly upon us, and we want you to get your hands on the United Front content as soon as possible. Based on past Call of Duty DLC releases, here's all you need to know about release times, downloads and preloads.
WHAT TIME WILL 'CALL OF DUTY WWII'S UNITED FRONT DLC RELEASE?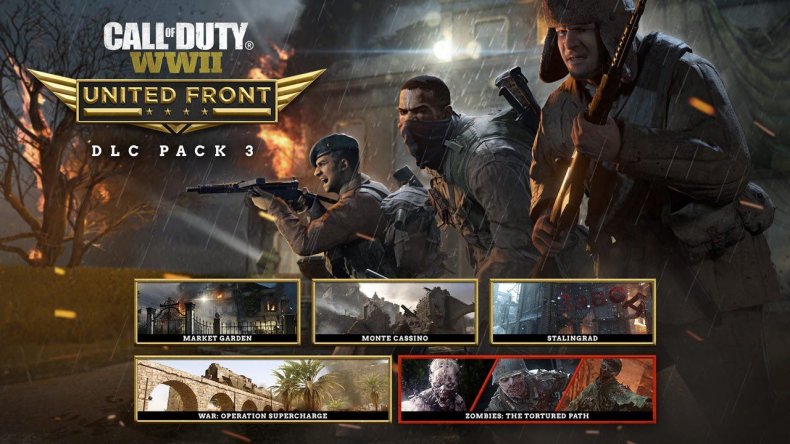 If past release habits are any indication, you'll be able to play and download United Front at 12 a.m. EDT on June 26. Those on the West Coast can expect United Front to go live at 9 p.m. PDT on June 25. These times always have the potential to vary slightly due to changes on Sony's behalf, but the window should be fairly accurate.
CAN I PRELOAD 'CALL OF DUTY: WWII' DLC 3?
Preloading should go live around noon EDT on June 25 for those with a Season Pass or United Front pre-order.
To check if a preload is available, make sure you have about 10GB of free space on your hard drive and go to Library > Purchases on your PS4. If you have an open pre-order, the United Front DLC should be listed there with an option to download. Preloads can also be accessed by going to the United Front DLC's store page on the PlayStation Store.
HOW DO I ACCESS THE DLC 3 CONTENT?
Once the download has unlocked, all United Front content can be found in its applicable menus. If you want to play the new chapter of Nazi Zombies, for example, select the Nazi Zombies menu and choose the option for "The Tortured Path." For multiplayer maps, a United Front playlist will become available that lets you experience all the new additions.
WHAT'S IN 'CALL OF DUTY: WWII' DLC 3?
Just like the previous expansion packs, United Front includes three traditional multiplayer maps, a War Mode campaign and a chapter of Nazi Zombies. Here's a quick recap of all the locales you'll visit and the stories they feature. Read our article on the DLC 3 reveal for more information.
Market Garden: A close-quarters indoor map set in the Netherlands
Monte Cassino: A vertical map with lots of flank points set in Italy
Stalingrad: The classic World War II battle is recreated once more for a modern audience. Given the map's mass appeal in other shooters, WWII's version is designed around all playstyles.
Operation Supercharge [War Mode]: Head to Tunisia to capture Nazi supplies and detonate an Axis transport bridge. Capture the remaining fortifications and victory is yours.
The Tortured Path [Nazi Zombies]: General Rideau sends an unmarked caravan to travel between Berlin and the Allied-controlled port of Malaga. Reforge Barbarossa's Sword to deliver a supposed final blow to Zombie forces.
In addition to the DLC, a free content update is also set to release around 12 p.m. EDT June 26 on all platforms. Its full patch notes aren't yet available, but this image has been used to tease it with the caption "call in the Cavalry." Our prediction is that all Call of Duty: WWII players will be able to use a new Division called Cavalry. We have no idea what that means in terms of its abilities, but the riot shield implies a focus on defensive roles.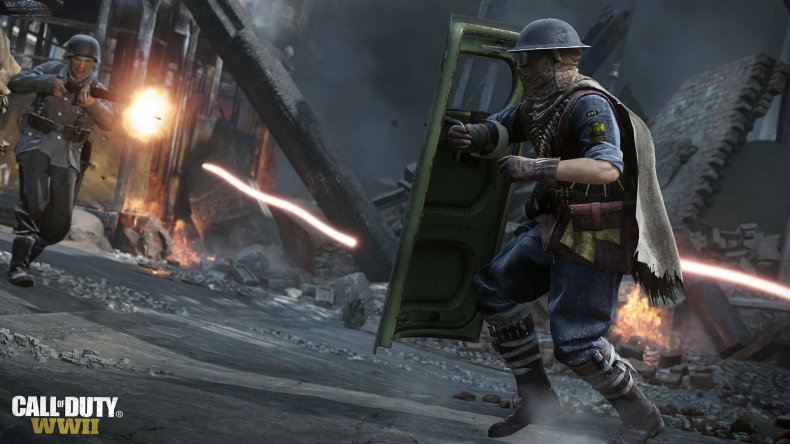 Considering WWII's Attack of the Undead Event is also set to end June 26, we imagine the DLC's launch will be commemorated with an in-game celebration that features new weapons, skins and limited-time modes. Patch notes will be available for all free content soon after it goes live.
Call of Duty: WWII is available now on PS4, Xbox One and PC. The United Front launches on PS4 June 26, and will arrive on Xbox One and PC next month.
Are you excited for the United Front DLC for Call of Duty: WWII ? Do you have a pre-order? Tell us in the comments section!