'Call of Duty: WWII' DLC 4 Revealed - Shadow War With Frozen Dawn Zombies
Call of Duty: WWII DLC 4 hasn't been publicly announced, but Activision has already posted basic details about the expansion on an official website. While the link has since been removed, its contents were copied by the Call of Duty experts at Charlie INTEL, revealing that this fall's DLC is called Shadow War, and features a Zombies chapter titled The Frozen Dawn.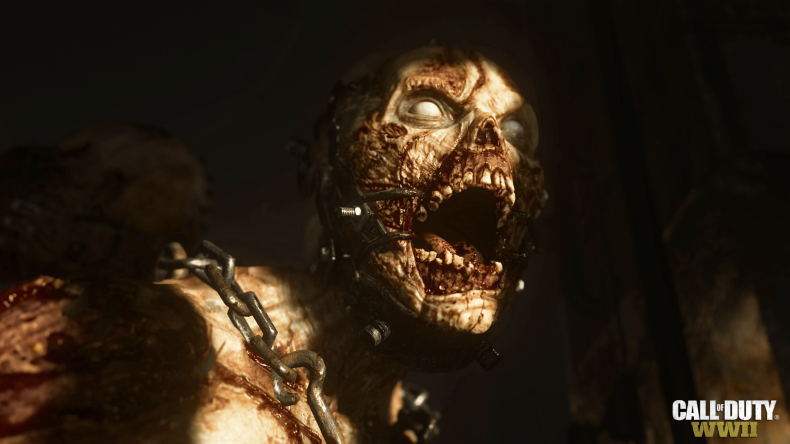 While there's little information about multiplayer, Charlie INTEL has learned quite a bit about the upcoming Zombies content. With their zeppelin now destroyed, Olivia and her crew find themselves in the ice-cold depths of Antarctica, surrounded by the undead. To combat the zombie threat, the group must venture into an underground maze called the City of Thule.
These labyrinthine paths promise to provide the most challenging Nazi Zombies experience yet, but General Rideau will be on hand to give your squad a slew of new weapon upgrades and consumables. The Zombies, however, have the backing of a brand-new creature called the Void Sizzler. This new type gets stronger by killing other Zombies first, but you'll be its next target.
Considering Activision has removed the source link, we imagine these details regarding Shadow War and The Frozen Dawn were posted inadvertently. With the CWL 2018 finals just one day away, it's possible Call of Duty: WWII's developers at Sledgehammer Games may close out the competition with a formal DLC 4 reveal that includes a first look at Shadow War's multiplayer maps.
A release date for Shadow War is not listed, but we expect it to be available fairly soon. The final DLC for 2016's Call of Duty: Infinite Warfare, for example, released in mid-September. Considering Call of Duty: Black Ops 4 is releasing before the traditional Call of Duty November launch, this presumed final DLC for WWII could arrive even sooner.
We'll update this article with more information as it arrives.
Call of Duty: WWII is available now on PS4, Xbox One and PC.
What are your thoughts on Shadow War after reading this description? Are you still excited for Frozen Dawn with Black Ops 4 looming on the horizon? Tell us in the comments section!