'Call of Duty' Zombies Devs Discuss How 'Black Ops 4' Mutates Co-Op
Call of Duty: Black Ops 4 is a game focused on bucking the conventions of an established franchise. While most fans likely know 2018's title has scrapped a single-player campaign in favor of a battle royale mode called Blackout, the team at Treyarch has also introduced major mutations to its co-op Zombies mode. In a recent interview, Treyarch Co-Studio Head Jason Blundell and Lead Writer Craig Houston told Newsweek how this year's undead gameplay and story differ from all others that came before.
Custom Mutations Are Better for All
Despite the immense popularity of Call of Duty Zombies, Blundell and his team admit the mode had become increasingly obtuse with its convoluted narrative and intense gameplay challenges. To address this, Black Ops 4 Zombies features a suite of options called Custom Mutations. Using various sliders and toggles, players can select the overall map difficulty, enemies, weapons, AI bots and perks available on each map. In large part, these options can be used to make the experience easier.
"A little known secret is that I'm terrible at Zombies," Blundell told us. "The easy difficulty setting is a variable set of controls that makes it very accessible and pick-up-and-play… With that mode in the purest sense, the average game player could pick it up and get through a good 10 or 15 rounds."
While somewhat pandering to newcomers, mutations can also work the other way by making an already challenging Zombies mode even more difficult. Blundell made it clear that hardcore fans won't be disappointed with the package.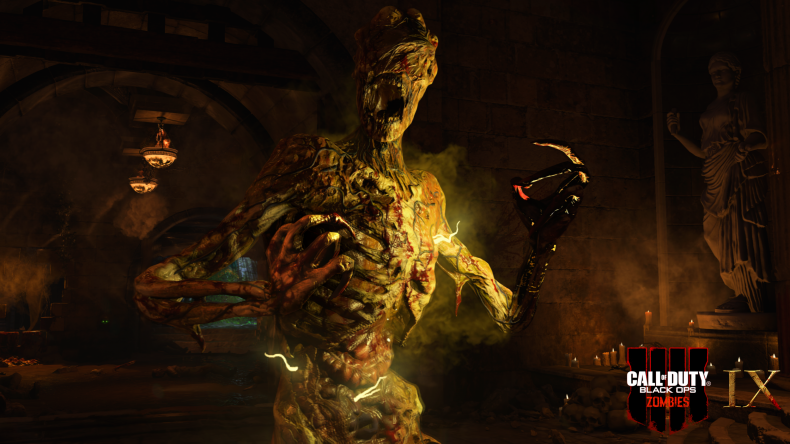 "Hardcore players will find more Easter eggs in these maps than in previous ones by a considerable margin," he said. "For players who want to test their skills, we've given them more power and control than they've ever had with deeper stuff to look for. Add that into the four maps we're offering on day one, and a hardcore guy will be hard pressed to find a Zombies experience that rivals any of our past offerings." The fourth map, called Classified, is available with the purchase of a Black Ops Pass.
In order to sort through these mutations of varying difficulties, players can use a brand-new feature called the Authenticity Stamp In simple terms, it's a series of words players can use as qualifiers to compete on first and third-party leaderboards. Anyone will be able to categorize their runs by aspects like difficulty or weapons used, but the Authenticity Stamp allows the best of the best to showcase their achievements effectively. Those who persevere through the toughest challenges will inherently earn more real-world bragging rights than those who indulge in casual play.
Regardless of the difficulty you choose, Black Ops 4 Zombies intends to bring a service-based approach to co-op. Through the addition of daily, weekly and monthly challenges, the experience will constantly evolve with new tasks to try. "I think on the reveal I said we're going to make Zombies an evergreen mode for daily, weekly, monthly and yearly engagement. That wasn't just a cool soundbyte," Blundell assured. "That's actually how we're making this with all the systems we've put around." In the weeks and months after launch, players can return to maps like IX, Blood of the Dead and Voyage of Despair and have a totally fresh experience.
Uncharted Narrative
Black Ops 4 also ushers in a new era of storytelling. The existing Aether narrative with Richtofen continues with added surprises and reworked locations. Houston couldn't help but tease 2018's take on Mob of the Dead, called Blood of the Dead, when discussing his favorite maps.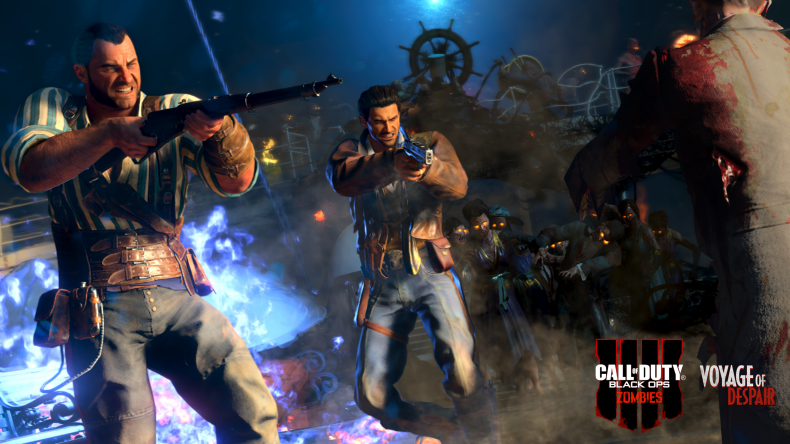 "The nature of interdenominational time travel means you can really subvert things, change things around and surprise people, which we're definitely doing in Blood of the Dead," he said. "That's a map where I don't think people are really prepared for what's going to happen there even though it's nestled into a very specific point in the pre-existing story."
Combine those elements with the all-new Chaos timeline that has fresh maps and characters, and the stage is set for a very different evolution of Zombies. To Blundell, that commitment to change is what personifies his studio as a whole.
"If you keep doing the same thing over and over again, you're ultimately going to dissatisfy the community, Blundell mused. "The more you change things you also run the risk as well, but that excitement is what drives it. That's why every time we sit down to do a map we look at it like it's the first one we've ever made. You have to because when you get complacent, that's when you lose it."
Ten years later, Treyarch has no intention of curbing its Zombies love. In fact, Blundell had one final tease for his community to mull over. "The answer is in the sea," he said with a mysterious air. We have no clue what it means, but that's what Zombies is all about. It's messy, fun and delightfully confusing. Black Ops 4 gives fans more of that flavor with a few new twists.
Call of Duty: Black Ops 4 is available Oct.12 on PS4, Xbox One and PC.
Are you excited to play Black Ops 4 Zombies? Which new gameplay element are you most excited about? Tell us in the comments section!