Call for GOP West Virginia Delegate Who Stormed Capitol To Face Criminal Charges
There have been calls for a newly-elected West Virginia lawmaker to be suspended and even face prosecution after footage showed him at the center of the mob that stormed the U.S. Capitol Wednesday.
Derrick Evans assumed office on December 1 as a Republican member of West Virginia's House of Delegates after placing first in a two-member district with 8,227 votes.
He live streamed video on Wednesday in which he surged through a door in the interior of the Capitol building.
In the footage, which was later deleted, he was heard shouting: "We're in, we're in. Derrick Evans is in the Capitol!" Evans is among Trump followers who are holding flags and he is seen in the Capitol Rotunda where he shouts: "No vandalizing."
Evans' actions have sparked anger in his state and an online petition calling for his removal.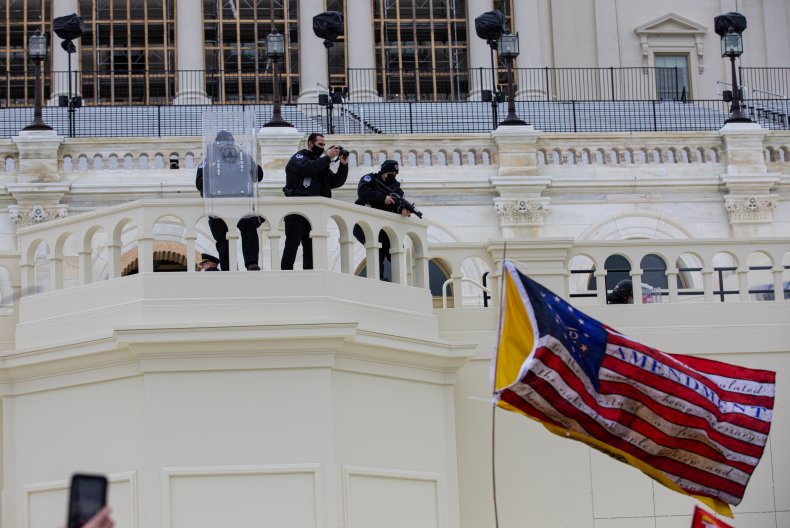 House of Delegates Speaker Roger Hanshaw said in a statement that Evans will need to "answer to his constituents and colleagues regarding his involvement in what has occurred today."
Hanshaw referred to a possible criminal prosecution, describing how "storming government buildings and participating in a violent intentional disruption... is a crime that should be prosecuted to the fullest extent of the law."
A spokesperson for West Virginia's House said that Hanshaw was gathering information about what happened "and will evaluate all the potential consequences once the totality of the situation is understood," according to The Associated Press.
West Virginia House Minority Leader Doug Skaff, a Democrat, described the actions as "unacceptable behavior and conduct unbecoming of an elected official."
"I am calling on Speaker Hanshaw to suspend Delegate Derrick Evans' rights, privileges and access to West Virginia State Capitol Building, immediately and indefinitely, to allow for investigation into this incident," Skaff added.
Along with other West Virginia delegates, Evans swore last month "to support the Constitution of the United States, and the Constitution of the State of West Virginia, and faithfully discharge the duties of Senator (or Delegate) according to the best of my ability."
In a joint statement, chair and vice chair of the West Virginia Democratic party, Belinda Biafore and Rod Snyder said Evans "must be held accountable for participating in an act of insurrection against the United States government and risking the lives of lawmakers and Capitol police."
Newsweek has contacted Evans and West Virginia's House of Delegates for comment.
In a statement on Wednesday on his Facebook page titled "Derrick Evans the activist", he said he was in the Capitol as "an independent member of the media to film history."
He added that he "did not have any negative interactions with law enforcement nor did I participate in any destruction that may have occurred.
The graphic below by Statista shows how Americans feel about the use of violence to promote political goals.