'Call of Duty: Modern Warfare' Battle Pass - Price & How to Unlock 100 Tiers for Season 1
Call of Duty: Modern Warfare update 1.10 is about to drop, and it brings the highly anticipated Season 1 Battle Pass to the game. Ahead of its release, YouTube's eColiEspresso detailed all 100 tiers of the pass and explained how players will tier up once everything is live. While some finer details about the pass remain a mystery, most of its key components have been fully explained.
Unlike the dual-Battle Pass system found in Call of Duty: Black Ops 4, that features two entirely separate free and paid passes, all players in Modern Warfare will be working from a single pass. The main difference is that around 20 of those tiers are free to unlock. The other 80 are only accessible by paying around $10 (or 1,000 CoD Points) for the premium pass. Those who'd like to skip ahead have the option of paying $1.50 per tier or getting a bundle that unlocks the first 20 tiers instantly. It's technically possible to purchase everything at once for $150, although that's generally not an advisable path.
Here's a quick recap of everything you'll get from the free and paid tiers of the Modern Warfare Season 1 Battle Pass. All individual rewards can be viewed in the clip above.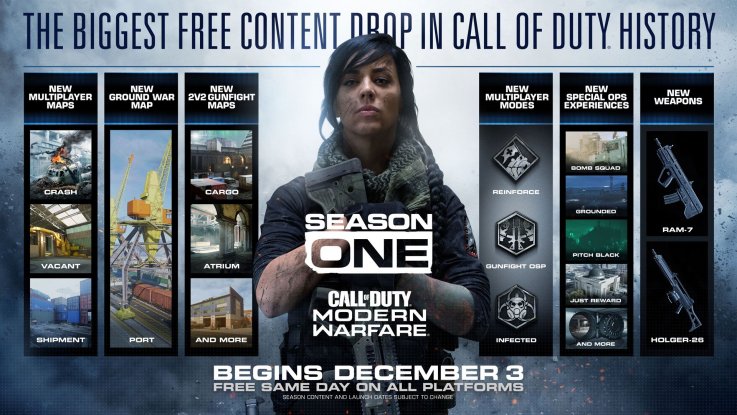 Free Battle Pass Rewards
Two Weapons (Unlocked at Tier 31)

Ram-7: fully automated Bullpup Assault Rifle with integrated picatinny rails at 3, 6, and 9 o'clock.
Holger-26: LMG spec of the Holger model rifle, with integrated sight rail and drum magazine for additional ammunition carrying capacity.

300 CoD Points
Three weapon blueprints
Various Charms, Emblems and Stickers
Premium Battle Pass Rewards
Includes everything in the free tiers plus:
18 Weapon Blueprints
1,000 CoD Points
10 Operator skins
Three watches
11 double XP tokens
Seven double weapon XP tokens
Various Charms, Emblems and Stickers
Especially for those who've experienced the Black Ops 4 Battle Pass, there are noticeable improvements in Modern Warfare'smodel. Weapons are unlocked after tier 30, which is much faster than the previous tier-100 requirement of last year's game. It's also noted that each tier is expected to unlock via XP milestones or one hour of casual gameplay in Spec Ops or multiplayer. Because of that, the grid is made less onerous thanks to those 11 double XP tokens earned in the pass. Perhaps most critically, those who advance far enough in the premium pass will earn enough CoD Points to pay for the pass in Season 2.
The Modern Warfare Season 1 Battle Pass arrives alongside a larger update that offers the first of multiple content drops over the duration of the pass period. By season's end players will be able to experience at least six new maps, three new modes and four Spec Ops experiences. For the first time ever, this content is available for free to all players of the game.
Call of Duty: Modern Warfare is available now on PS4, Xbox One and PC.
What are your thoughts on the Season 1 Battle Pass for Call of Duty: Modern Warfare? Is there enough in the premium pass to warrant a purchase? Tell us in the comments section!
'Call of Duty: Modern Warfare' Battle Pass - Price & How to Unlock 100 Tiers for Season 1 | Newsgeek