Calling Jan. 6 a 'Test Run,' New Ads Aim to Woo Votes Against Trump-Backed 2022 Candidates
A new ad campaign is using images from the U.S. Capitol riot on January 6, 2021, in an attempt to attract more people to vote against candidates backed by former President Donald Trump.
The advertisements, part of a six-figure buy from by the progressive political action committee Priorities USA Action, will run in key battleground states ahead of the midterm elections next November.
According to Priorities USA, the two 30-second clips will "draw a direct connection between the tragedy of January 6th and the Republicans that Donald Trump has endorsed who have explicitly vowed to subvert the will of the voters in future elections."
The narrator in the ad titled "Coup" states that "last time was just a test run" before showing a graph of Republican candidates for the U.S. Senate and House that have already received Trump's support.
"Donald Trump is putting people in place now to dictate the outcome of the next presidential election in Congress and in states all around the country," the narrator states. "We stopped it once. We have to show up, speak out because every vote we take this November is a vote against Trump."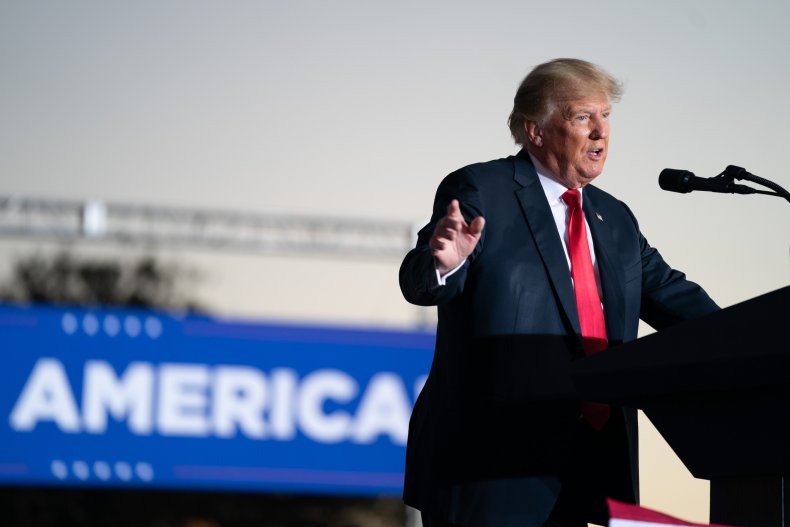 In the second ad, titled "You Were Right," the narrator praises people who cast their ballot against Trump and says the only way to stop him again in 2022 is with their vote. The ad also features a graph of Trump-backed congressional candidates.
The former president has issued dozens of endorsements in state and local elections. Several of the candidates he's backed are running against sitting Republican members of Congress, such as Liz Cheney, who have criticized him or voted to impeach him following the events of January 6.
But some Republican strategists, including Karl Rove, have warned that Trump's rehashing of the 2020 race could have negative consequences on the GOP in the upcoming election cycles. Already, there are 13 candidates who were either at the "Stop the Steal" rally or involved in the Capitol riot itself who are running for political office this year.
Aneesa McMillan, the deputy executive director of Priorities USA, said in a statement Wednesday that "our country is still mourning the lives we lost because of the violent insurrection on January 6th."
"We have an obligation to prevent those who enabled this tragedy from holding power ever again," McMillan said. "January 6th was not an isolated incident. The Republican Party has sought to delegitimize our elections by implementing voter suppression laws that disproportionately disenfranchise Black and brown Americans, intimidating voters and election officials, and promoting lies and conspiracy theories in their campaigns."
Thursday will mark the one-year anniversary of the Capitol riot. One person died during the violence that day and four others died shortly afterward, including a U.S. Capitol Police officer.
Trump originally planned to deliver remarks on January 6 from his resort in Florida but canceled the event earlier this week. He will next appear at a rally in Arizona on January 15.
Newsweek reached out to Trump's office for comment on the political ads.