Calls to Ban Australian Defence League Following Inflammatory Facebook Post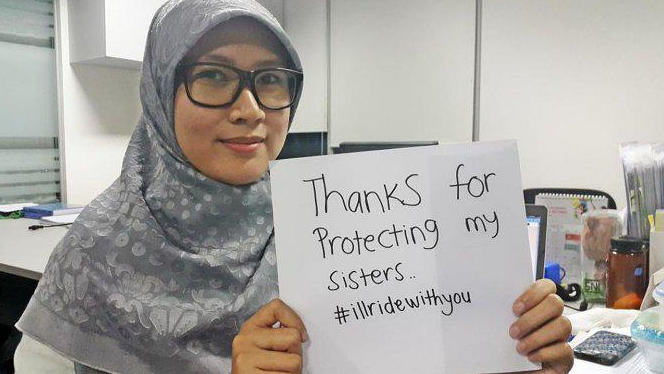 The Australian Defence League (ADL) are threatening to ignite anti-Islamic prejudices in the wake of Monday's siege in Sydney. The group posted the following message on Facebook:
The Lakemba suburb is home to one of the largest mosques in Australia and is often portrayed in the media as being home to a predominantly Arab and Muslim population.
However, people around the world have retaliated to this call by creating the hashtag #illridewithyou on Twitter, an expression of solidarity against Islamophobia.
Dozens of people were held captive by the gunman, revealed to be self-styled, radical cleric Man Haron Monis, in a cafe in Sydney's busy shopping district.
Monis made some of the hostages hold up an Islamic flag, provoking an outcry against Islam from the far-right ADL - an offshoot of the violent English Defence League - who have taken to Facebook to express their views under the motto "ban Islam".
"Here it is folks," reads a post on the group's Facebook page, "homegrown Islamic terrorism in our backyard, courtesy of successive Australian governments and their brainwashed voters."
When labelled as racist by the Australian Channel 10 news station, the group replied on Facebook: "To Channel 10, you call us racists and get an Islamist to spew your left wing bigotry. Go to an Islamic country and see how you fair."
Earlier today Ralph Cerminarra the president of the ADL, had to be escorted away by police from near the scene of the siege after he began shouting abuse. "Half the reason we've got this problem today is because of left wing bigots," he yelled angrily before being dragged away by police. "These people may be murdered because of your left wing bigotry... It's finally happened," he continued.
The hashtag #illridewithyou started trending on Twitter shortly after the siege began, as people offer to meet Muslims at their local bus and train stations and ride with them on their journeys, as a safeguard against possible retaliatory attacks.
It's thought to have been inspired by a young Sydney woman's post in which she described encountering a Muslim woman on Monday:
"The (presumably) Muslim woman sitting next to me on the train silently removes her hijab. I ran after her at the train station. I said 'put it back on. I'll walk with u' [sic]. She started to cry and hugged me for about a minute - then walked off alone."
According to Twitter Australia, over 40,000 people used the hashtag within the first two hours of it being created, and this number has now reached over 120,000 as people urged solidarity and support for Muslims, fearing a backlash due to the events on Monday.
Australia's top Muslim cleric Ibrahim Abu Mohamed also issued a statement condemning the hostage siege:
"The Grand Mufti and the Australian National Imam Council condemn this criminal act unequivocally and reiterate that such actions are denounced in part and in whole in Islam," Mohamed said.
Muslim leaders across Australia have also denounced Monis' actions. "We reject any attempt to take the innocent life of any human being, or to instill fear and terror into their hearts," they said in a statement on behalf of almost 50 prominent organisations within the Muslim community.
The 16-hour siege is now over after armed police stormed the building. There have been reports of loud bangs and gun fire from the scene. Paramedics were seen carrying some of the hostages out on stretchers, and there have been unconfirmed reports that two people have died, whilst three are badly injured.
The ADL have yet to update their Facebook page in light of the recent developments but there is now a Change.org petition calling for all ADL pages to be shut down.
The English Defence League (EDL) have also been been posting on their Facebook page following the events in Australia. The group have railed against The Guardian newspaper which they label a "leftist rag" and mocked the UK prime minister for defending Islam as a peaceful religion.
They have yet to respond to Newsweek's request for comment.