Calls to Boycott NBC for Airing Donald Trump Town Hall at Same Time As Joe Biden's
Members of the media and activist community have taken to social media to voice their dismay at NBC News hosting a town hall for President Donald Trump during the same time slot as Democratic Presidential Candidate Joe Biden, with some calling for a boycott.
Kurt Eichenwald, a New York Times bestselling author, took to Twitter to demand people boycott Savannah Guthrie, the host of the town hall. "Get this trending. Make it hurt. She thinks harming democracy with the Trump town hall held simultaneously as Biden will help her career. Let her know - she does this, it's wrecked."
Another author, Tomi T Ahonen, who has changed his name on Twitter to include "boycott," writes: "R.I.P. NBC The National Broadcasting Company died suddenly in 2020 after committing commercial suicide rewarding Donald Trump for canceling on a scheduled Presidential debate. At its peak NBC was known for stars like Johnny Carson & Tom Brokaw. There were no mourners #BoycottNBC."
The town hall replaces the second debate for the U.S. presidential candidates, which Trump pulled out of after organizers said it would be conducted virtually due to the president having positive for the coronavirus. Biden is hosting his own town hall meeting in Philadelphia, which will be broadcasted by ABC News.
David Rothkopf, host of Deep State Radio and author of Traitor: A History of American Betrayal from Benedict Arnold to Donald Trump wrote: "So @NBCNews is presenting a Trump town hall opposite a Biden town hall? Do I have that right? They are forcing audiences to choose which candidate to watch? Isn't that serving Trump's agenda? Couldn't they have chosen a different time?"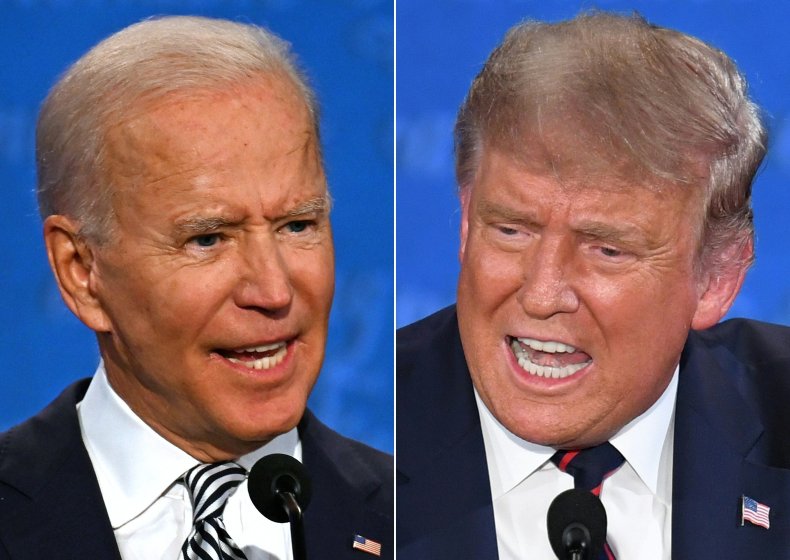 Other Twitter users took to the platform to share their disappointment at NBC hosting Trump's event. DeRay Mckesson an American activist wrote: "The NBC Trump Town Hall makes complete sense when we remember how much the media benefits from Trump's antics and his ability to control the narrative over and over. The media remains complicit."
Assistant managing editor of Politico, Bill Kuchman wrote of his surprise at the decision: "After all the grief NBC got in 2016 for having Trump host #SNL and over the Jimmy Fallon hair rustling moment, I thought they'd avoid something like counterprogramming a Biden town hall with a Trump town hall of their own."
Other unverified users tweeted that the broadcaster should be boycotted for its decision to host Trump.
Some journalists found similarities between the 2020 and 2016 election, when Hillary Clinton's email scandal featured heavily in the news cycle, and today's report from New York Post detailing emails from Hunter Biden, Joe Biden's son.
Brett LoGiurato, senior editor at Wharton Press, wrote: "NBC doing a Trump town hall, "but his emails" driving the news in October. Help, it's 2016 again."
Another media professional, ex-AdWeek editor Josh Sternberg, said: "Logging onto Twitter and seeing that NBC News is irresponsibly hosting a Trump town hall and the NY Post is pushing out a story about a candidate's emails, and suddenly, I'm back in 2016."
The journalists are referring to a story published by the New York Post regarding Hunter Biden introducing then-Vice President Joe Biden to a top executive at Ukrainian energy firm Burisma in 2015. The meeting between Joe Biden and the executive took place prior to government officials in Ukraine firing a prosecutor who was investigating the company.
The outlet says they obtained this information from emails dated April 2017 found in a computer that was dropped off at a repair shop in Biden's home state of Delaware in April 2019. Before handing it over to the FBI, the shop owner made a copy of the hard drive and gave it to former Major Rudy Giuliani's lawyer, Robert Costello.
The New York Post says they were alerted about the existence of the emails by Steve Bannon, former adviser to President Trump, in September 2020.
President Trump's town hall event hosted by NBC News will take place at 8:00 p.m. ET, October 15, 2020.