Will Al Franken's Misdeeds Put More Women in Congress? How #MeToo Could Change Politics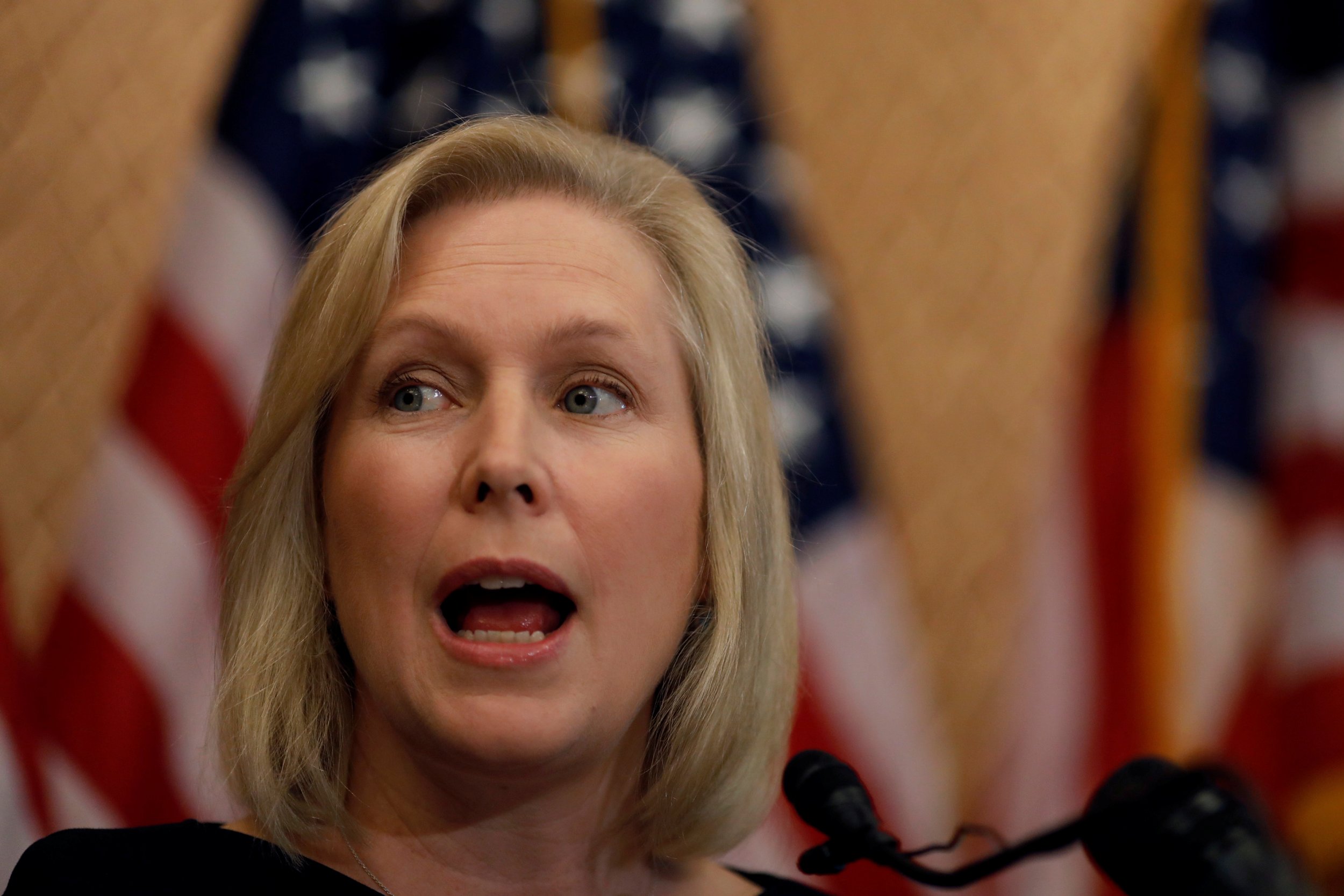 In the post-Harvey Weinstein reckoning, the consequences for men accused of sexual misconduct have been swift and final—that is, for everyone except the men sitting in Congress.
But that seemed to change, when, on Tuesday, Representative John Conyers (D-Mich.), who has been accused of making unwanted sexual advances toward several former female aides, announced his resignation. Then, on Wednesday, more than 30 Democrats called for Senator Al Franken (D-Minn.), accused of sexually harassing six women, to follow suit.
Franken is scheduled to make an announcement on Thursday related to the allegations against him and his future in the Senate. Should he step down, it could mean the #MeToo movement is finally taking root in Congress, where some say lawmakers have let politics get in the way of speaking out against their colleagues in stronger terms.
"We're looking at a sea change here," Toni Van Pelt, president of the National Organization for Women, told Newsweek. "Just because the 'Me Too' movement hasn't been moving at the same speed in a particular industry—in this case, I mean the government—doesn't mean it's not changing that industry."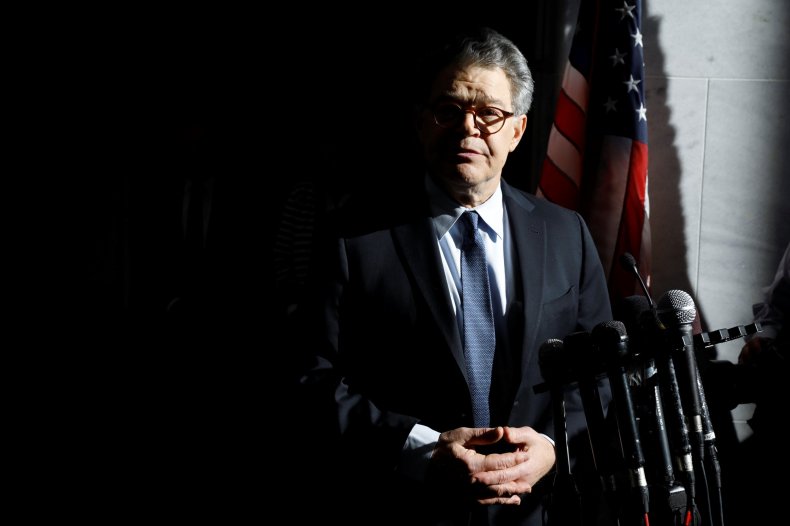 At the same time, Van Pelt says she's skeptical about calling the ousting of a couple of congressmen a sign of lasting change in Congress, an institution whose internal policies have long kept victims of sexual misconduct silent and accused harassers in power.
"I don't think this is the end for Franken or Conyers," she said. "He might run for a different position a year from now, or get appointed to public office. Men always find a way to be made whole again."
She added, "What happens to the poor woman? No one makes her whole."
For Donna Lent, president of the National Women's Political Caucus, there's only one logical solution to the issue Van Pelt raises. She told Newsweek the natural next step of the #MeToo movement in Congress is to get women in men's seats. Currently, women make up about 20 percent of Congress, a percentage that typically rises by just 1 or 2 points with every election cycle. In 2016, however, the number of women serving in Congress didn't budge at all.
When asked if she'd like to see a woman take the place of Conyers and, possibly, Franken, Lent said, "I think women should take every seat."
In 2018, women are going to give it their best shot. Since President Donald Trump's election, a record number of women have signed up to run for office at all levels. A record number of them are also running for Congress.
"You wouldn't be having these problems if women were the ones in positions of power in Hollywood, television stations or the halls of Congress," Lent said. "If you want to clean up politics, you have to elect more women."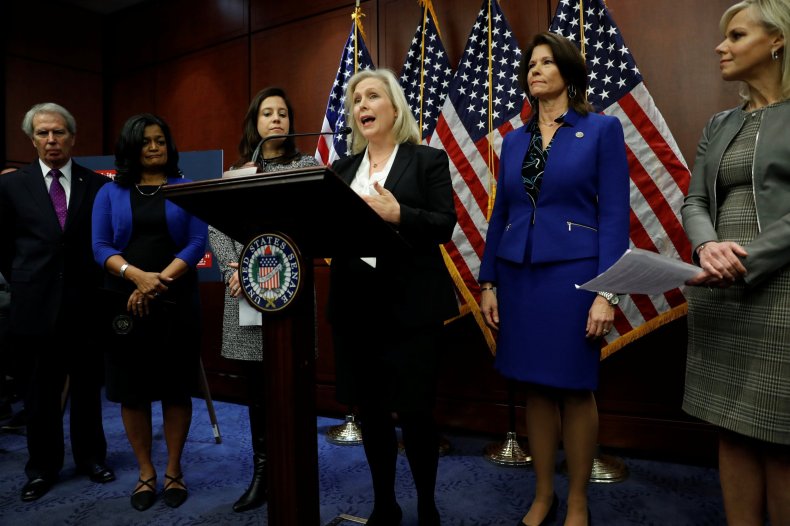 Senator Kirsten Gillibrand (D-N.Y.) kicked off Wednesday's calls for Franken's resignation with a lengthy Facebook post, stating she was "shocked and disappointed" by the allegations against her colleague.
"I consider Senator Franken to be a friend and have enjoyed working with him in the Senate in our shared fight to help American families," Gillibrand wrote. "But this moment of reckoning about our friends and colleagues who have been accused of sexual misconduct is necessary, and it is painful. We must not lose sight that this watershed moment is bigger than any one industry, any one party or any one person."
Following her lead, several other Democratic women in the Senate posted similar statements calling for Franken to step down.
"Sexual harassment is unacceptable," Senator Amy Klobuchar (D-Minn.) wrote on Twitter Wednesday afternoon. "This morning I spoke with Senator Franken, and, as you know, he will be making an announcement about his future tomorrow morning. I am confident he will make the right decision."
The outcry over Franken represents a significant course correction for the Democratic Party, whose leadership had been hesitant at first to speak out against the members of their own party who'd been accused of harassment. Just last week, House Minority Speaker Nancy Pelosi defended Conyers in an interview on NBC News's Meet the Press, hailing the congressman as an "icon" who had done "a great deal to protect women."
When directly pressed on the issue of whether Conyers should step down, Pelosi said she placed her trust in "due process." Another top Democrat in the House, James Clyburn (D-S.C.), had also suggested that Conyers shouldn't face the consequences of his alleged misdeeds because he's an elected official.
Pelosi and Clyburn both eventually changed their positions, later stating that Conyers should step down.
To be sure, there's a certain degree of political calculus underpinning Democrats' change of course. Failing to condemn Franken would have had dire consequences for the party in the long term, providing Republicans with the opportunity to call the Democrats hypocrites. With these new calls for Franken's resignation, Democrats give themselves an opening to redouble their criticism of the Republican Party, which has embraced Alabama Senate candidate Roy Moore, who is accused of sexual predation.
The true test of the #MeToo movement, however, has little, if anything, to do with partisan politics, Van Pelt said. Knocking Conyers, Franken and Moore off their pedestals likely won't change the lives of women in a world much wider than the halls of Congress, where they continue to feel threatened by sexual harassment and assault.
"We don't just want to change the culture—we want to end the culture, and replace it with one that promotes respect for women," Van Pelt said. "We'll know we've succeeded when there's equal pay; when women have access to birth control and can make decisions about their own bodies; when men stop thinking it's OK to walk into an office and wink at a woman or tell her a dirty joke. That's how we measure success."