Calls Mounting for Alabama Bridge to Be Renamed for the Late John Lewis, Petition Reaches Over 430K Signatures
Calls are growing for an Alabama bridge to be renamed after Congressman John Lewis, who passed away Friday at the age of 80.
A Change.org petition has reached over 430,000 signatures as of Saturday afternoon asking that the Edmund Pettus Bridge in Selma, Alabama—which has been designated as a National Historic Landmark—be renamed after the Georgia congressman and Alabama native.
"It's far past time to rename the Edmund Pettus Bridge after Rep. John Lewis, a civil rights icon [who] nearly gave his life on that bridge," Michael Starr Hopkins, a Democratic strategist who created the petition a month ago, stated on Change.org.
Approximately 600 civil rights leaders marched across the Edmund Pettus Bridge in Selma, Alabama on March 7, 1965 on their way to Montgomery, the state capital, in a protest for voting rights. The peaceful demonstrators were violently pushed back across the bridge by law enforcement officers. Lewis was one of the civil rights leader present on what came to be known as "Bloody Sunday."
Lewis posted a picture of himself being beaten by police on the 55th Anniversary of "Bloody Sunday" back in March. He stated in his tweet he thought he would die after his skull was fractured that day because of the beating, leaving him with scars on his head, and also urged the public to "keep pushing."
"55 years ago today, we were beaten, tear gassed, and trampled by horses. I thought I saw death. I thought I was going to die. I don't know how I made it back, but I know we cannot rest. We cannot become weary. We must keep pushing and pulling and find a way to get in the way," Lewis said in his March 7 tweet.
The bridge was built in 1940 and named after Edmund Pettus, a former soldier in the Confederate Army who later served as a grand dragon in the Ku Klux Klan. Pettus also served as a U.S. senator from 1897 until his death in 1907.
"Edmund Pettus was a bitter racist, undeserving of the honor bestowed upon him. As we wipe away this country's long stain of bigotry, we must also wipe away the names of men like Edmund Pettus," Hopkins said.
Hopkins said the petition is about the African American community "feeling heard" about America's "troubled history" in a June 19 interview with WBHM,
"I think most African-Americans would be in agreement that we have always been outspoken about our country's troubled history, the racism, whether it be in-your-face racism or systemic racism, which at times can be even more insidious," Hopkins said at the time.
Newsweek reached out to Alabama Governor Kay Ivey for comment, but did not receive a response back in time for publication.
Other people on social media, including some prominent figures, also called for renaming the bridge after the civil rights icon.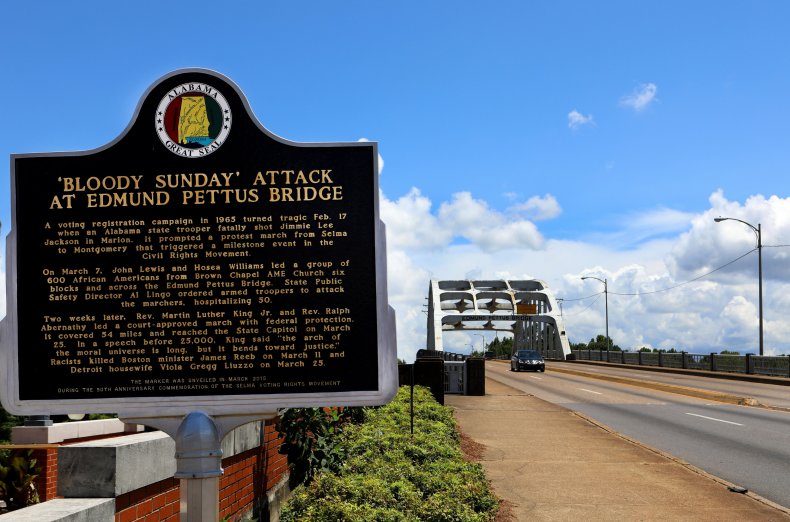 Updated 8:30 PM ET, with the latest number of signatures on the petition.