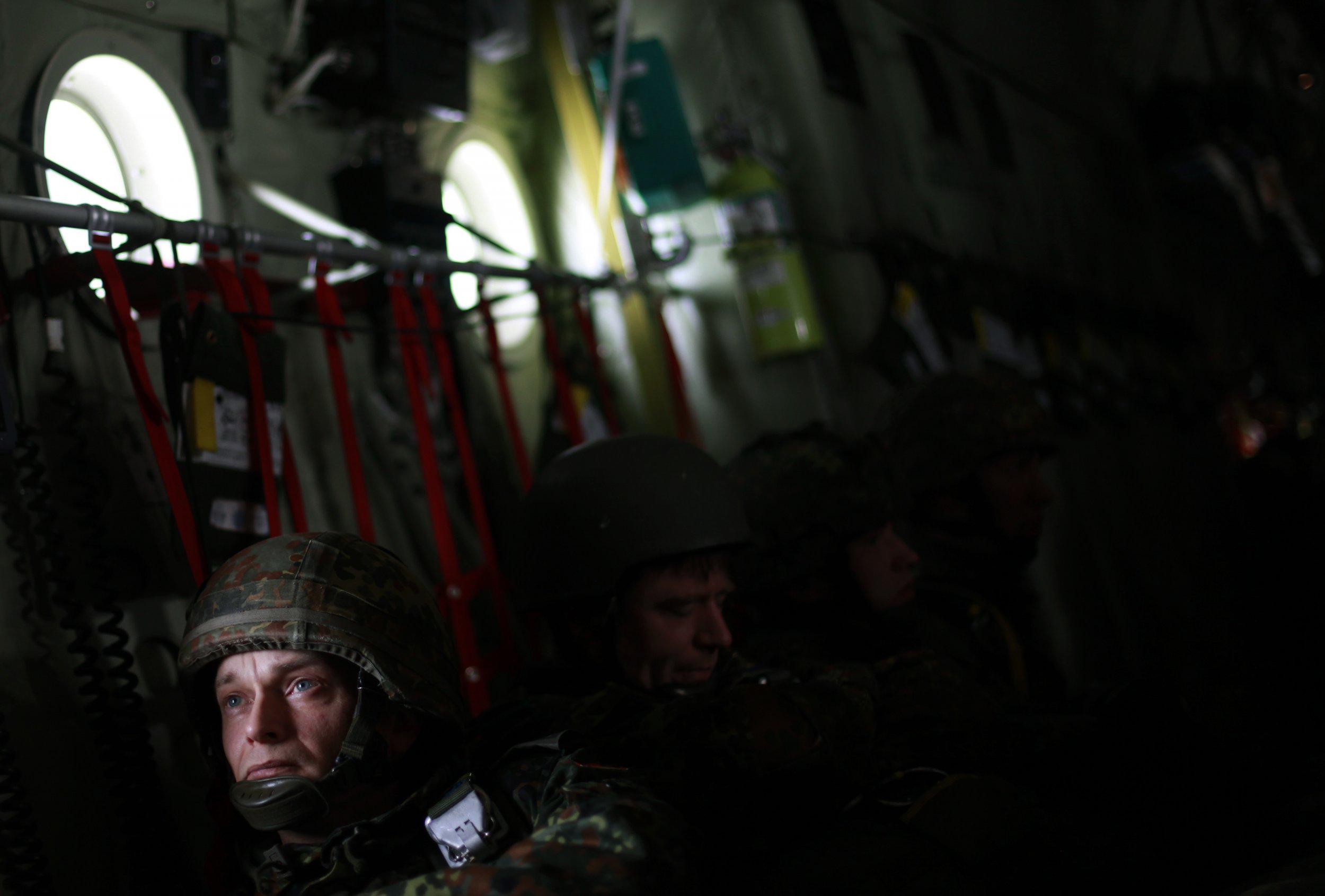 The head of Germany's military counter-intelligence service, the MAD, has warned that around 20 former soldiers who trained with the German army, the Bundeswehr, are now fighting with the Islamic State in Iraq and Syria, after using the army as a training ground.
The MAD chief Christof Gramm revealed his fear in an interview with the German daily newspaper Die Welt on Sunday.
Gramm recommended that the MAD carry out checks on potential recruits to the German military, to ensure that it could not become a training camp for potential jihadis, although there is a lack of detail over what exactly such checks would involve.
"We're seeing the risk that the Bundeswehr can be misused as a training camp for violence-ready Islamists," Gramm told the newspaper. "We would like to see if there are future doubts about the loyalty of future soldiers," said Gramm, adding: "What if a Bundeswehr-trained Islamist did something and we hadn't noticed?"
The German Defence Ministry added to the discussion yesterday, arguing that a debate was needed about additional vetting of applicants. "Each case is one too many," a ministry spokesman told the DPA news agency, in relation to incidents where soldiers have gone on to join the ranks of Islamic State.
Dr Afzal Ashraf, a consultant fellow at the Royal United Services Institute (Rusi) and former member of the RAF, is not surprised to hear that jihadis are using the German army for training, but believes that the German military intelligence "has some serious questions to answer".
"It doesn't surprise me that Germany has this problem but the numbers are quite significant, and I am curious as to why such a large number went undetected for so long, and why more wasn't done to stop the haemorrhage it appears to be," he says. "The moment just one or two cases were discovered, it should have set alarm bells ringing."
"It is certainly something that all countries should be aware of," he warns. "The German intelligence should have been all over this sooner; when did these recruits join the army, when did they leave?"
Ashraf says that Islamic State commanders could view recruits who have trained with the German army as assets, and says that it would present an attractive means of obtaining quality training. "Germans are very good at mountain warfare, and are world class in certain areas. This would be an opportunity for basic weapons training, first aid training, fitness and discipline. I think they would be viewed as a prize."
But Ashraf also argues that the advantages provided to Islamic State by these recruits would be minimal, as they would have been trained using sophisticated equipment not available to them in Syria and Iraq. He compared it to learning to drive a Ferrari, and then being presented with a moped. "This is not a big deal as it might first seem. There may be cases of guys getting very frustrated working with a bunch who can't understand the way he does stuff."
With regard to the UK armed forces, Ashraf believes there "is always the fear" that it could be infiltrated by those with "ulterior motives", although argues that the UK, as a nuclear power, has more stringent checks in place than in Germany. "It is certainly something that all countries should be aware of," he warns.
However, Dr Christian Mölling of the German Institute for International and Security Affairs has doubts over how great the risk is. "I only half buy this story," he says. "It's only significant if there is a systematic blindness to the issue within the army. Then it's a problem. But there is no evidence of a systematic infiltration. At the moment, it is difficult to make a proper judgment on the level of risk."
Mölling queries whether in fact the story has been exaggerated by the military intelligence in an effort to secure more resources and funding. "One year ago, military intelligence in this country was almost done, due to cuts to the armed forces. There were proposals to cut the military intelligence services because it was serving no function."
"The main concern for the German army has always been right-wing extremists and left-wing extremists. They've has always had to fight the impression that they are a safe haven for right-wing Nazi hooligans, and there has always been the accusation they might be training right-wing extremists. German forces tend to be 'blind in the right eye', as the saying goes," explains Mölling.
In 2012 it was reported that the German army was seeking to recruit more Muslim recruits after struggling to attract enough native Germans, once compulsory military service was discontinued in 2011. There are thought to be around 1,000 Muslim soldiers among Germany's 250,000 soldiers. Germany has the largest Muslim population in Western Europe after France. As of 2010, there were 4.8 million Muslims in Germany.
Colonel Peter Walton, a retired soldier and board member for the British Ministry of Defence, does not believe a similar situation could occur within the British army, although he believes that officials are increasingly wary of radicalisation. "In principle, it is a concern because radicalisation is something that is extremely hard to handle, whether in armies, schools, or anywhere. It is difficult to know what young people are thinking. But officials are aware of the problem and are alert to it."
But Walton is sceptical as to whether jihadis would choose to train within the UK army. "I would be very surprised if people would join the army in order to fight for Islamic State because it takes a long time to train a soldier, and it takes a long time to get to a level that would be useful to any organisation," he says.
"If you don't fit in the army for some reason, you will stand out," he continues. "But people join the army from all sorts of backgrounds, and work very well together 99% of the time. There will be the odd exception, of course, and it is hoped it would be uncovered before something nasty happens."
Last summer, Newsweek revealed that twice as many British Muslims were fighting for Islamic State than in the UK Armed Forces.
According to the Ministry of Defence, there are only around 600 British Muslims currently serving in the armed forces, making up approximately around 0.4% of total personnel. In Britain 4.3% of the population are Muslim.