Calls Mount for Biden to Form Presidential 1/6 Commission After GOP's 'Cowardly Filibuster'
A growing number of Democrats are calling for President Joe Biden to form a commission to investigate the attack at the U.S. Capitol on January 6, after Republican lawmakers blocked a bill that would have allowed Congress to do so.
On Friday, 35 GOP Senators blocked a bill that was passed in the Democratic-led House that sought to form a bipartisan commission to investigate the events of Capitol riot. The House-approved bill was modeled after a 9/11 style commission, and sought to establish a 10-person committee, evenly split between Democrats and Republicans, tasked with investigating the facts and circumstances of the assault.
Five people died as a result of the Capitol riot, when a mob of pro–Donald Trump supporters sought to disrupt the congressional certification of Joe Biden's electoral victory.
After Senate Republicans moved Friday to block the legislation through a filibuster, with Senate Minority Leader Mitch McConnell calling the bill a "purely political exercise," Democrats are now seeking alternative ways to form the investigative committee.
On Saturday, Virginia Democratic Representative Gerry Connolly called on Biden to bypass Republicans and instead create a presidential commission.
"In light of the GOP's cowardly filibuster of a bipartisan Jan 6th commission I urge President Biden to form and appoint a Presidential Commission to fully investigate the insurrection of January 6th at the US Capitol," Connolly tweeted.
Political commentator Keith Olbermann echoed that sentiment in a video message Saturday.
"McConnell's killed the 1/6 Senate Commission yesterday? Great! Let's give him a SPECIAL PROSECUTOR and a Presidential Commission instead. The Trumpists must be stopped NOW. No more negotiations with traitors and terrorists, just indictments of Republican politician-accessories," he wrote.
Lance Cole, a professor of law at The Pennsylvania State University and a former legal advisor on the 9/11 commission, also encouraged Biden to create a commission in an op-ed written for the New York Daily News.
"While McConnell and his GOP allies in the Senate may be able to stop the House bill from becoming law, that need not prevent a special commission investigation of the worst attack on the Capitol since the War of 1812 and the worst act of insurrection in the United States since the Civil War. Biden can and should create a blue-ribbon commission to investigate the attack," Cole wrote in the article published Friday.
Using executive power, a U.S. president can formulate a presidential commission for research and investigative purposes. Presidential commissions have been created in the past to investigate the Pearl Harbor attack, as well as the 1963 assassination of former President John F. Kennedy.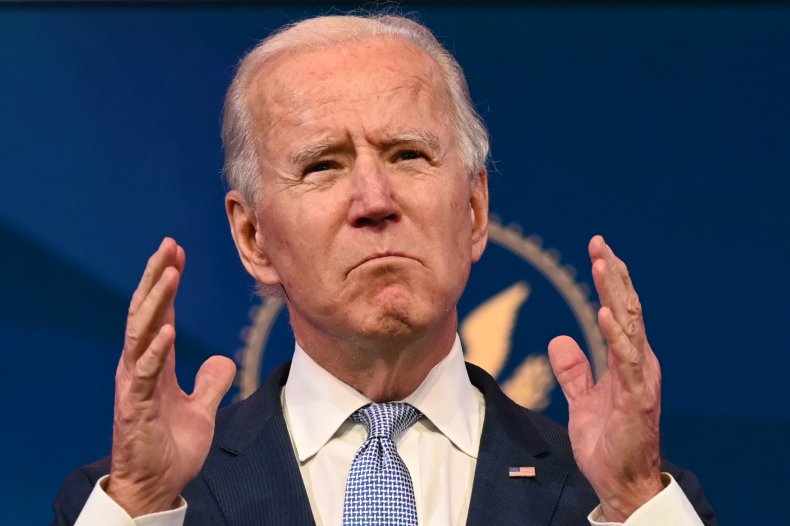 Though Biden has not specifically outlined a plan to form a presidential commission, the White House said Friday that he "remains committed" to pushing for an independent investigation of the January riot.
"The president has been clear that the shameful events of Jan. 6 need to be independently and fully investigated," principal deputy press secretary Karine Jean-Pierre told reporters aboard Air Force One, The Hill reported. "He remains committed to that and we will continue to work with Congress to find a path forward to ensure that happens."
An alternative path that Democrats could take to investigate the January 6 attack would be to create a select committee in the House. Democratic House Speaker Nancy Pelosi has previously indicated this could be a fallback option, according to CNN.
"Honoring our responsibility to the Congress in which we serve and the Country which we love, Democrats will proceed to find the truth," Pelosi said in a statement Friday.
Newsweek contacted the White House for additional comment, but did not hear back in time for publication.