Calls are mounting for the release of any body camera footage that captured the fatal police shooting of Daunte Wright.
Wright, a 20-year-old Black man, died after officers pulled him over for a traffic violation in Brooklyn Center, a suburb of Minneapolis, on Sunday afternoon.
The shooting set off protests into early Monday morning, at a time when tensions were already high in Minneapolis, where the trial of Derek Chauvin, the former officer charged in the death of George Floyd, is underway.
"Yet another Black life was taken by those sworn to protect, and we join the community in mourning Wright's loss," the ACLU said in a statement calling for a "transparent" investigation and release of any police video that captured the incident.
Rep. Dean Phillips, a Democrat representing Minnesota's 3rd congressional district, also called for the release of the footage.
"Another killing of a Black man by police officers in Brooklyn Center leaves me praying yet again for our traumatized community," he tweeted. "I expect the @MnDPS_BCA to investigate and release body cam footage and share facts surrounding Daunte Wright's death as soon as possible."
Mike Elliott, the mayor of Brooklyn Center, announced a city-wide curfew until 6 a.m. Monday as protests escalated on Sunday night.
In a statement issued in the early hours of Monday, he said: "Our entire community is filled with grief following today's officer-involved shooting of Daunte Wright, a 20 year old young man. Our hearts are with his family, and with all those in our community impacted by this tragedy."
He added: "While we await additional information from the BCA who is leading the investigation, we continue to ask that members of our community gathering do so peacefully, amid our calls for transparency and accountability."
In its statement, the ACLU said initial details of the incident were "troubling."
The organization noted that Wright's mother, Katie Wright, told reporters that she had been on the phone with her son when he was pulled over "for having a dangling air freshener on his car window."
"She said they asked him to get out of the car, but wouldn't say why. Then she heard scuffling and gunshots," the ACLU said.
In a news release, Brooklyn Center police said officers had pulled over a driver for a traffic violation, but didn't provide details on the offense.
They said officers learned Wright had an outstanding warrant and as they attempted to get him into custody, he re-entered his vehicle. Police said one officer shot Wright, whose vehicle traveled several blocks before crashing into another vehicle. He died at the scene.
The release also said that Brooklyn Center officers are equipped with body-worn cameras, and it is believed that body-worn cameras and dash cameras were activated at the time.
The police department said it had asked the Minnesota Bureau of Criminal Apprehension (BCA) to conduct an independent investigation into the incident.
The ACLU of Minnesota, in its statement, said it was calling "for an immediate, transparent and independent investigation by an outside agency other than the Brooklyn Center Police or the BCA, and for the quick release of any body-cam footage."
The ACLU added: "We call for the naming of all officers and agencies involved. The ACLU-MN has deep concerns that police here appear to have used dangling air fresheners as an excuse for making a pretextual stop, something police do all too often to target Black people."
The organization also said the warrant for Wright "appears to be for a non-felony."
The police department didn't identify Wright, but said the Hennepin County Medical Examiner's Office will release the driver's name following a preliminary autopsy and family notification.
Wright's mother identified him as the person killed and pleaded for information from law enforcement near the scene of shooting on Sunday.
Katie Wright told reporters that her son had called her as he was being pulled over in the car she had recently given him. "All he did was have air fresheners in the car and they told him to get out of the car," she said.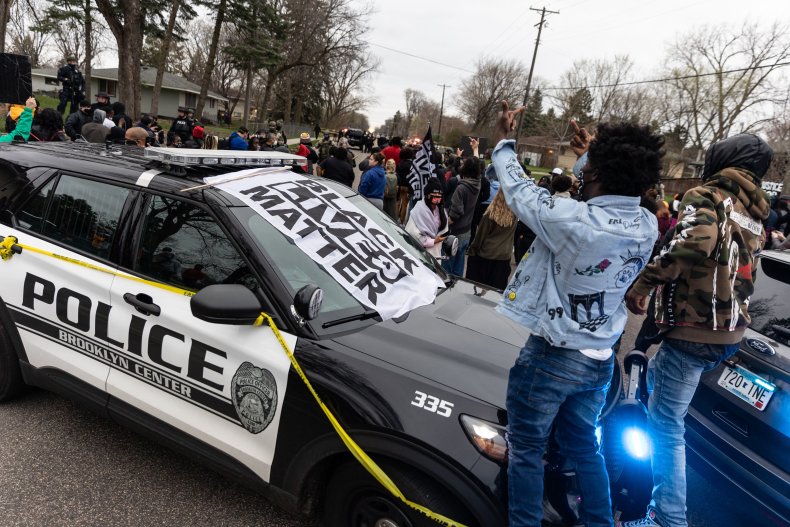 On the phone call, she said she "heard the police officer come to the window and say to put the phone down and get out of the car. And Daunte said why, and he said, we'll explain to you when you get out of the car."
She continued: "I heard scuffling and I heard the police officer say, 'Daunte, don't run'... Like a minute later, I called and his girlfriend answered, which was the passenger in the car, and said that he'd been shot and she put it on the driver's side, and my son was laying there lifeless."
The ACLU added: "While we are waiting to learn more, we must reiterate that police violence and killings of people of color must end, as must the over-policing and racial profiling that are endemic to our white supremacist system of policing," the statement added.
"Police shootings are always tragic, and the situation here is made even more worse by this happening during a trial seeking justice for George Floyd. The ACLU of Minnesota is watching, and we will keep working to hold police accountable."