Calls Mount for Mike Pence to Quarantine, Mike Lee Sat Behind Him at WH Event
Medical professionals are urging Vice President Mike Pence to quarantine in the wake of numerous COVID-19 diagnoses confirmed among Republican figures, including President Donald Trump, the first lady and various senators. Pence's physician confirmed he tested negative for the respiratory syndrome on Friday, shortly after Trump announced his own positive diagnosis, and said the vice president is not required to self-isolate for any period of time.
"Can any reputable scientists or physician explain why Pence is able to skip quarantine?" wrote Dara Kass, an emergency medical physician and associate professor of emergency medicine at Columbia University Medical Center, on Twitter Friday night.
Kass shared her inquiry alongside a photograph taken during Judge Amy Coney Barrett's recent nomination ceremony at the White House, where she was formally named Trump's pick to fill late justice Ruth Bader Ginsberg's seat on the Supreme Court. The in-person event took place on September 26.
Roughly 200 people attended the outdoor ceremony, and photos showed few wore face masks or practiced social distancing. Additional photographs, published by the New York Times on Saturday, showed attendees gathered for an indoor reception after the ceremony itself, where they mingled in close quarters. None of the individuals pictured are wearing masks.
At least eight people present at the event have since tested positive for COVID-19, including Utah Senator Mike Lee. In the photo attached to Kass' Friday tweet, Lee can be seen sitting directly behind Pence in the audience. Neither Lee nor Pence wore face masks.
Doctors for Biden, a coalition of doctors and health professionals who support Democratic presidential nominee Joe Biden's election next month, also responded to the string positive COVID-19 cases diagnosed among GOP leaders and White House officials. The organization advised all those who attended Barrett's nomination ceremony to get tested for COVID-19 and quarantine regardless of their results.
"As we hear of more people testing positive for coronavirus after Judge Amy Coney Barrett's SCOTUS nomination at the Rose Garden, we worry this was a #superspreader event," Doctors for Biden warned. "To be safe, we recommend all attendees get tested AND quarantine even if their test is negative."
Jesse Schonau, Pence's physician at the White House, confirmed the Vice President tested negative for COVID-19 in a statement released Friday. Schonau said Pence "is free to go about his normal activities" because he did not engage in "close contact" with Trump or other administration officials who recently contracted the disease.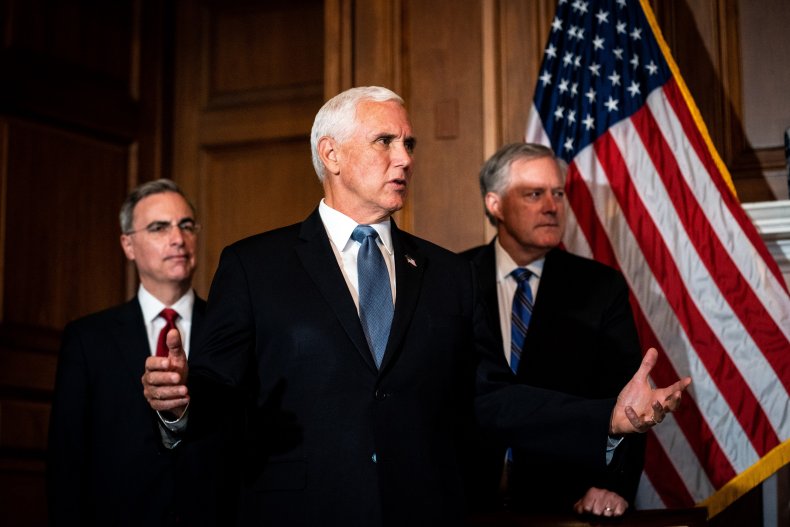 "Under the guidelines of the Centers for Disease Control (CDC), the Vice President is not considered a close contact with any individuals who have tested positive for COVID, including President Donald J. Trump. Vice President Mike Pence does not need to quarantine," Schonau wrote in the statement.
But Scott Gottlieb, a physician and former commissioner of the Food and Drug Administration, said Pence might not be "in the clear" on Sunday morning.
"Anyone who was with the president on Tuesday, Wednesday, is not in the clear," Gottlieb said during a Face the Nation appearance. He singled out Tuesday's presidential debate preparation, which former New Jersey Governor Chris Christie and former Trump counselor Kellyanne Conway both attended before respectively testing positive for COVID-19, and Wednesday's Senate GOP meeting as potential sites of "third-generation spread."
"We'll likely see more cases emerge, unfortunately, early this week from people who are currently infected, who went on to infect other people," Gottlieb continued. "So, this is very much an evolving situation now."
Pence is due to participate in an upcoming in-person debate with Democratic vice presidential nominee Kamala Harris in Salt Lake City on Wednesday. In light of Trump's COVID-19 diagnosis, the Commission on Presidential Debates is reportedly planning to seat Pence and Harris 12 feet apart during the moderated discussion.
Newsweek reached out to the commission for confirmation and comments, and to the White House, but did not receive replies in time for publication.