Calls for Subway Platform Barriers Grow as NYC Transit Sees Most Assaults in 25 Years
New York City is seeing more calls to install subway platform barriers as the city experienced the most transit assaults in 25 years.
Platform barrier doors have been commonly used in some subway systems worldwide including Japan and the U.K. to prevent people from falling onto the tracks, but the city's Metropolitan Transit Authority (MTA) argued that it is not a feasible solution.
"Platform doors are an idea that works in many places, but there are some special complexities in New York because of the age of our system, because of the location of structure, because it does interfere with ADA accessibility," said MTA Acting Chair Janno Lieber during a press conference last week.
An MTA spokesperson told Newsweek on Monday that the agency looked into the idea of installing platform-edge doors and found some challenges to it. This included train door misalignment, column placement, platform construction and the need to maintain or create accessibility in accordance with the Americans with Disabilities Act.
"Last month, the MTA established a Track Intrusion Task Force to aggressively find solutions for the detection and prevention of incidents of trains striking people on tracks. That work is underway," the spokesperson said.
But, a former MTA board member, Charles Moerdler, thinks otherwise. Moerdler said that this option was supposed to be tested multiple times but it was never examined, NBC New York reported.
"Not only is it feasible, it is readily feasible in many but not all stations. The constant ducking of the issue is really offensive to me," Moerdler said, according to the news outlet. "It has never been prioritized. And that's the failing. You have to have a will."
During an appearance on WABC-7 on Sunday, Lieber said the construction of platform doors will be studied again, but he mentioned additional challenges in the way.
"There's some real ventilation issues, how will we ventilate, for fire code safety and for human comfort in that event? But we're studying it yet again," Lieber said. "And we are interested in seeing whether there are opportunities to install it, especially in some of the more, the busier stations where you get a little more crowded. But we're going to look at it again."
Calls for safer subway platforms came during a vigil that was held on Tuesday for 40-year-old Michelle Go, according to NBC New York.
The NYPD sent Newsweek data stating that the city's subway system saw 461 felony assaults in 2021, which is 100 more felonies than in 2020. This figure is also the highest since 1997, according to the New York Post. In addition, eight homicides were reported in 2021.
Go was killed by a homeless man who allegedly pushed her onto the tracks in front of an oncoming train at the Times Square station. The suspect, 61-year-old man Martial Simon, was arrested and charged with second-degree murder.
The unprovoked attack sparked outrage among city officials including city mayor Eric Adams who described the incident as a "traumatic experience."
Though options to secure the city's subway platforms have not been implemented yet, New York officials, including Adams and Governor Kathy Hochul, pledged to address homelessness across the subway system.
Also, Adams said that NYPD officers will be assigned to carry out visual inspections to determine any public safety threats. He also said that mental health professionals are needed to respond to any signs of mental health issues across subway stations.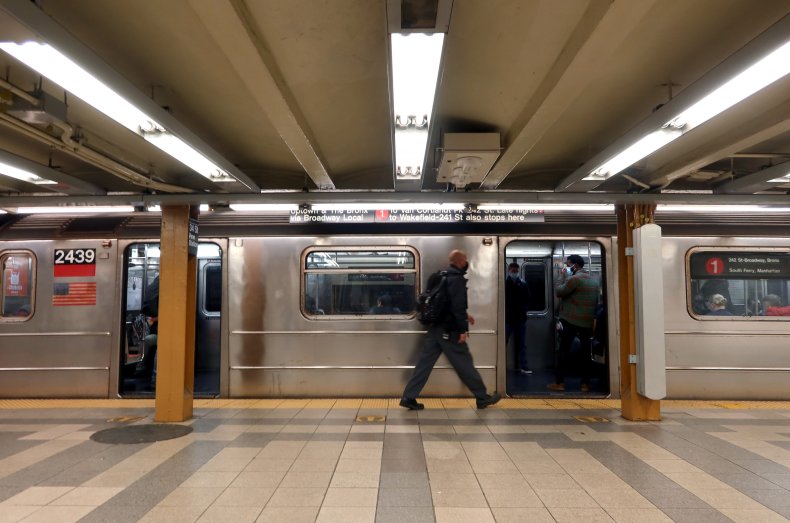 "We don't want this to be just police. We don't want that. But we need to get the mental health professionals responding in a faster manner and right now I don't think we're doing a good enough job at doing so," Adams said during a news conference on Wednesday.
On January 15, Adams called for law enforcement to address the city's mental health crisis and "to ensure those who need mental health assistance received that."
"That is how we're going to ensure that not only our streets, above ground and below ground are safe for New Yorkers," he said as he referred to Kendra's Law, which allows courts to order certain individuals with serious mental health issues to stay in treatment as they continue to live in society.
Newsweek reached out to the mayor's office for comments.
Updated 01/24/2022, 5:26 p.m. ET: This story has been updated with comments from an MTA spokesperson and the NYPD and additional information.