Calls Emerge for 'Texas Rangers' Name to Be Removed From Law Enforcement Agency and Baseball Team Over Past Racism, Violence
Texas communities are advocating for agencies and organizations bearing the "Texas Rangers" name to shed the label and adopt another. The moniker—originally assigned to an unofficial state police faction during the early 1800s—pays homage to a historically racist and xenophobic group that committed acts of violence for centuries, noted proponents of a name change.
State law enforcement continues to use the name in 2020, with the Texas Department of Public Safety's primary criminal investigation unit still identified as its Texas Ranger Division. The Dallas-based Major League Baseball team now nationally recognized as the Texas Rangers went on to assume its title in the early 1970s. While the team name is more widely popularized, it is derived from the police division.
Calls to rename the team began to surface in June, as protests that took place following George Floyd's death in custody sparked a nationwide movement to address police abuse and systemic racism across numerous sectors. Removing statues and renaming public areas reminiscent of the country's racist roots became an integral part of the initiative.
"It may be argued that the team name honors the current [Texas Ranger] agency, not the worst elements of its history," wrote Chicago Tribune columnist Steve Chapman in June. "But without the history and the legends, the franchise would not have adopted the name. No one would name a major league team 'The Police' or 'The Highway Patrol.'"
Chapman, who is from Texas, noted the societal praise given to police working within the state's criminal investigation branch elsewhere in his column. He said he was taught to view Rangers as "fearless guardians of civilization," when in reality, "they committed war crimes," predominantly targeting communities of color.
Chapman's writing echoes more recent comments from Texas resident Arlinda Valencia, who spoke about her efforts to raise awareness about the Rangers' long history of xenophobic and racially charged violence during a recent interview with the Texas Tribune.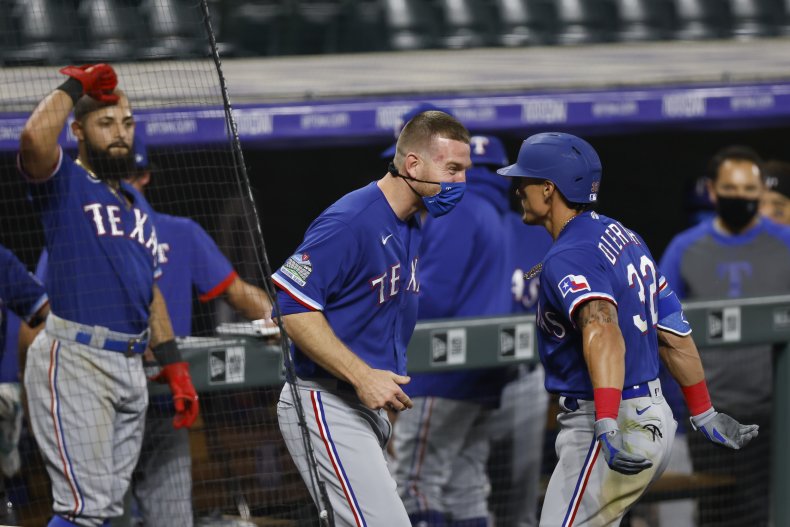 Valencia explained that while she too "grew up...thinking that the Texas Rangers were heroes," a relative later informed her that officers who belonged to the agency were involved in her great-grandfather's death. He passed away, alongside 14 other ranchers, village residents and children, in a brutal 1918 attack now remembered as the Porvenir massacre. Valencia launched a website to share information about the massacre and organizes screenings of a 2019 documentary film that details the incident.
The Texas Department of Public Safety told Texas Tribune it is "aware of recent stories about the history of the Texas Rangers and defers judgment on the veracity of those depictions to Texas historians."
Newsweek reached out to the Texas Department of Public Safety's Texas Rangers division, but did not hear back in time for publication.
In a statement sent to Newsweek on Sunday, the Texas Rangers baseball team denounced "racism, bigotry and discrimination," but said its identity is separate from the police unit from which it acquired its title. The team did not respond to a request for clarification about whether it will consider a new name.
"While we may have originally taken our name from the law enforcement agency, since 1971 the Texas Rangers Baseball Club has forged its own, independent identity. The Texas Rangers Baseball Club stands for equality. We condemn racism, bigotry and discrimination in all forms," the statement read.
"To help bring about meaningful change, we are committed to listening to and supporting our communities of color," it continued, noting that Texas Rangers Foundation has invested $45 million in youth programs related to health, education and crisis assistance. "We go forward committed to do even more, with a renewed promise that the Texas Rangers name will represent solutions and hope for a better future for our communities."
Updated 4:20 p.m. ET, to include comments from the Texas Rangers baseball team.