Calls for Trump to Pardon Reality Winner Flood Twitter After ACLU Makes Case for Snowden
Twitter was flooded with support for imprisoned intelligence specialist Reality Winner on Monday after the American Civil Liberties Union (ACLU) called for President Donald Trump to pardon whistleblower Edward Snowden.
"Edward Snowden blew the whistle on illegal government activity kept secret for years," the ACLU tweeted. "Our democracy is better off because of him."
In response, many called for Winner to be pardoned by Trump before figures like Snowden, noting that Winner is in prison while Snowden remains free in Russia, where he has been granted permanent residency.
Winner, who was previously employed by a military contractor, was arrested in 2017 after leaking to The Intercept an intelligence report detailing Russian interference in the 2016 presidential election.
The confidential National Security Agency document revealed that Russian military intelligence executed a cyberattack on U.S. voting software in key swing states days before the election took place—information many state officials learned about only through the leak.
After being identified as the person who mailed the document to The Intercept, Winner was charged with violating the Espionage Act and sentenced to 63 months in prison and three years of supervised release.
"Reality Winner is currently serving more than five years in prison, the longest sentence ever handed out to a whistleblower, who didn't run or evade her sentence, all thanks to the retaliatory efforts of the Trump administration," one Twitter user wrote. "Kindly, focus."
Another user wrote, "Snowden isn't in jail. Reality Winner is. So why are most white leftists on here losing their minds about Snowden and saying bupkis about Reality Winner. It's a rhetorical question."
"Edward Snowden lives comfortably in St. Petersburg but countless blue-checks across the political spectrum clamor he be pardoned," a third Twitter user wrote. "Reality Winner stews in jail and yet she receives 1% of the attention."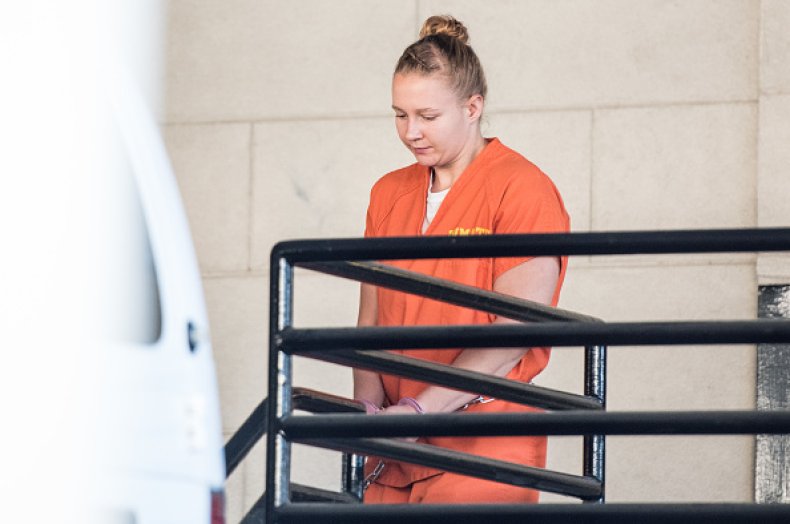 The Palmer Report, a political blog, also chimed in, backing a pardon for Winner ahead of Snowden.
"Edward Snowden leaked classified information because he didn't like a policy. Then he fled to Moscow, where you don't stay alive unless you help Putin," the Palmer Report tweeted. "Reality Winner leaked classified information because it was proof Trump committed treason with Russia. Give her the pardon."
It is unclear if Russia was Snowden's intended final destination, but he was stopped in Moscow's Sheremetyevo International Airport after the Department of State revoked his passport and Russian authorities caught the canceled identification. He was later granted the right of asylum.
Snowden's status in the U.S. sparked debate over the weekend after multiple Republican politicians suggested he be allowed to return to the county without facing legal consequences.
Winner's mother, in a reply to the Palmer Report's tweet, wrote, "My daughter Reality Leigh Winner worked to protect us from a foreign attack. She released the truth about Russian attacks on our election. Why is #RealityWinner still in prison? This is yet another stain on this administration."
Trump has previously expressed some support for Winner. In 2018, the president tweeted, "Ex-NSA contractor to spend 63 months in jail over 'classified' information. Gee, this is 'small potatoes' compared to what Hillary Clinton did! So unfair Jeff, Double Standard."
Upon hearing Trump's remarks, Winner told CBS, "I can't thank him enough, because for 16 months those words 'so unfair' were actually not allowed by myself or my team or my family to say out in the public, so I just can't thank him enough for finally saying what everybody has been thinking for 16 months."
Earlier this year, Winner had requested release to home confinement because of the coronavirus pandemic, but a federal judge rejected the request in April.
In July, it was confirmed that Winner had tested positive for the coronavirus. She has since recovered, according to The New York Times.
Newsweek reached out to Winner's team for comment but did not hear back in time for publication.