'Calm Down': Tucker Carlson Responds to Backlash After Saying White Supremacy a 'Hoax'
When Fox News host Tucker Carlson called white supremacy "a hoax" and a "conspiracy theory used to divide the country" on Tuesday, #FireTuckerCarlson started to trend on social. Carlson responded to the backlash, telling his viewers to "calm down."
"We want to take a second to pass on a sincere message to official Washington, and particularly to our colleagues on other cable news channels, and it's this: Please, for the sake of the nation, calm down," Carlson said.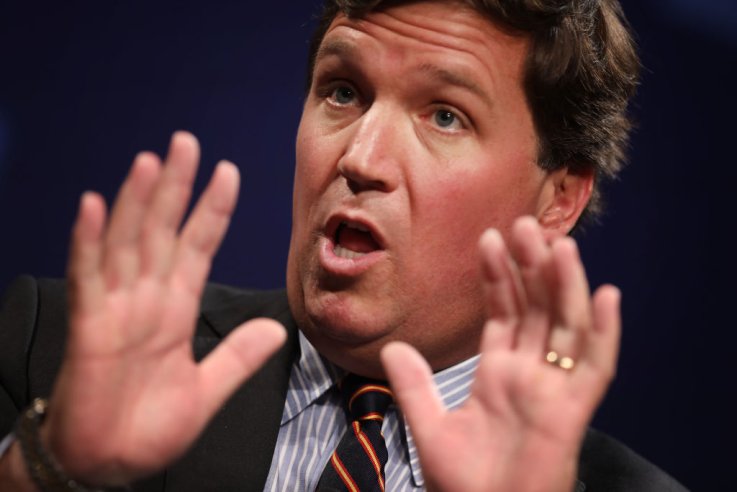 He went on to elaborate more on why people should calm down, saying, "This is not a white supremacist country plotting the slaughter of its own people. It's a kind country full of decent people of all races who like all people everywhere make bad decisions from time to time. But they mean well and they generally try their best."
Carlson also announced that he would be taking some time off, which was already planned. "I am taking several days off—headed to the wilderness to fish with my son," Carlson said on Tucker Carlson Tonight. "Politics is important, fishing with your son, sometimes more important. So I'm doing it."
This is the only statement Carlson has made addressing his past comments. Fox News has not addressed his original comments or the backlash they inspired.
CNN reported a Fox News spokesperson as saying Carlson's vacation plans had been planned long before the controversial comments and that he would return to work on August 19.
Carlson's initial comments were in response to critics of President Trump for how he responded to the recent spree of mass shootings. Even though the shooting in Dayton, Ohio, has no direct connection to white supremacist ideology, the shooting in El Paso, Texas was motivated by anti-Hispanic rhetoric.
Saturday's El Paso shooting left 22 people dead and two dozen people injured. Patrick Crusius, the 21-year-old shooter, was apprehended by police shortly after the incident. Connor Betts, 24-years-old, killed nine people and injured 34 more late Saturday in a shooting spree at a popular nightlife establishment in Dayton, Ohio. Betts was killed by police.
"It's not the job of this show to defend the president and everything he says," Carlson said Tuesday night. "Some things we are not going to defend. But in point of fact, he never endorsed white supremacy or came close to endorsing white supremacy. That's just a lie. But he condemned it anyway. Their response, 'he didn't really mean it.'"
"If you were to assemble a list, a hierarchy of concerns of problems this country faces, where would white supremacy be on the list? Right up there with Russia probably," he further said. "It's actually not a real problem in America. The combined membership of every white supremacist organization in this country would be able to fit inside a college football stadium."
The Department of Justice, the FBI and President Trump have all called out white supremacist rhetoric in statements as a problem in the U.S. "We must shine light on the dark recesses of the internet and stop mass murders before they start," Trump said on Monday from the White House.
Critics of the president have accused Trump's rhetoric as the root cause of the rise in hate-motivated crimes in the U.S. His comments on Mexican immigrants being "rapists" in 2015 and calling white supremacists at the 2017 Charleston rally "good people" have fueled calls for the president to be held accountable for his frequent comments.
'Calm Down': Tucker Carlson Responds to Backlash After Saying White Supremacy a 'Hoax' | U.S.