Cam Newton Benched: Panthers Shut Down QB for Remainder of Season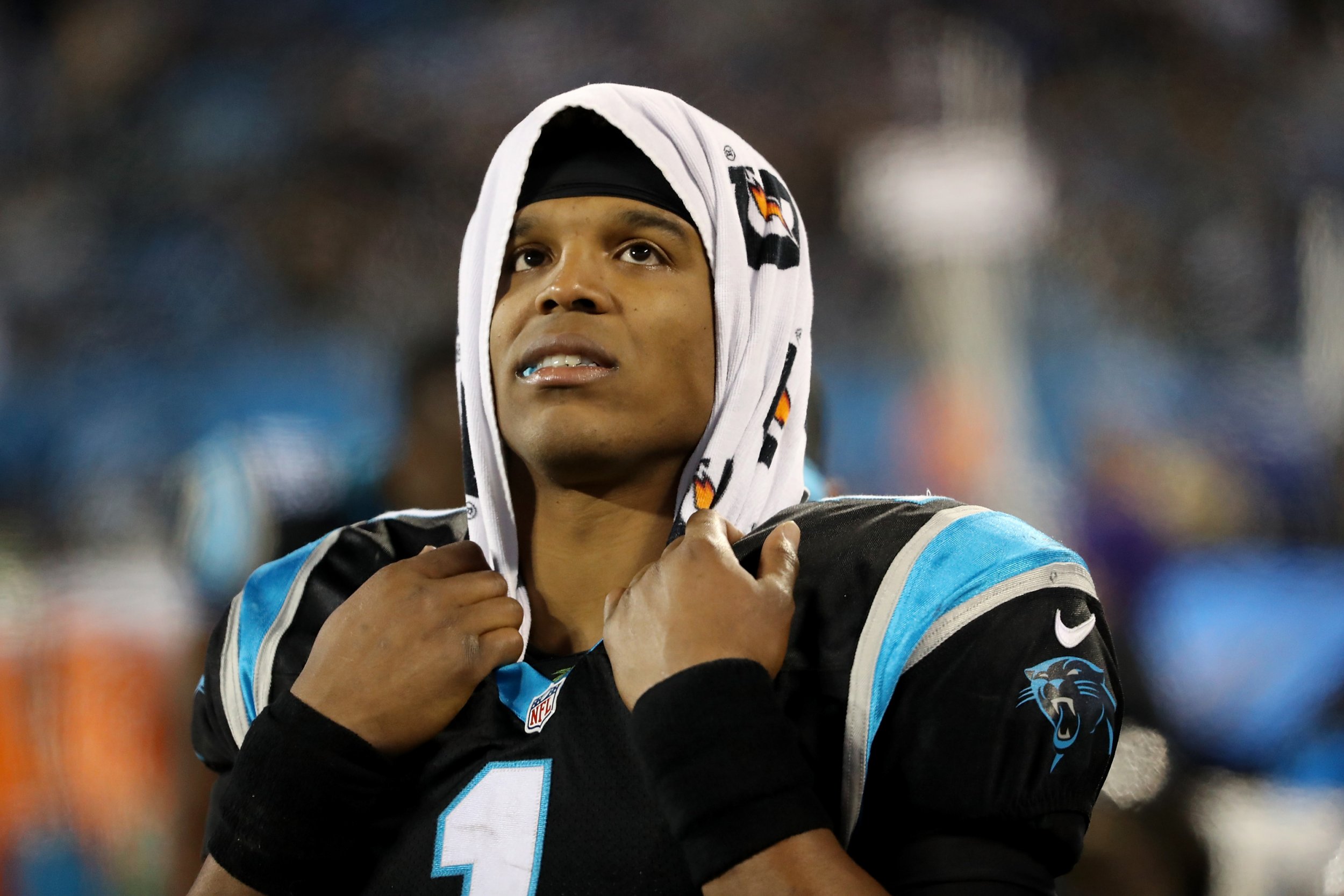 The Carolina Panthers have reportedly shut down franchise quarterback Cam Newton for the remainder of the 2018 NFL season.
Newton is expected to rest during the Panthers' final two games as he recovers from a sore throwing shoulder, a league sourced confirmed to ESPN. Panthers general manager Marty Hurney confirmed Wednesday that the former league MVP will be inactive during this Sunday's game against the Atlanta Falcons.
Second-string quarterback Taylor Heincke will start in his absence while third-striger Kyle Allen will be Heincke's backup. Panthers head coach Ron Rivera said there's still a possibility for Newton to play in the team's final regular season game against the New Orleans Saints if there's still a possibility of a playoff berth.
"He'll be on the 53-man all the way through," Rivera said. "Crazy enough things can happen and we'll see from there."
The coach added: "We had the opportunity to visit with the doctors, the trainers and Cam himself. In talking with Marty and the owner [David Tepper], obviously we felt our best opportunity to win a football game was to have a healthy Taylor to start this week.''
Rivera said he had a "good" conversation with Newton when he told him he was going to shut him down.
"He understood our thinking behind this," Rivera said. "He's disappointed. He's frustrated. He wants to play. We had a great conversation, he understands going forward what we have to do."
Newton has been dealing with soreness in his right shoulder since the Panthers' comeback victory against the Philadelphia Eagles on Oct. 21, which saw him throw 22 passes in the fourth quarter. He showed up to Wednesday's practice without a helmet and wearing sweats, while Heinicke took reps with the first-team offense, according to ESPN.
Carolina's decision to shut down Newton came two days after the he struggled in Monday's 12-9 loss to the Saints, which dropped the Panters to 6-8, leaving a less than 1 percent chance of making the playoffs.
Newton finished with 131 yards, zero touchdowns and one interception on 16 of 29 passing, recording a season-low 52.5 passer rating during Monday's loss. The former No. 1 overall pick expressed his frustration over his injury and said nothing has helped ease the soreness.
"You can't rub magic dust on it, go to this or that person, have the placebo things done where you think certain things are what they are -- and you come out and you're still the same,'' Newton said at the time. "Over the past couple of weeks, nothing has really changed.''