Cam Newton Must Outplay Another Former Auburn QB To Become Patriots Starter
Cam Newton signed a contract Sunday to play quarterback for the New England Patriots. But before Newton can fill the shoes of Tom Brady, who left this offseason to become the quarterback in Tampa Bay, Newton must compete for the job against a guy who filled his own shoes at Auburn.
Newton joins a quarterback battle that includes Jarrett Stidham, who took a somewhat similar path to get to the pro ranks like Newton did.
Before the comparison, here's a quick background on how Newton, a former league MVP, found himself as a free agent in the 2020 offseason.
Newton won the 2009 junior college national championship at Blinn College in Brenham, Texas. He transferred to Auburn, where he won the 2010 NCAA national championship while also winning the Heisman Trophy and all other major awards.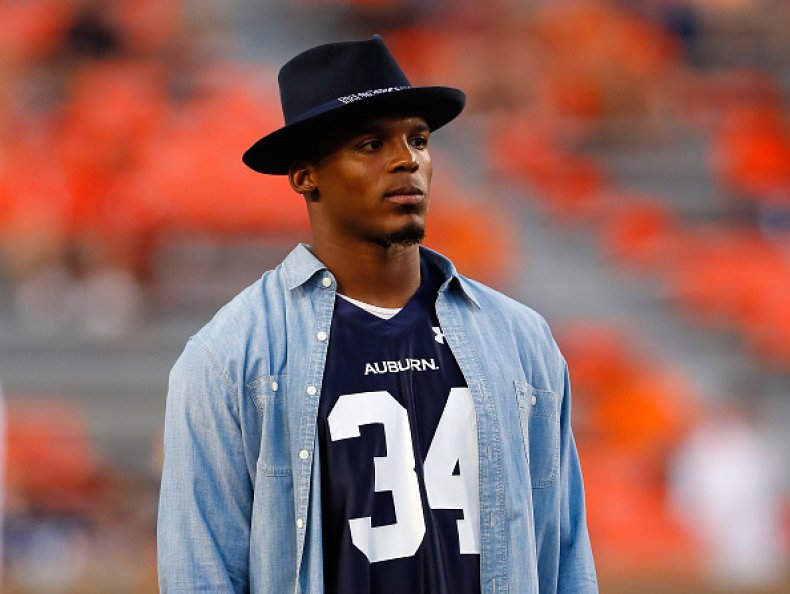 Newton was drafted first overall by the Carolina Panthers in 2011, and by 2015, Newton was the league MVP and had the Panthers in the Super Bowl—against Tom Brady and the New England Patriots. Brady and the Patriots won that game.
Cam Newton kept piling up passing and rushing stats over the next four years when he wasn't injured. Newton was sidelined with an injury in 2019, and the Panthers limped their way to another season of not making the playoffs. The Panthers released Newton once the season was over and signed Teddy Bridgewater, making Newton one of the most-coveted free agents after this series of quarterback moves since early February:
Tom Brady went from New England to Tampa Bay
Teddy Bridgewater went from New Orleans to Carolina
Philip Rivers went from LA Chargers to Indianapolis
LA Chargers drafted Justin Herbert in first round
Green Bay Packers drafted Jordan Love in the first round to back up Aaron Rodgers
Cincinnati Bengals drafted Joe Burrow first overall
Miami Dolphins drafted Tua Tagovailoa
Nick Foles went from Jacksonville to Chicago
Marcus Mariota went from Tennessee to Las Vegas
Jameis Winston went from starter in Tampa Bay to backup in New Orleans
Then there is Stidham, who backed up Brady last season in New England. Stidham also played in Texas before transferring to Auburn, but took a little bit different journey. Stidham gained Texas high school football lore while playing at Stephenville High School as the nation's top dual-threat quarterback.
During the 2012 state championship of his senior season, Stidham was responsible for nine touchdowns, and the 70 points his Yellowjackets scored was an 11-man state championship record.
Stidham received offers all over the country, but he chose Baylor, with former Stephenville coach Art Briles directing the Bears at the time. Stidham waited his time and eventually started, but sanctions drove him and many players from the Baylor program.
Stidham eventually landed at Auburn, where in 2017, he guided the Tigers to back-to-back home wins over No. 1 teams Georgia and Alabama, and securing the SEC West title.
Stidham was drafted by the Patriots in 2019 to perhaps be the heir apparent to Brady. But now, like Newton, Stidham must also compete against a former Auburn Tiger to lead the Patriots.