Cambodia Elections 2018: Democracy Died Long Before People Cast Their Vote, Experts Say
Kem Sokha, Cambodia's main political opposition leader who was jailed during a crackdown against the rivals of incumbent Prime Minister Hun Sen in September 2017, has been denied medical attention during his months in prison, according to his daughter Monovithya.
"My father's health is not doing well. He needed bone laser surgery and the bone is overgrown on his left shoulder and he can't move it. He is in a lot of pain," the younger Kem, who is a spokeswoman for her father's party, the Cambodian National Rescue Party (CNRP), told Newsweek,adding that she is unable to return to her country for fear of arrest.
As analysts watch for harbingers of the demise of democracy across the globe, this small Southeast Asian country is moving almost unnoticed from competitive authoritarianism to outright autocracy. The government has banned pre-election polls and surveys, allegedly to prevent "social instability."
Cambodia's democracy has been fragile. For over three decades, the country has been ruled by Hun Sen, and members of the political opposition have often been silenced through the use of politically motivated defamation and incitement charges.
From 1975 until 1979, the Khmer Rouge regime, led by Pol Pot, is estimated to have murdered between 1.5 and 3 million people in Cambodia. Hun Sen, a former Khmer Rouge cadre, defected to Vietnam when the group was carrying out internal purges in the late 1970s. He eventually returned to help defeat Pol Pot's regime and quickly became part of the country's top leadership, cementing his position with the help of the military.
But Cambodia held regular, competitive elections in the decades following the end of the murderous regime. The country held its first free elections in 1993, and elections have been organized regularly ever since. Until recently, the country boasted of the freest and robust media landscape in Southeast Asia, a region where authoritarian monarchies and communist regimes routinely stifle free speech and imprison critics.
Nevertheless, much of that changed in the year leading up to Cambodia's general elections on Sunday.The chief judge of the Supreme Court, who is a senior member of the ruling Cambodian People's Party (CPP), dissolved the Cambodia National Rescue Party (CNRP) —the only opposition group that was widely popular—leaving only a handful of tiny and inconsequential opposition parties to compete against a political juggernaut.
Sokha, the head of the CNRP, has been in jail since September 2017. He was accused of treason and collaborating with the U.S. government to topple Hun Sen, a charge he denies. Other members of the opposition, including his daughter, have fled the country to avoid imprisonment. Critical media outlets have been shuttered or purchased by people loyal to Hun Sen. For many, any semblance of Cambodian democracy disappeared in 2018.
"It's caught a lot of people napping. People don't think a lot about Cambodia these days. But the elections are going to be mostly a foregone conclusion," Sebastian Strangio, author of the book Hun Sen's Cambodia, told Newsweek. "Despite the presence of civil society and relatively free media over 25 years, the baseline has been authoritarian, and this recent shift has all of the ringings of finality."
Some people in Washington are paying attention to Cambodia, however. In February, a group of Senators, including Lindsay Graham (R-SC), Ted Cruz (R-TX), Dick Durban (D-IL), Patrick Leahy (D-VT) and Ben Cardin (D-MD) proposed the Cambodia Accountability and Return on Investment (CARI) act, which could freeze the assets of some of the country's top officials if Sunday's elections aren't considered free and fair. In June, the Treasury Department also sanctioned Hing Bun Hieng, the head of the prime minister's elite bodyguard unit, for attacking protesters.
The U.S. Embassy in Cambodia's capital Phnom Penh declined to comment for this piece. A spokesman for Cambodia's ruling CPP did not respond to requests for comment.
Analysts say there's no chance Sunday's elections will be fair. The only viable opposition group left in the country is the Grass Roots Democracy Party (GDP), founded by Kem Ley, a political commentator and government critic who was shot dead in 2015 while drinking his morning coffee in a gas station. Although some of Ley's protégés have since picked up his mantle, most analysts agree it's unlikely that the group will win a significant number of seats in Cambodia's National Assembly.
The CNRP won around 40 percent of the vote in local elections last year, but now its members are barred from competing. Experts say it's likely the opposition party's supporters will refuse to vote.
Three of the groups approved to conduct election monitoring in Cambodia are led by people with close ties to Prime Minister Hun Sen, and one of the groups is headed by Hun Sen's son. The U.S. and the European Union have both withdrawn their monitors from the election in response to the political crackdown.
"One of the requirements of a democracy is competition. And there's no real competition. You can have 200 parties if you want to, or even 2,000 parties. When you exclude a party that has a real shot at unseating the ruling party, it really doesn't matter how many parties are running. Or for that matter how many observers you brag are coming," Sophal Ear, associate professor of diplomacy and world affairs at California-based Occidental College, told Newsweek. "Elections are the culmination of a democratic process. These elections are no such thing. The democratic process has been completely disfigured beyond recognition. It's as if someone threw acid on it."
At the same time, the CNRP has called for a boycott of the election, nicknamed the "clean finger boycott" because voters in Cambodia dip their fingers in ink after they cast their ballots. Some have said they fear there could be retaliation against people with clean fingers. The ruling party has said the boycott is illegal, while some government critics have stopped being outspoken in the run-up to the election.
"I don't necessarily feel free to criticize the government. There are a lot more reasons to be cautious than in the past. You put a lot more effort into being conscious of what you're going to say. There is a self-censorship, and in some way, self-censorship is the best type of repression," Virak Ou, a Cambodian political analyst and the former president of the Phnom Penh-based Cambodian Center for Human Rights, told Newsweek.
"Now there isn't a lot of independent media, so even if I'm willing to give comment there isn't independent media to give comment to," Virak added.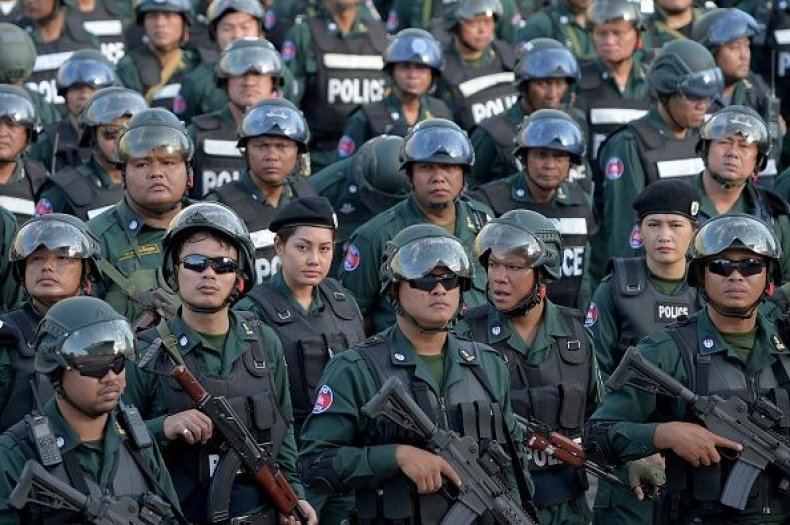 Indeed, Cambodia's independent media has been all but obliterated over the past year. The Cambodia Daily, an English-language newspaper, was the first to close its doors in September 2017. When the government demanded $6.3 million in back taxes from the paper, many viewed the tax dispute as politically motivated. The paper's final headline read "Descent Into Outright Dictatorship," and featured news of Sokha's 2017 arrest.
Less than a year later, in May 2018, an investor with links to Hun Sen purchased the Phnom Penh Post—the Cambodia Daily's erstwhile rival and one of the country's longest-running newspapers. When the paper's journalists wrote about the sale, the new owner fired the editor-in-chief and demanded a retraction. As a result, the paper's managing editor and a number of journalists resigned in protest.
Meanwhile, reporters from U.S.-allied outlets, like Radio Free Asia and Voice of America, have been harassed or arrested. Reporters Without Borders ranked Cambodia 142nd out of 180 countries in the World Press Freedom Index this year, a 10-point drop from the year before. And in the days leading up to the elections, people in Cambodia began reporting that they couldn't access certain news outlets.
"For the past few hours, it's been confirmed that several Internet service providers and mobile companies are actively blocking websites of independent online media and radio outlets, including Radio Free Asia and Voice of America," Mu Sochua, the deputy leader of the CNRP, told Newsweek from exile in Spain on Friday.
It is unclear if the government ordered the media blackout.
In this context, Hun Sen and his cronies have been able to operate with little scrutiny. Earlier in July, the organization Human Rights Watch revealed that military and police officers are campaigning for the CPP despite laws requiring their political neutrality. Another report by the same organization details the long history of human rights abuses perpetrated by Hun Sen and 12 of his top generals, abuses and assassinations for which no one has been held accountable.
"[Hun Sen] has controlled the process from the 1980s and 1990s onward, and using this dirty dozen, these guys who are prepared to commit human rights abuses as ordered. It's a mixture of corruption, of human rights abuses, and abuse of power," Phil Robertson, deputy head of Human Rights Watch for Southeast Asia, told Newsweek.
According to Robertson, many Cambodians have fled the country to seek asylum in neighboring Thailand in the run-up to the elections, as the government increased its repression against critical organizations and activists.
"We have over 100 Cambodians seeking asylum in Thailand," Robertson explained to Newsweek. "Anyone getting in the face of the government has been shut down, is laying low or on the run. There is a palpable sense of fear."