Cambodia's Dictator Issues Arrest Warrant for Opposition Leader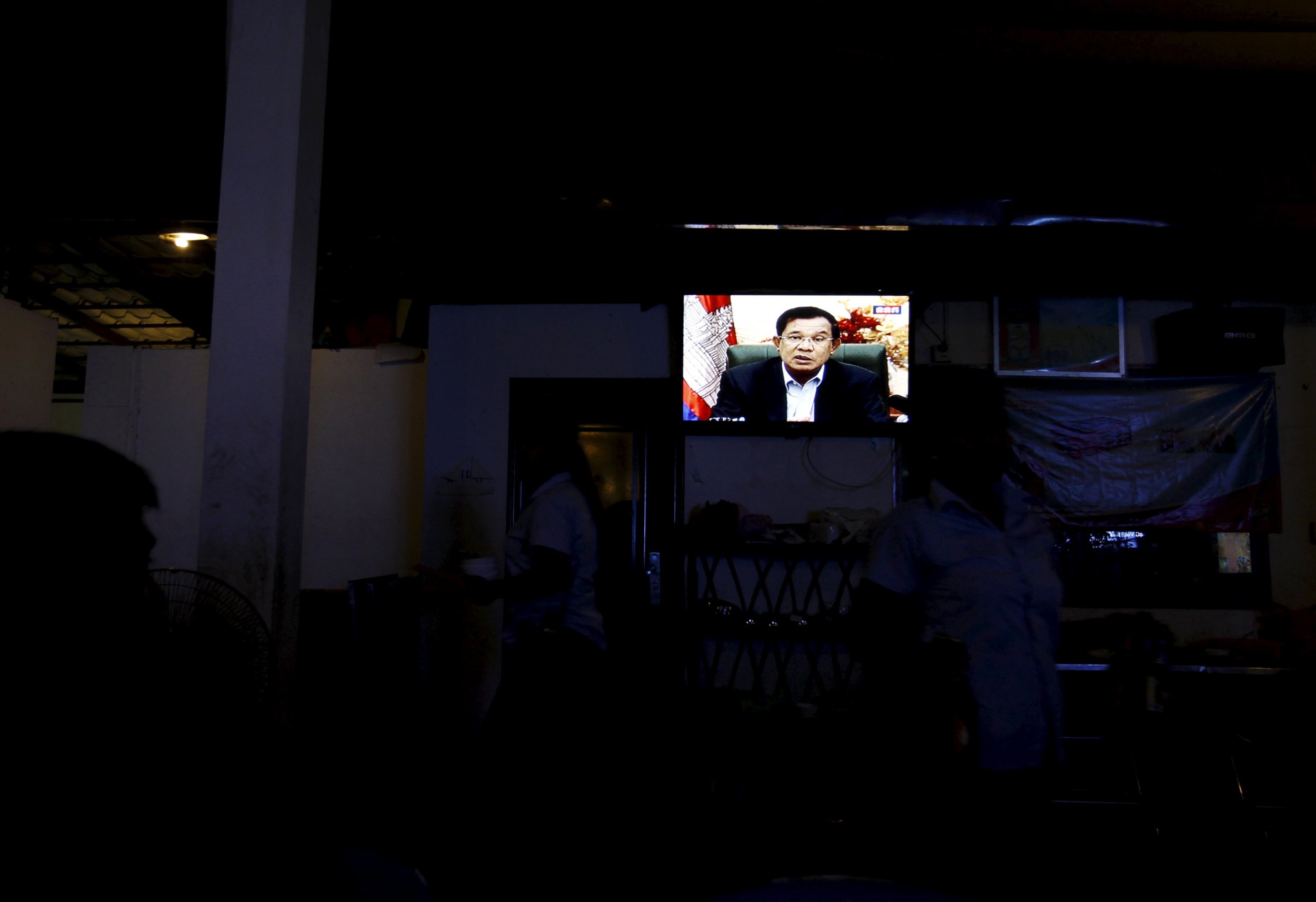 This article first appeared on The Daily Signal.
On November 13, Cambodia's dictatorial prime minister Hun Sen ousted opposition leader Sam Rainsy, stripping him of his seat in parliament and calling for his arrest. These latest actions against Rainsy are representative of Cambodia's long muddle through a sort of unfree democracy.
Cambodia's latest actions should remind the international community of the commitments it made in the Paris Peace Accords, which ended the 1978-1991 war in Cambodia. The agreement did not only formalize the end of the war begun by Vietnam's invasion and establish the basis for elections, but parties to the accords also committed to hold Cambodia to liberal ideals.
The U.S. must uphold commitments made during the Paris Peace Accord and ensure that it is taking sufficient action to ensure political freedom for the people of Cambodia.
Rainsy's removal was prompted by comments he made suggesting that repressive regimes in Southeast Asia—especially dictatorships like Cambodia, where Hun Sen has retained power for almost 30 years—must feel threatened by the success of recent elections in Burma.
Rainsy's arrest warrant was based on 2011 convictions, which were never enforced, for alleged defamation against Deputy Prime Minister and Minister of Foreign Affairs Hor Namhong. Now Hun Sen is calling for their enforcement.
Rainsy remains abroad visiting with the Cambodian diaspora in Japan and Korea and has been urged by the international community not to immediately return to Cambodia.
Tensions have escalated over the past several months between Hun Sen's ruling Cambodian People's Party (CPP) and the opposition Cambodian National Rescue Party (CNRP). Just last month, vice president of the national assembly and opposition leader Kem Sokha was removed from power. This came on the heels of violence against other opposition parliamentarians who were beaten up by ruling party members calling for Kem Sokha's removal.
Democracy in Cambodia is more a turn of phrase than a reality. The July 2013 elections were replete with error and voter fraud. Despite this, the 2013 elections were closer to an opposition victory than in a great many years.
For months, the CNRP boycotted parliament, alleging vote-rigging on the part of the CPP and calling for a second, more credible investigation into election results.
While the two parties did eventually reach an agreement in July 2014, and CNRP parliamentarians took their seats in parliament, the agreement was not ideal. Originally the CNRP had requested reform to the election oversight body, the National Election Committee (NEC); early elections in February 2016; and a television station for the CNRP.
They were also looking for the release of political prisoners and a clean investigation into 2013 election results. The deal really only resulted in a promise of reform to the NEC. While the two parties undertook NEC and National Election Law reform, recent violence undermines progress.
These latest actions against Rainsy and Sokha, as well as the violence against CNRP parliamentarians, represent yet another step away from the inclusivity required to maintain a democratic framework in Cambodia. The U.S. Department of State has called upon the Cambodian government to immediately reinstate Rainsy and revoke the warrant for his arrest.
There are other steps that the international community can and should take. In 1991, the Paris Peace Accords, which were signed in the wake of the Khmer Rouge, obligated signatories to monitor and assist Cambodia in its adherence to democratic principles.
Due to the significant decline in democratic freedoms in Cambodia (failure to hold free and fair 2013 elections, continued detention of political prisoners, violence against CNRP protesters post-2013 elections and the targeting of high-level CNRP officials including Sam Rainsy and Kem Sokha), the Paris Peace Accords signatories should form a contact group to evaluate the state of human rights and political and economic freedom in Cambodia, as well as provide assistance to ensure that Cambodia remains on a path to democracy.
The international community should closely watch Cambodia to see whether democracy continues to disintegrate. It is in the best interest of Southeast Asia and the international community that Cambodia adhere to democratic principles, especially as other historically repressive nations like Burma are turning from their wayward ways toward democracy.
Olivia Enos is an Asian Studies Center Research Associate within The Davis Institute for National Security and Foreign Policy at The Heritage Foundation.
Cambodia's Dictator Issues Arrest Warrant for Opposition Leader | Opinion