Cambodia's Strongman Completes Government Takeover in Elections White House Says Were Neither Free Nor Fair
After elections widely described as unfair were held, Cambodia's strongman Prime Minister Hun Sen declared victory on July 30, saying his ruling Cambodian People's Party (CPP) had won all 125 seats in parliament.
Observers had expected the CPP to win the elections. After all, Hun Sen's government had banned the only credible opposition party from running, and jailed Cambodia's main opposition leader. But Cambodia had maintained the appearance of being a democracy, albeit a flawed one, for decades. In previous elections, opposition groups were able to capture a handful of seats in the National Assembly.
The 2018 elections, however, are a turning point. Cambodia has become a one-party state led by an authoritarian prime minister who has already been in power for over 30 years.
"The United States regrets that Cambodia's July 29 parliamentary elections were neither free nor fair and failed to represent the will of the Cambodian people. The flawed elections, which excluded the country's principal opposition party, represent the most significant setback yet to the democratic system enshrined in Cambodia's constitution," the White House press secretary said in a statement. "We are profoundly disappointed in the government's choice to disenfranchise millions of voters, who are rightly proud of their country's development over the past 25 years."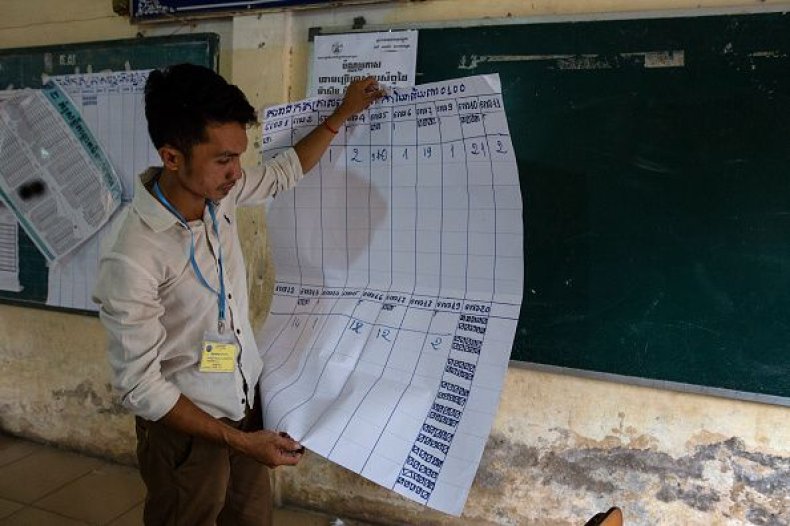 Despite facing no credible competition, the ruling party benefited from a variety of social media campaigns, fake news stories and a blackout of credible media outlets in the days leading up to the election, reports revealed. Reports also suggested that voters cast nearly 600,000 spoilt ballots, a sign of protest over the absence of choice in the election.
Some human rights defenders said the ruling party could seek retribution against people who cast a protest ballot or refused to go to the polls.
"The CPP hunted the opposition [Cambodian National Rescue Party] to extinction and now have a clean sweep of apparently every seat that was being contested," Phil Robertson, deputy head of Human Rights Watch for Southeast Asia, told Newsweek. "It's a human rights and democracy disaster, with more intimidation and impunity in store as the government officials figure out who didn't vote and follow through with threats to livelihoods and access to government services."
The National Election Committee declared that the ruling party had captured over 75 percent of the total vote.
"This election marks a dark day in Cambodia's history. Millions of Cambodians were denied a genuine choice as the CPP's victory was guaranteed even before the first ballot was cast. The year leading up to the vote was marked by a widespread crackdown on critics, and we saw these same tactics on voting day as several independent news sites were blocked," Charles Santiago, chairman of the ASEAN Parliamentarians for Human Rights, said in a statement.
"Hun Sen has clearly been engaged in a desperate bid to try to legitimize these elections, including by shipping in international observers with questionable democratic credentials, and by threatening people to vote. But nothing can take away from the fact that this was a sham election," Santiago continued.
It is unclear exactly how the U.S. will respond to the situation in Cambodia, but sanctions and visa restrictions against key members of the government have been floated.