Was Trump a 'Puppet'? Cambridge Analytica Previously Tested Americans' Views on Putin, Wall, Swamp: Report
Heralded for masterminding an election campaign that tapped into the real-world frustrations of Americans long ignored by the media and political establishment, President Donald Trump's precise role in designing many of his best-known talking points is suddenly facing scrutiny.
Both current and former members of data firm Cambridge Analytica have talked up the role it played in Trump's shock election triumph, including claiming credit for some of the president's best-known catchphrases.
Notably, the firm tested Americans' reactions to the phrases "drain the swamp" and "deep state," during focus groups that took place in 2014, a former employee of the firm, Chris Wylie, told The Washington Post Tuesday.
On Tuesday, Trump, apparently coincidentally, conceded that he did not come up with the "drain the swamp" slogan.
"It was a term that was actually given to me, usually like to think them up myself, but this was given to me—which bothered me too. I never like that," he said during a speech to the National Republican Congressional Committee.
Those weren't the only themes tested that would later emerge in Trump's campaign, Wylie said. The focus groups were also asked to respond to the idea of a border wall to prevent illegal immigration, as well as attitudes to race, including so-called "race realism," which trumpets the fact that races should be considered different from one another.
Overall the firm is said to have encountered widespread alienation among young, white Americans, The Washington Post reported.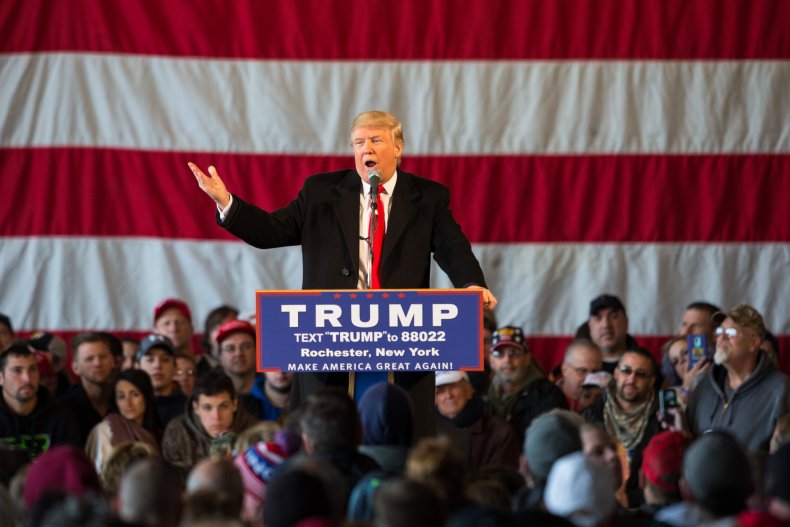 It also observed favorable views to a foreign adversary who has since become inexorably linked to Trump.
"The only foreign thing we tested was Putin," Wylie said. "It turns out, there's a lot of Americans who really like this idea of a really strong authoritarian leader, and people were quite defensive in focus groups of Putin's invasion of Crimea."
Adding to the links with Cambridge Analytica, which Trump's campaign has sought to downplay, the president's former campaign chief executive and White House chief strategist, Steve Bannon, was a top executive at the firm when the data was collected.
Wylie is not the only member of Cambridge Analytica to downplay the role of Trump in his own campaign.
The firm's chief executive Alexander Nix was secretly recorded claiming that it ran "all" of Trump's digital campaign. In an investigation that aired on British network Channel 4 this week, Nix, who has since been suspended by Cambridge Analytica, added that the candidates they worked with were always minor players.
"The candidate never, is never involved," Nix said. "He's told what to do by the campaign team."
Asked whether the candidate "is the puppet?" Nix replied, "Always."