University of Cambridge to Move Lectures Online Until Summer of 2021
The University of Cambridge has said it will move all face-to-face lectures online until the summer of 2021.
Universities, like the rest of the country have had to adapt to social distancing rules during the COVD-19 pandemic and have closed their campuses in a bid to stop the spread of the disease, causing widespread disruption to students.
However, smaller teaching groups known as supervisions, where between one and three students are taught by an academic at the university, may still be able to go ahead if they can meet social distancing rules, according to the university.
A statement from the University of Cambridge read: "The university is constantly adapting to changing advice as it emerges during this pandemic.
Newsweek subscription offers >
"Given that it is likely that social distancing will continue to be required, the university has decided there will be no face-to-face lectures during the next academic year.
"Lectures will continue to be made available online and it may be possible to host smaller teaching groups in person, as long as this conforms to social distancing requirements.
"This decision has been taken now to facilitate planning, but as ever, will be reviewed should there be changes to official advice on coronavirus."
The Office for Students, an independent regulator of higher education in England, earlier this week warned that universities must not provide misleading promises on what kind of "campus experience" students will be getting before students make choices about which university to attend.
Newsweek subscription offers >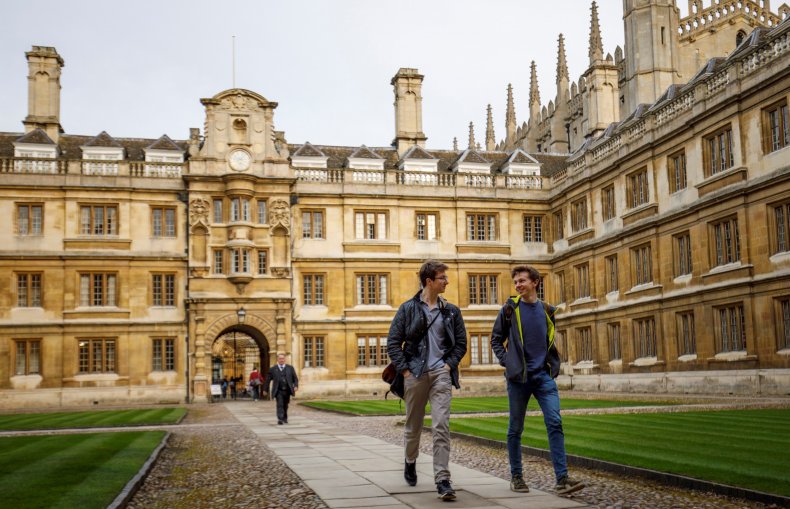 Nicola Dandridge, chief executive of the Office for Students, said students must have "absolute clarity" on what they would be getting.
She said: "What we don't want, is to see promises that it's all going to be back to usual and an on-campus experience when it turns out that that's not the case."
Dandridge made her comments while giving evidence to MPs on the Commons education committee, which is looking into the impact of the coronavirus on education.
The Office for Students said that universities should ideally tell applicants how they would be taught by June 18, which is the Ucas (The Universities and Colleges Admissions Service in the UK) deadline for accepting firm and insurance places, and "certainly before" A-level grades come out on August 13.
Students should be allowed to "change their minds" and be released from their agreements, if a university had to change what was on offer after new students had accepted a place, it says.
University of Cambridge to Move Lectures Online Until Summer of 2021 | World