Camel Beauty Contest Sees 40 Disqualified for Botox, Other Cosmetic Procedures
Authorities in Saudi Arabia have conducted their largest-ever crackdown on touched-up camels.
The Saudi Press Agency reported that more than 40 camels were disqualified from the King Abdulaziz Camel Festival, which began on December 1 in the desert near the Saudi capital of Riyadh.
The camels were removed from competition after their breeders were caught injecting their animals with Botox. The protein, often used for cosmetic and health procedures on humans, is often injected into camels through their noses and lips. Other procedures undergone by the camels included facelifts, hormone injections and body inflation.
During the 2018 event, the son of a prominent camel breeder told local newspaper The National why such alterations are so popular.
"They use Botox for the lips, the nose, the upper lips, the lower lips and even the jaw," Ali Al Mazrouei said. "It makes the head more inflated so when the camel comes it's like, 'Oh look at how big is that head is. It has big lips, a big nose.'"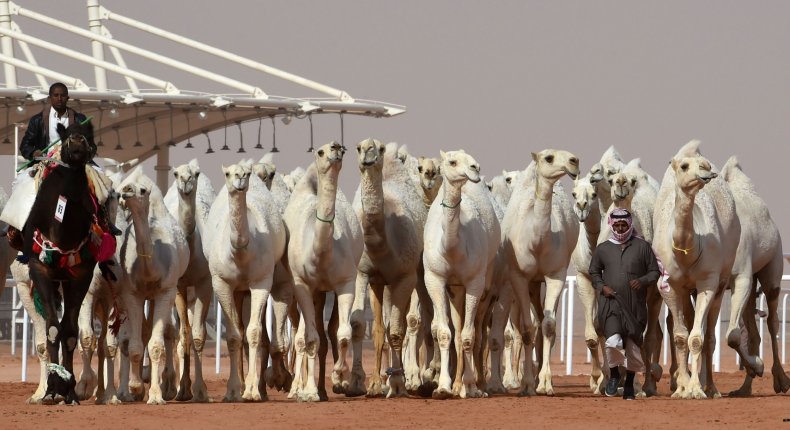 The 2021 iteration of the festival is also not the first to conduct such a crackdown on modified camels. In 2018, 12 camels were banned from competition after authorities and judges found them to be unnaturally modified by their breeders. In 2019, only seven camels were disqualified, and the number of rejections that took place during the 2020 event is unknown. However, 2021's staggering 43 is by far the largest amount of disqualifications seen at the event.
"The club is keen to halt all acts of tampering and deception in the beautification of camels," the SPA said in a statement. The organization also emphasized that the organizers of the event would "impose strict penalties" on breeders who altered their animals.
Such alterations can significantly injure camels. In August, a camel whose lips became ruptured and bleeding was caught on camera after being pumped with Botox. The drastic measures could be attributed to the major prize that the top camels receive; the festival doles out around $66 million in prize money to the best-looking camels. Judges determine which camels are the best of the best by examining the camels' heads, humps, postures, necks and dress.
The beauty contest is a prominent part of the festival, which started in 2000. The festival was started to preserve the history and importance of camels throughout the United Arab Emirates, particularly for the Bedouin nomads. Other parts of the festival that attendees can participate in include camel races and a massive bazaar. The festival will run until January 12.
The Associated Press contributed to this report.