A Botox scandal has gripped Saudi Arabia's camel beauty pageant, with a dozen contestants disqualified amid suspicion their lips had been surgically enhanced.
The annual contest has been moved from its previous venue in the desert to the outskirts of the capital, Riyadh, where a jury rates tens of thousands of camels based on their appearance. The event is part of a big festival that celebrates the animal, which symbolizes Bedouin life in the desert.
Related: Dog suspected of shooting its owner with his own gun in freak accident
"The camel is a symbol of Saudi Arabia," the chief judge of the show, Fawzan al-Madi, said as news that 12 camels were kicked out of the competition broke, Reuters reported. "We used to preserve it out of necessity. Now, we preserve it as a pastime."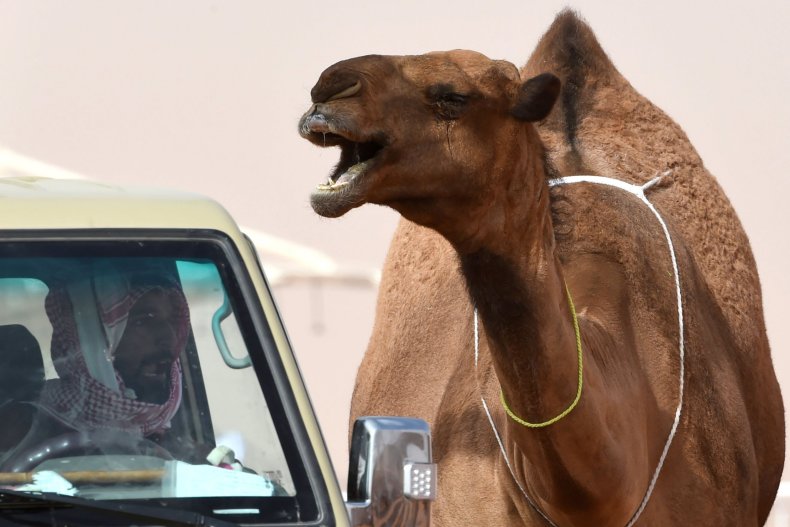 With a prize money total of around $57 million, it is no surprise that around 30,000 camels have been entered in the show, but the monthlong event has already run into controversy.
"They use Botox for the lips, the nose, the upper lips, the lower lips and even the jaw," Ali al-Mazrouei, 31, whose father breeds camels, told the United Arab Emirates' The National. "It makes the head more inflated, so when the camel comes, it's like, 'Oh, look at how big is that head is. It has big lips, a big nose.'"
Around 300,000 people have reportedly attended the event. It began at the start of the month and includes not only the beauty pageant but also camel racing and auctions for buyers and sellers. The possibility that a Botox-injected camel could win big money or go to a buyer for a high price, months before it returns to its regular appearance, has worried some attendees of the event, who want beauty pageant cheats to be punished just as those who give performance-enhancing drugs to a racing camel are punished.
"The people who are just in the camel competition to make it more valuable, they are cheating everyone," al-Mazrouei added. "A fine should be applied. In camel racing, whoever is using drugs is fined about 50,000 dirhams in Abu Dhabi. The fine is not yet applied for beauty camels."