Camerawoman Filmed Tripping Refugees Plans to Sue Facebook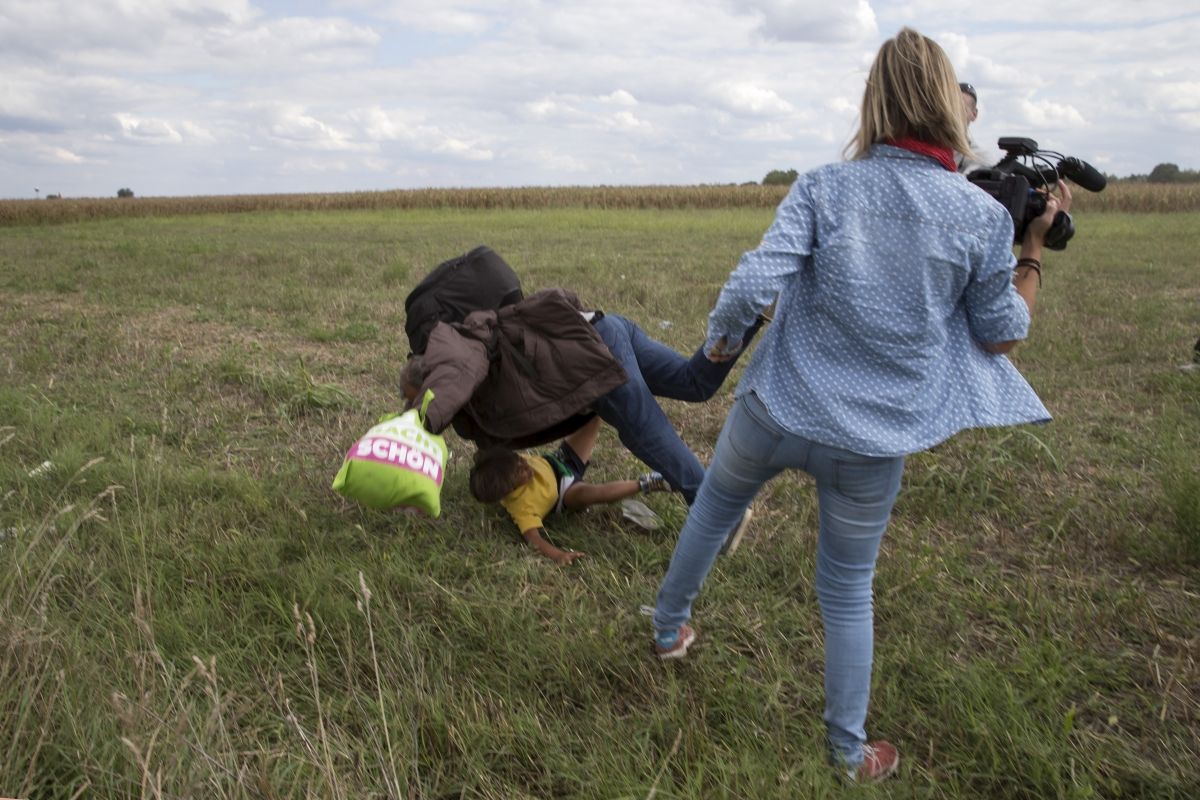 The Hungarian journalist filmed tripping up a Syrian refugee and kicking refugee children has said she wants to sue Facebook for not moderating hate pages set up against her.
Speaking with Russian broadsheet Izvestia, Petra Laszlo, who was fired by Hungarian TV station N1TV after the footage emerged, also accused Osama Abdul Mohsen—the Syrian father whom she tripped in the footage—of changing his story about the events.
The camerawoman is currently standing trial in Hungary for hooliganism in connection with the incident, but told pro-government newspaper Izvestia that she intends to sue Mark Zuckerberg's social network once her case is closed.
Laszlo said that she has been subjected to threats of rape and murder online and asked Facebook to take down pages that were directed against her. She claimed, however, that Facebook only took down pages and groups supporting her, and left the opposition pages and groups active. Facebook did not respond immediately to a request for comment.
Laszlo also said that Mohsen "changed his testimony, because he initially blamed the police," and said that her husband was determined to "prove my innocence." She added that her family were considering relocating to Russia because they feel threatened in Hungary.
In footage shot on September 8 near Hungary's border with Serbia, Laszlo was filmed tripping Mohsen while he carried his seven-year-old son, Zaid as the pair fled from Hungarian police. She was also seen kicking several refugee children as they tried to escape from police.
She has since apologized for her actions, explaining that "something snapped in me" as she was caught up in a swell of hundreds of refugees fleeing Hungarian police and that her actions were done out of fear.
In the wake of the incident, Mohsen—who was a football coach in Syria—was offered a job at a Spanish football academy near Getafe. The family now reside in Spain and were invited to a Real Madrid match by the club's president, Florentino Perez, where Zaid walked out onto the pitch with Portuguese footballer Cristiano Ronaldo at the Santiago Bernabeu stadium in Madrid.