Cameron Boyce, Disney Star, Dead at 20 After Seizure, Family Says
The family of 20-year-old Disney actor Cameron Boyce confirmed Saturday night reports of his death as a result of a longtime medical condition.
Boyce died "due to a seizure which was a result of an ongoing medical condition," his family told ABC News late Saturday. The Los Angeles native and childhood actor was set to appear in the upcoming HBO show, Mrs. Fletcher, and his past Disney castmates offered their condolences to the family over his sudden death.
The childhood actor widely known for his roles on Disney Channel shows Descendants and Jessie died in his sleep Saturday, the family confirmed to ABC.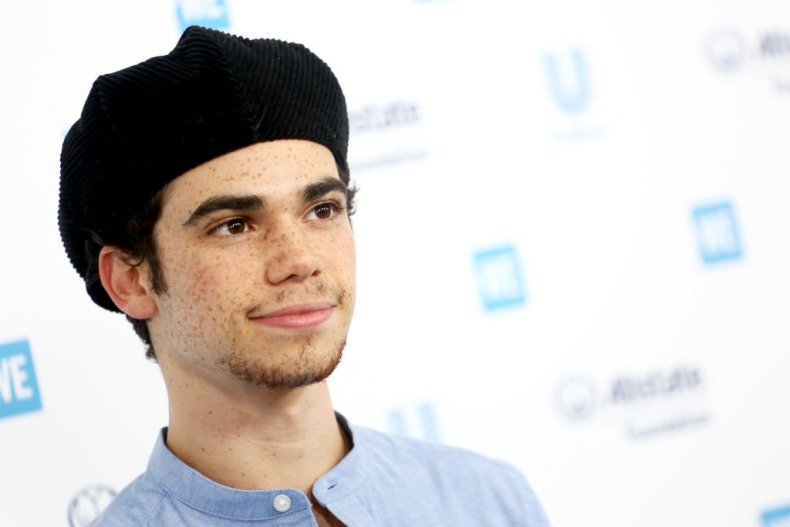 Boyce's family issued a statement through a spokesperson Sunday: "It is with a profoundly heavy heart that we report that this morning we lost Cameron. He passed away in his sleep due to a seizure which was a result of an ongoing medical condition for which he was being treated. The world is now undoubtedly without one of its brightest lights, but his spirit will live on through the kindness and compassion of all who knew and loved him."
In March, Boyce introduced former Vice President Joe Biden at the 2019 Biden Courage Awards in New York City's Russian Tea Room. He had become involved in several charity drives and organizations including the Thirst Project, a nonprofit he helped raise $30,000 for in order to build wells for clean drinking water in African countries.
Boyce first began acting at age nine when he appeared in the film, Mirrors, and later appeared in the Adam Sandler movie, Grown Ups.
A Disney Channel spokesperson also issued a statement on the sudden passing of Boyce:
"From a young age, Cameron Boyce dreamed of sharing his extraordinary artistic talents with the world. As a young man, he was fueled by a strong desire to make a difference in peoples' lives through his humanitarian work. He was an incredibly talented performer, a remarkably caring and thoughtful person and, above all else, he was a loving and dedicated son, brother, grandson and friend."
Boyce's Jessie co-star Skai Jackson remembered the actor with a touching post on her Instagram account.
Wrote Jackson: "I don't even know where to start... I am at a loss for words. I never thought in a million years I would be writing this. Cam, you were one of a kind. My heart will be forever broken. I am so happy that I got to spend almost everyday with you on set, you gave the best hugs. I wish I would have hugged you tighter when I saw you a couple of months ago. Thank you so much for being the big brother I never had... I am so distraught and I cannot stop crying! I love you so much... fly high Gods best Angel."
Director Kenny Ortega, who helmed the Descendants movies, also made a heartbreaking tribute to the late Boyce.
Wrote Ortega on Instagram: "My Love, Light and Prayers go out to Cameron and his Family. Cameron brought Love, Laughter and Compassion with him everyday I was in his presence. His talent, immeasurable. His kindness and generosity, overflowing. It has been an indescribable honor and pleasure to know and work with him. I will see you again in all things loving and beautiful my friend. I will search the stars for your light. Rest In Peace Cam. You will always be My Forever Boy! "
The young actor's death was mourned by fans all across social media Sunday morning.