Kirk Cameron Once Again Defies COVID Lockdown at Large Gathering
For the third time in December, Kirk Cameron took part in a large gathering of mostly maskless people singing Christmas carols. The Tuesday night event followed similar ones on December 13 and December 6, which Cameron has termed "peaceful protests" against California Governor Gavin Newsom's stay-at-home orders that have been put into place to decrease the spread of COVID-19.
Cameron addressed a crowd of what CBS News estimated to be around 150 people. He wore a red hat and white Santa beard but no mask as he joined dozens of other maskless singers in performing Christmas carols at the Thousand Oaks Mall's parking lot.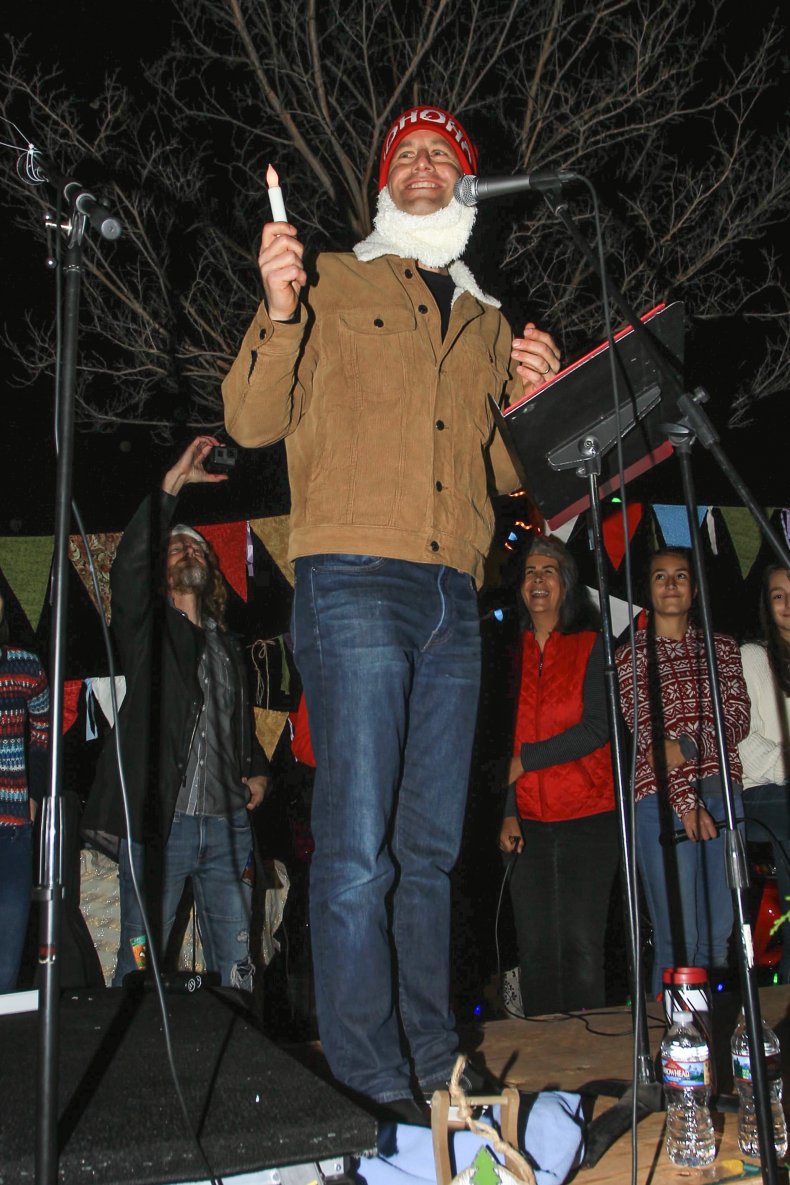 Mall management called the gathering unauthorized on Twitter. They posted the following message: "We do not condone this irresponsible--yet constitutionally protected--peaceful protest event planned. We share your concern and have notified the Sheriff's office. As well, we have reached out to the event planner to ask that they do not use The Oaks as their venue."
The December 13 event was held at the same mall parking lot as Tuesday's, and following that earlier gathering, Thousand Oaks Mayor Claudia Bill-de la Pena commented: "Liberty and freedom are very fragile and they come with great responsibility. Continuing to hold large gatherings and ignoring all guidelines, I feel, is un-Christian."
Cameron's publicist told Newsweek that while Cameron participated in the event, he did not co-host it as he did the prior two. Below is footage Cameron shared on his Instagram account from the December 13 night of caroling.
On Monday, Newsom said that the regional stay-at-home order the state imposed for Southern California on December 6 will almost certainly be extended beyond next week's scheduled expiration date of December 28. He did not give an indication as to when a decision on extending the order would be made, or for how long the order could possibly continue.
"We are likely, I think it's pretty self-evident, going to need to extend those regional dates," Newsom said. "Based upon all the data and based upon all these trend lines, it is very likely, based on those current trends, that we'll need to extend that stay-at-home order, [which] you recall was a three-week order when we announced it."
On Tuesday, the Los Angeles County Department of Public Health reported 12,954 newly confirmed COVID-19 cases and 88 deaths. The overall pandemic totals for Los Angeles County, which includes Thousand Oaks, are 647,542 cases, including 9,016 fatalities.
Cameron, who achieved fame on the hit sitcom Growing Pains before focusing more on evangelism and starring in faith-based films, has not publicly commented on the latest gathering. When contacted, his publicist provided Newsweek with a recent statement from Cameron about Newsom's stay-at-home order.
From Cameron's statement, in part:
"During this awful pandemic, people are longing for hope and encouragement and we want to offer that to them ... we encourage attendees wear masks and the freedom to socially distance, but we won't deny our neighbors the opportunity to sing Christmas carols outside in whatever manner they choose. Spirits were lifted and people were encouraged! This is America – the land of the free and the home of the brave."
Correction (12/23/2020, 1:15 p.m.): An earlier version of this article stated that Cameron "played host" to the event. His publicist informed Newsweek that he was not involved in a hosting or organizing capacity, and simply participated in the event.