A true oenophile will tell you, there is no such thing as seasonal wine. Good wine is just that: good every season, all year long. But there is something truly special about the transition into cooler climates that makes a red wine particularly special—it's in the way each sip of a Pinot Noir seems to wrap around you like a cozy knit sweater, or how Cabernet Sauvignon warms your bones like a weighted blanket, or how the sensationally sweet aromas of Tempranillo remind you of baking spices and the upcoming holidays.
It's no wonder that Cameron Diaz and her business partner Katherine Power, founder of Who What Wear and Versed skincare brand, decided to expand their Avaline wine portfolio with a red blend smack in the middle of fall.
Releasing in select retail and online stores across the country on Tuesday with further national expansion planned in the upcoming months, the smooth-sipping Avaline Red is a classic blend of Côtes du Rhône's finest Grenache and Syrah. It's a red wine that is simply oozing with luscious cherry and red berry flavors, highlighted with just a slight hint of spice in the finish.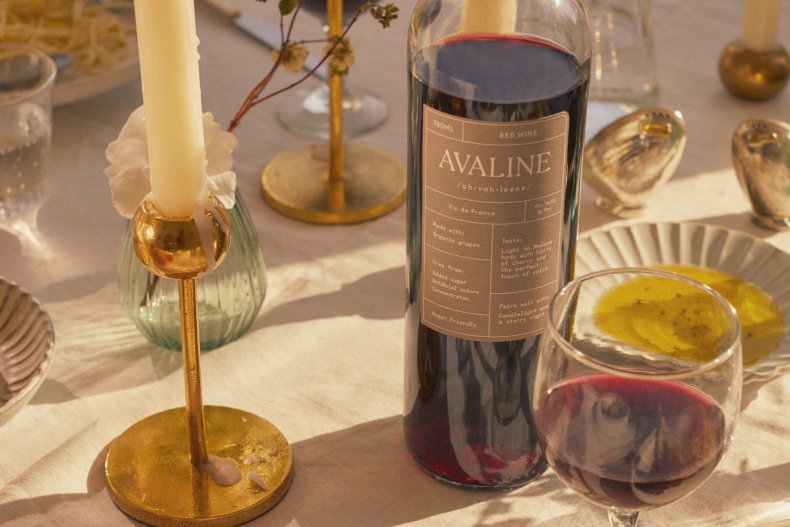 With its deep ruby hue, Avaline red captures all things fall and would pair just as well with gazing at the changing colors of the leaves as it would with a Thanksgiving feast or a slice of leftover pumpkin pie for breakfast on Black Friday. However, Diaz is a firm believer that Avaline Red is a perfect companion for any type of weather.
"Avaline wines are meant to be everyday wines, no matter the season. Our red is light enough to enjoy in warm weather but has enough body to cozy up with on a winter night. We know that's how people drink now. It's not really based on seasons or meals, it's based on mood," the 48-year-old said in a recent statement.
And like the grapes sourced in Avaline's Spanish White and French Rosé options—both of which debuted in July—the red wine is completely organic, vegan-friendly, free of added sugars, concentrates and unnecessary additives with minimal sulfates.
Considering the fact that Power and Diaz have garnered reputations as clean-living advocates—Diaz has two best-selling health science books under her belt, including 2013's The Body Book: The Law of Hunger, the Science of Strength, and Other Ways to Love Your Amazing Body and the 2016 release, The Longevity Book: The Science of Aging, the Biology of Strength, and the Privilege of Time—it's not surprising that the pair's venture into the world of wine would have a health-conscious component to it. Not to mention, it's an aspect they knew their fans and customers would thoroughly appreciate.
"With Avaline, our mission is to make this level of ingredient and nutritional transparency the norm," Power said in a statement. "We started Avaline because we felt this need ourselves. We have seen that this customer who is seeking 'clean' in other categories like food and beauty products, is in fact asking for clean wine."
Avaline Red was initially scheduled to release later in the year, however, all the fanfare surrounding Diaz's white and rosé wines convinced the actor and Power to push ahead with an early release. Within the first three months of Avaline's inception, the label has sold more than 120,000 bottles of white and rosé vino.
Diaz and Power's Avaline is among a few celebrity-owned wine labels to emerge in 2020, joining Snoop Dog's 19 Crimes Cali Blend, in partnership with the famous Australian 19 Crimes winery; Mary J. Blige's Italy-made Sun Goddess Wine; and Post Malone's Maison No. 9 French rosé.
Correction 3/11/20, 4:30 a.m. ET: This article was updated to correct the spelling of Cameron Diaz.